World news story
16 days of activism campaign against Gender Violence in Tanzania
25 November is the International Day for the Elimination of Violence against Women.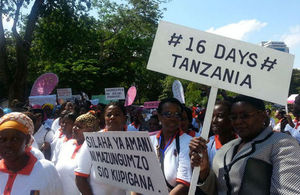 The British High Commissioner to Tanzania, H.E Dianna Melrose attended the launch of the '16 days of Activism campaign against Gender Violence' at the Karimjee grounds in Dar es Salaam. The campaign will run until International Human Rights day on 10th December 2014 and include events in Mwanza, Nachingwea, Moshi, Morogoro, Tarime, Butiama, Iringa, Ilala and Zanzibar. Speaking after the event, the High Commissioner said: "One in three women around the world experience violence during their lifetime. It was inspiring to be at the Karimjee Grounds to welcome the many women and men dressed in orange who had walked from Mnazimoja, carrying banners with the campaign message: Funguka! Fichua Ukatili Wa Kijinsia Kwa Afya Ya Jamil! Their call to break the silence on gender violence for a healthy society is one that all of us need to act on as individuals, communities and governments."
On 22 July 2014, the UK with UNICEF hosted the first Girl Summit in July to mobilise international efforts to end female genital mutilation (FGM) and child, early and forced marriage within a generation. Girls and women have the right to live free from violence and discrimination and achieve their potential, but millions are being prevented from doing so by harmful practices such as FGM and child, early and forced marriage which are illegal in the UK.
In Tanzania 4 out of 10 girls are married before their eighteenth birthday. Too many are forced to drop out of school because of early pregnancy and die giving birth.
The good news is that things are changing. In the heart of communities and families across Africa, Europe, South Asia, and the Middle East, more and more people are saying no to these practices. Show your support - join our call for an end to FGM and CE
Gender equality is not only a Women's issue. It's a universal Human Rights issue. Men, as well as women, are key to the solution. Sign the HeForShe commitment to take action against violence and discrimination faced by women and girls on the heforshe website.
The campaign launched today in Tanzania is part of a global campaign to end violence against women and girls. Do join the campaign!
Published 26 November 2014