16 areas get 'community budgets' to help the vulnerable
Sixteen areas were today given direct control over local spending in their area free of centrally imposed conditions as part of the Spending…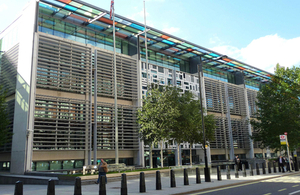 Sixteen areas were today given direct control over local spending in their area free of centrally imposed conditions as part of the Spending Review.
From April next year this first phase of 16 areas covering 28 councils and their partners will be put in charge of 'Community Budgets' that pool various strands of Whitehall funding into a single 'local bank account' for tackling social problems around families with complex needs.
Ministers are determined to give communities more power to target spending on key local priorities, despite the reductions in spending. Communities will be able to hold their councils to account in making sure tighter funding gets spent better.
Around £8 billion a year is spent on around 120,000 families that have multiple problems, with funding only getting to local areas via hundreds of separate schemes and agencies. Despite this investment, these families' problems continue. Services need to join up and intervene earlier so that families are given the chance to turn their lives around. This integrated, early intervention approach will also drive down costs.
Community Budgets, which the Government intends to roll out nationally by 2013-14, will put councils and their partners in the driving seat by pooling funds for tackling these families' needs into one budget so communities can develop local solutions to local problems.
Secretary of State for Communities and Local Government Eric Pickles said:
Until now councils have never had the freedom to do things their own way. Whitehall funding has been funneled through hundreds of disparate funding programmes wrapped up in tight financial conditions that effectively strangled local choice. As a result the incentive to be innovative, efficient and responsive to voters instead of Whitehall was dramatically dulled.

By uprooting the silos, unlocking and relinquishing the spending controls administered by Whitehall we can give towns and places the freedom to direct spending to best meets the needs of the citizens within their boundaries.

We have already freed up billions of pounds of council funding but we're determined to do more to put councils in the spending driving seat. As part of the spending review, we've torn down those artificial barriers so that the funding for families with complex needs reaches areas as a single pot of money - a Community Budget - that will help better protect frontline services and help the most vulnerable.
Already the Government will be freeing up a further £7 billion of council funding from red tape and bureaucracy from 2011-12, but Ministers believe even more can be achieved with Community Budgets. By having one budget wrapping money and services around the needs of the vulnerable, councils and partners will be able to directly support those that need help with education, health, anti-social behaviour and housing - instead of maintaining the service organisations.
Ministers believe Community Budgets will also help drive down overhead costs by removing the bureaucratic financial restrictions that have created barriers, generated waste and duplication in public spending stifling local innovation. They will be able to redesign and integrate frontline services across organisations and share management functions to reduce running costs for the best local outcomes.
The Government believes all 16 areas have demonstrated that they have strong local relationships involving communities, voluntary sector and public sector players which put them in a strong position to operate the first Community Budgets from 2011-12. They are:
Birmingham

Blackburn with Darwen

Blackpool

Bradford

Essex

Greater Manchester (a group of 10 councils)

Hull

Kent

Leicestershire

Lincolnshire

London Borough of Barnet

London Borough of Croydon

London Borough of Islington

London Borough of Lewisham

The London Boroughs of Westminster, Hammersmith and Fulham, Royal Borough of Kensington and Chelsea and Wandsworth

Swindon
Notes to editors
This is just the beginning, the Government expects Community Budgets to be available for those places with elected city mayors and from April 2013 we intend to make Community Budgets available to all places.

Central Government departments will also be actively working with a further 20 innovative areas to help push forward local flexibility and to address barriers. For example, DCLG and Cabinet Office will be working together to support budgets focussed at the very local level in 13 areas, including Birmingham, Bristol, Newcastle, and Stoke. Cabinet Office will work with Cheshire West and Chester, Kingston-upon-Thames, Blackburn, Barnsley, Calderdale, Sheffield, Leeds, Tameside, Warrington to involve communities in designing and commissioning services that better meet local needs. Places that want to trial different ways of delivering services including community-designed and delivered services are encouraged to do so.

In taking this work forward, the Department will be working alongside the national champion, announced in the Spending Review, who will be driving forward a national campaign to support and help turn around the lives of families with multiple problems.
Twitter
Keep up to date with the Department by following us on Twitter (external link).
Media enquiries
Visit our newsroom contacts page for media enquiry contact details.
Published 22 October 2010