16 Air Assault Brigade prepares for rapid reaction role
More than 1,000 troops from the brigade are taking part in the two-week exercise which also involves land, sea and air forces from ten nations…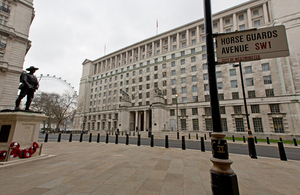 More than 1,000 troops from the brigade are taking part in the two-week exercise which also involves land, sea and air forces from ten nations.
The training for 16 Air Assault Brigade is a key step in preparing for the Airborne Task Force (ABTF) role which will see the Colchester-based soldiers maintain a force ready to deploy anywhere in the world at short notice.
The scenario for Joint Warrior involves activity in the 'Galloway Enclave', an area disputed by two fictional nations called Caledonia and Dragonia which are divided by economic and ethnic factors.
An insurgency, supported by neither country, has sprung up in Galloway. Both nations have invited NATO to send a stabilisation force to the area to create the conditions for a UN peacekeeping force to take control.
See more photographs of 16 Air Assault Brigade in action in the gallery at Related News.
The two-week-long exercise began on 3 October 2011 with the troops of the 3rd Battalion The Parachute Regiment (3 PARA) Battle Group swooping in on RAF C-130 Hercules transport planes to secure West Freugh and Castle Kennedy airfields in rapid air landing operations.
A main operating base was established at West Freugh and the soldiers fanned out across the Galloway countryside to achieve their mission to stabilise the area.
The insurgents were engaged in battle and defeated, with the 3 PARA Battle Group also linking up with local security forces to conduct joint exercises.
The exercise culminates in a battle group operation to evacuate civilians from a village threatened by insurgents, simulating a non-combat mission to rescue UK citizens caught overseas in a hostile situation.
The 3 PARA Battle Group is based around the airborne infantry of 3rd Battalion The Parachute Regiment and a company from The Argyll and Sutherland Highlanders, 5th Battalion The Royal Regiment of Scotland (5 SCOTS), with the artillery, engineering, signals, logistics and medical support it needs to conduct operations.
At the beginning of November 2011, the 3 PARA Battle Group steps up as the ABTF, providing the Army's high-readiness, light, short-duration intervention unit.
Lieutenant Colonel James Coates, Commanding Officer of 3 PARA, said:
This is a demanding exercise that reflects the current global situation and the type of operations that the Airborne Task Force could be called on to do.

The tactical challenges set by this exercise and the expeditionary nature of it are testing every element of the battle group. It helps us develop an idea of the challenges the ABTF role will present and ensures we can establish the foundations to build from to prepare for whatever is asked of us.
16 Air Assault Brigade is the British Army's largest brigade, with 8,000 soldiers, combining the speed and agility of airborne and air assault troops with the potency of Apache attack helicopters. The brigade deployed to Afghanistan between October 2010 and April 2011.
Published 12 October 2011