16 Air Assault Brigade practises airborne skills
Soldiers from 16 Air Assault Brigade are training to maintain their role as the British Army's Rapid Reaction Force.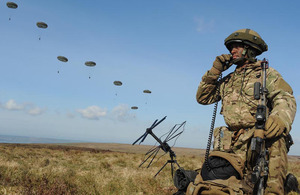 More than 1,600 troops are taking part in Exercise Joint Warrior in South West Scotland. The training is a key step in maintaining the skills necessary for their Airborne Task Force (ABTF) role, which sees Colchester-based 16 Air Assault Brigade ready to deploy anywhere in the world at short notice.
The most recent exercise scenario saw West Freugh airfield representing part of an area disputed by two fictional nations named Pastonia and Dragonia, which are divided by economic and ethnic factors.
The scenario represents complex challenges for the international community and requires NATO to send a rapid intervention force to the area to create the conditions for a United Nations peacekeeping force to take control. The UK's ABTF used a combination of parachute, air assault and tactical air landings to rapidly insert troops into the disputed area.
Once inserted, the ABTF, based around the 5th Battalion The Royal Regiment of Scotland (5 SCOTS) Battle Group, continued to defend the airfield.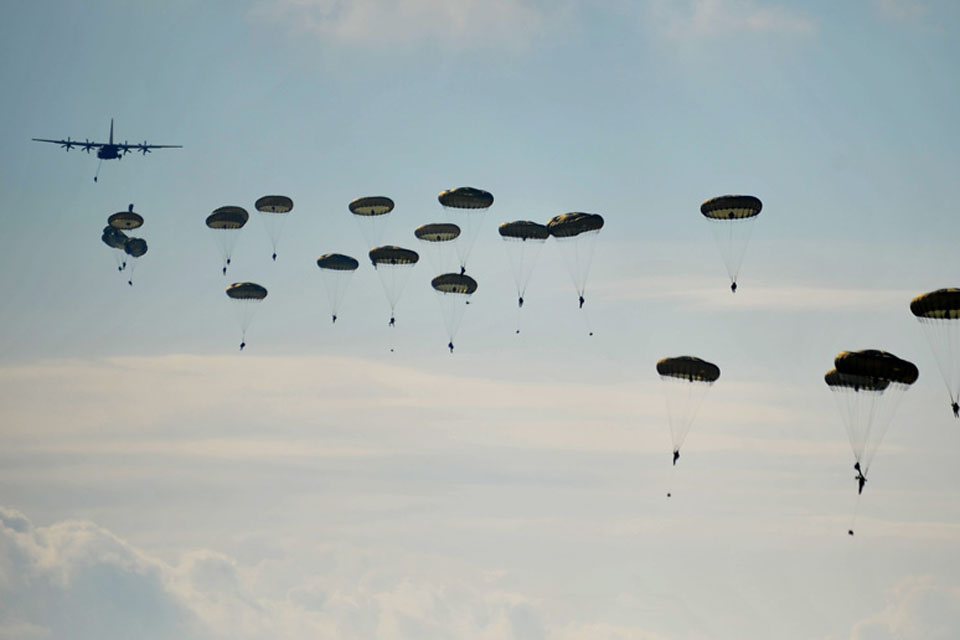 The Battle Group also developed the airfield into a base from which several air assault operations could be launched to defeat the enemy force, create stable conditions for the population, and potentially evacuate UK civilians.
Lieutenant Colonel Neil Den-McKay, Commanding Officer of 5 SCOTS, explained:
The ABTF is a light by design, powerful and highly capable task force, designed for operations anywhere in the world. The training to undertake this role is incredibly challenging and requires skills we have not used for some time.
5 SCOTS feel very proud to have been part of 16 Air Assault Brigade for eight years and to have the opportunity to conduct such challenging training within the British Army's premier intervention and raiding formation.
The exercise also involved paratroopers from the French Army's 11th Parachute Brigade with whom 16 Air Assault Brigade have a very close working relationship.
The operation was supported by 16 Air Assault Brigade's own Apache helicopters, RAF Chinook and Royal Navy Sea King helicopters from the Joint Helicopter Force, RAF C-130 Hercules aircraft, fast jet and surveillance aircraft, and aircraft from the USA and France.
Brigadier Giles Hill, Commander of 16 Air Assault Brigade, concluded:
This is currently the largest annual exercise that the MOD holds and it incorporates all of our Services as well as our close allies.
It presents us with a great opportunity to do the training this demanding role requires alongside those we may well operate with on real operations - importantly the RAF's Tactical Air Transport Fleet and the wider aviation community.
I am also very encouraged by how we are training with our French colleagues in the 11th Parachute Brigade and I welcome them to the exercise.
Published 17 April 2012