Press release
£15 million cycle rail boost
Train stations will benefit from £15 million of new government funding to improve cycling facilities.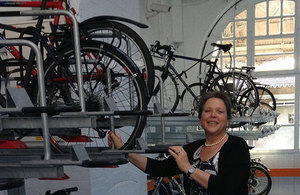 Train stations across the country will benefit from improved cycling facilities thanks to £15 million of new government funding, Transport Minister Baroness Kramer announced today (4 July 2014) on the eve of the Tour de France coming to the UK.
The improvements will make it easier for people to ride bicycles and use trains by providing more and better cycle parking and other cycle-friendly facilities at railway stations, helping cut pollution and ease congestion on our roads.
The minister announced the funding as she officially opened the new £850,000 Sheffield Cycle Hub - a flagship facility that provides 415 bike spaces alongside changing rooms and repair facilities at the city's train station.
Baroness Kramer said:
When people take rail journeys they need to know how they will get to and from the station.

We are transforming cycling facilities at stations up and down the country to make it easier to choose the bike for the journey to the station. That is why we are providing £15 million of new funding to help deliver this vision.

Used together, bike and rail can help cut carbon and congestion, delivering environmental and economic benefits. Sheffield's cycle hub is a great example of this principle in action, and I hope it provides an example for others to follow.
The extra £15 million for cycling facilities at stations will be allocated through the Cycle Rail Working Group – the body which brings together representatives of the rail industry and the cycling sector – to improve integration between cycle and rail at stations. Train operating companies will be asked to bid for the funding. The new Sheffield Cycle Hub will provide 415 spaces for cycles as well as hire bikes, lockers and changing facilities. It was made possible through £350,000 of DfT funding.
Chair of the Cycle Rail Working Group Philip Darnton said:
It is great to receive such welcome news from the government at the opening of such a great facility. This further investment will allow the Cycle Rail Working Group, to do much more. We will have already created nearly 70,000 cycle parking spaces by the end of 2015 and see more than 30 cycle hubs opened. This new investment of £15 million will allow the Cycle Rail Working Group to extend its programme beyond the existing 350 stations already seeing cycle improvements.
The funding announced today comes on top of the government's existing £374 million in cycling, which includes direct funding of £224 million for cycling projects, comprising: the £94 million Cycling Cities and National Parks fund, £28.5 million for Links to Schools / Linking Communities, the £35 million Cycle Safety Fund, £14.5 million for Cycle Rail, £4.8 million to the Highways Agency and £46.8 million for Bikeability. In addition, the DfT's Local Sustainable Transport Fund is providing £151 million to cycling projects.
The news comes as the Department for Transport publishes an update to its Door to door strategy. The paper, which was launched in March 2013, supports an increase in cycling facilities at train stations.
News desk enquiries
Media enquiries 020 7944 3021
Out of hours media enquiries 020 7944 4292
Switchboard 0300 330 3000
Published 4 July 2014