14 Squadron says goodbye with disbandment parade
The RAF's 14 Squadron performed its final parade at RAF Lossiemouth last week, before the unit, which currently flies Tornado GR4 jets, is officially disbanded on the 1 June 2011.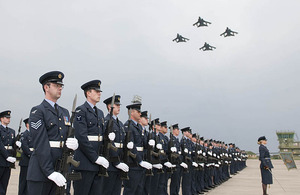 The event was an opportunity for RAF Lossiemouth, VIPs and invited guests to give thanks and recognition to the dedicated service of veteran and current Squadron personnel.
Wing Commander Jonathon Moreton, Officer Commanding 14 Squadron, said:
Today is an incredibly sad day. We say goodbye to a squadron that has a long and distinguished history. Although the squadron number will be no more, the memories, deeds and ethos that made up 14 Squadron will live on in its people. I am immensely proud to have commanded such a successful and esteemed squadron.
14 Squadron was originally formed at Shoreham on 3 February 1915 before it departed for the Middle East on Army co-operation duties in Egypt, Palestine and Arabia. Recalled to the UK in 1919, the Squadron was disbanded that February before being reformed in Palestine a year later, where it remained throughout the inter-war years, flying Bristol Fighters.
By the start of the Second World War, 14 Squadron was flying Wellesley bombers, and in June 1940, with the expected advance of Axis forces through Africa, the Squadron began bombing targets in Eritrea. During mid-1944, the Squadron moved to Chivenor and flew Vickers Wellingtons in the anti-submarine role. This continued until June 1945, when the Squadron moved to Banff in Scotland and traded its Wellingtons for de Havilland Mosquitos.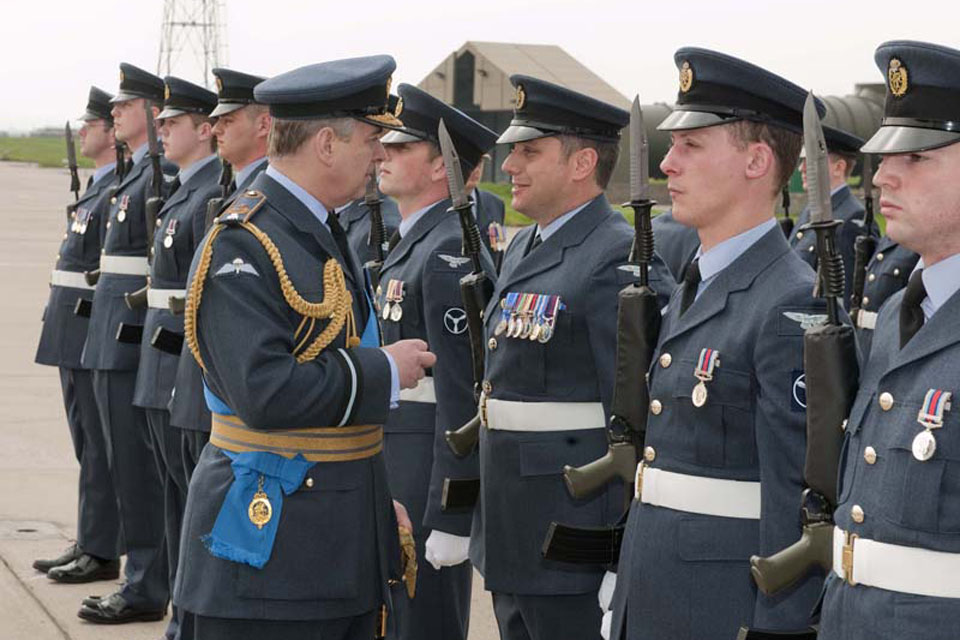 Following an administrative disbandment, lasting all of one day, 14 Squadron reformed at Wahn in Germany, again with Mosquitos, and continued with these until replacement with de Havilland's new Vampire bombers arrived in 1951, supplemented two years later by Venoms.
In 1955, 14 Squadron again became a fighter unit. With another short disbandment in 1962, the Squadron re-formed at Wildenrath with English Electric Canberras in the strike role until June 1970, when McDonnell Douglas Phantoms arrived. At Bruggen, Panavia Tornado GR1s replaced Sepecat Jaguars in 1985, and, in January 2001, the Squadron moved to Lossiemouth.
14 Squadron's last operational deployment was in October 2010, in Afghanistan, and lasted three months. During the deployment, the 13 crews and 120 engineers of 14 Squadron supported more than 450 missions, spending over 1,700 hours airborne, ensuring the Tornado GR4 fleet continued to deliver, however required.
Marking the end of this long and proud history, 120 personnel, making up two flights of 14 Squadron personnel, paraded the Squadron standard before His Royal Highness The Duke of York, Honorary Air Commodore of RAF Lossiemouth.
A flypast of four Tornado GR4 aircraft, piloted by crews from 15 (Reserve) Squadron, also marked the event.
Commenting on the disbandment, RAF Lossiemouth's Station Commander, Group Captain Andy Hine, said:
Today is one of mixed feelings for RAF Lossiemouth; sad because it is never pleasant to say farewell to any squadron, but proud of the 95 years of exceptional service that 14 Squadron has given our nations, including the award of many battle honours for distinguished action in battle.

With the Squadron having recently returned from a highly successful operational deployment in Afghanistan, saving the lives of troops on the ground, we can say with full confidence that 14 Squadron is bowing out with their heads held high.

The Squadron's forefathers would be immensely proud of the courage and professionalism of those leaving 14 Squadron today.
Published 26 April 2011