132,740 disabled people supported through specialist employment scheme
Access to Work, the government's specialist disabled employment programme, has supported 132,740 people since launching in 2007.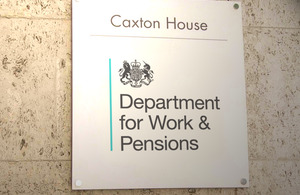 New figures released today show that the government's specialist disabled employment programme, Access to Work, has supported 132,740 people since launching in 2007.
The scheme has assisted people in work, those looking for work, and people undertaking work experience and training with support such as adapted computers, self-propelling wheelchairs and travel.
Minister for Disabled People, Justin Tomlinson, said:
Supporting disabled people into work is a priority for this government which is why our Access to Work grants are available throughout people's careers.

I strongly encourage employers and employees to take up this support so that we can reduce the disability employment gap and make sure everyone benefits from being in work.
Access to Work is a grant for people whose health or disability affects the way they do their job. It provides individuals and employers with advice and support with extra costs which may arise because of their needs.
Individuals and businesses can apply for up to £41,400 to cover the cost of a support worker, travel needs, adapted equipment and more.
Access to Work is one element of a wide range of support available to disabled people seeking work, including Work Coaches and Disability Employment Advisers in Jobcentres, as well as contracted provision, including the Work Programme, Work Choice and, from last September, Specialist Employability Support. The scheme doesn't replace the duty an employer has to make reasonable adjustments under the Equality Act. It instead provides additional support that goes above a reasonable adjustment.
Further information
32,150 people have benefitted from the grant since the end of 2015. Most grants have been awarded to users with sight or hearing issues or dyslexia. The number of awards for people with mental health conditions has increased seven-fold since 2007 – accounting for 5% of people awarded in the last quarter.
Although the programme has been in operation since 1994, an operating system change occurred in April 2007 where data was migrated across from the previous legacy system, meaning not all supporting fields are populated or maintained. As a result, reliable programme performance data is only available as far back as April 2007.
Contact Press Office
Media enquiries for this press release – 0203 267 5130
Press Office
Caxton House
Tothill Street
London
SW1H 9NA
Follow DWP on:
Published 19 April 2016
Last updated 21 April 2016
+ show all updates
Added further information to explain why reliable programme performance data is only available from April 2007.

First published.