126/2012 - Royal Navy's newest attack submarine sails into base port
Ambush, the second of the Royal Navy's potent new Astute Class attack submarines, sailed into Her Majesty's Naval Base Clyde today to begin sea trials.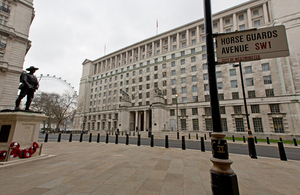 The 7,400 tonne submarine sailed from the shipyard in Barrow-in-Furness in Cumbria, where she was built, to HMNB Clyde in Scotland.
The seven Astute Class boats planned for the Royal Navy are the most advanced and powerful attack submarines Britain has ever sent to sea.
They feature the latest nuclear-powered technology, which means they never need to be refuelled and can circumnavigate the world submerged, manufacturing the crew's oxygen from seawater as she goes.
Minister for Defence Equipment, Support and Technology Philip Dunne said:
Ambush's arrival at her home port to begin her sea trials marks a key milestone in the Astute Class submarine programme and is testament to the skills of those involved in the UK's world class submarine building industry.
Ambush is an immensely powerful and advanced vessel that will deliver an important capability to the Royal Navy, giving it the versatility and technical excellence needed to operate successfully across the globe.
The Astute Class is quieter than any of her predecessors and has the ability to operate covertly and remain undetected in almost all circumstances despite being fifty percent bigger than the Royal Navy's current Trafalgar Class submarines.
The boat's Commanding Officer, Commander Peter Green, said:
It was very satisfying bringing Ambush into her home port for the first time after initial sea trials. The ship's company and I are now looking forward to putting her through her paces over the coming months, bringing her one step closer to being deployed on operations.
Ends
Notes to Editors:
Astute Class submarines have the capacity to carry a mix of up to 38 Spearfish heavyweight torpedoes and Tomahawk land-attack cruise missiles, can target enemy submarines, surface ships and land targets with pinpoint accuracy, and is fitted with a world-beating sonar system.

Ambush is due to enter service with the Royal Navy next year.

Ambush was built by BAE Systems Maritime Submarines at Barrow-in-Furness, with hundreds of suppliers around the country contributing component parts, including Rolls-Royce, Derby (nuclear plant); Thales UK, Bristol (visual system and Sonar 2076); and Babcock, Strachan & Henshaw, Bristol (weapon handling and discharge system). Ambush is affiliated to Derby.

From 2016 the base port of all the Royal Navy's submarines will be HMNB Clyde.

The Astute class is composed of Astute, Ambush, Artful, Audacious, Anson and two unnamed vessels.

For more information contact Lex Oliver in the MoD Press Office on 0207 218 7907.
Astute Class facts
97 metres from bow to stern.
A beam of 11.2 metres.
Displaces 7,400 tonnes of seawater.
The first Royal Navy submarines not to have a traditional periscope, instead using electro-optics to capture a 360-degree image of the surface for subsequent analysis by the commanding officer.
Manufactures her own oxygen from seawater as well as the crew's drinking water.
Could theoretically remain submerged for her 25-year life, if it were not for the need to restock the crew's food supplies.
Faster under the water than she is on the surface - capable of speeds in excess of 20 knots (37km/h), although her top speed is classified.
Published 19 September 2012