124/2012 - A Royal opening for new multi-million rehabilitation complex at Headley Court
His Royal Highness The Prince of Wales and Her Royal Highness the Duchess of Cornwall will today open the new Jubilee Rehabilitation Complex at the Defence Medical Rehabilitation Centre (DMRC) in Headley Court.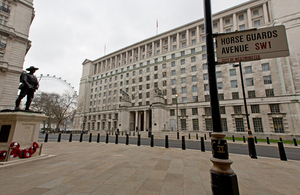 This is a brand new £16.9 million Complex, fully funded by the Ministry of Defence (MOD), which will also feature an Activities of Daily Living flat where patients can learn to live independently.
The Complex includes a new state-of-the-art therapy building with a second prosthetics department, radiology department and open plan gym to ensure that injured personnel continue to receive world-class medical care and rehabilitation.
In addition to the Minister for Defence Personnel, Welfare and Veterans Mark Francois, the opening will also be attended by serving personnel and veterans who competed in the London 2012 Paralympic Games.
Minister for Defence Personnel, Welfare and Veterans Mark Francois said:
It is an immense pleasure and privilege to attend the opening of the Jubilee Rehabilitation Complex at Headley Court in my new role as Minister for Defence Personnel, Welfare and Veterans. Countless times we have seen the determination of injured personnel at Headley Court in their rehabilitation, and recently at the Paralympics after their recovery. This fantastic new complex will continue to provide crucial world-class treatment and rehabilitation to those who need it.
Defence Medical Rehabilitation Centre Commanding Officer, Group Captain Clare Walton said:
On behalf of all the patients and staff at Headley Court I would like to thank Their Royal Highnesses for officially opening the Jubilee Rehabilitation Complex. I know the new facilities will enable our staff to continue to provide the very best of care to our patients and to keep Headley Court at the forefront of rehabilitation and prosthetics.
I would also like to thank the Defence Infrastructure Organisation (DIO), its regional industry partner PriDE and principal contractor Rollalong for delivering the complex on schedule.
Notes to Editors
DMRC is the premier facility for the rehabilitation of injured Service personnel. Originally it was developed as a rehabilitation centre for aircrew and officers following a collection and donation of monies during the Second World War.

In 1984 it opened its doors to personnel of all ranks and Services. It became the main tri-Service rehabilitation centre in 1996 with the consolidation of the then rehabilitation facilities. Since 2002 it has played a central role delivering rehabilitation as part of a Service wide network of 14 medical Regional Rehabilitation Units.

DMRC offers access to all aspects of rehabilitation with on-site Consultants, physiotherapists, exercise rehabilitation instructors, occupational therapists, speech and language therapists, social workers, psychologists, prosthetists and Mild Traumatic Brain Injury Programme. There are currently approximately 400 members of staff, split half civilian and half military. It has four gymnasiums a full-size swimming pool, a smaller hydrotherapy pool and a gait analysis laboratory to support the consultant led multidisciplinary team care.

DIO is part of the MOD. It is responsible for managing and maintaining land and properties to meet the current and future needs of the MOD and personnel at home and abroad, and to support current operations. DIO manages the military estate to ensure Defence needs are met, value for money is achieved, heritage protected and environmental goals achieved.

PriDE is a joint venture between Interserve Defence Ltd and Southern Electric Contracting, created specifically to manage DIO's South East Regional Prime Contract (SE RPC). The SE RPC is one of five UK regional prime contracts. PriDE is responsible for estate management and construction services at almost 100 MOD sites in the south-east region.
Published 18 September 2012