Press release
£120 million boost to flood defences will protect homes and businesses and help drive growth
£120 million boost to flood defences will protect homes and businesses and help drive growth.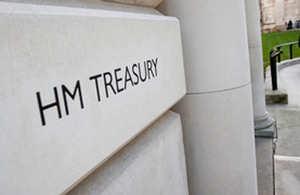 £120 million in new funding will speed up the delivery of flood defences that could protect up to 60,000 homes and deliver up to £1 billion of economic benefits, the Chief Secretary to the Treasury will announce today.
£60 million of the funding will be targeted at areas where flood defences can unlock new opportunities for development and growth, helping our country compete and thrive in the global race. Investment will be focused on areas where it will have the greatest economic impact. A further £60 million will help speed up the delivery of up to 50 flood defence schemes already in train and prioritised by the Environment Agency.
In total, Defra estimates that this will support schemes which could improve flood protection for up to 60,000 homes and achieve up to £1 billion of economic benefits. This additional funding comes on top of over £2 billion already set aside to tackle flood and coastal erosion risks over the course of the Spending Review. This Government is already on course to deliver better protection to around 145,000 homes by March 2015.
Chief Secretary to the Treasury, Danny Alexander, will today visit Leeds, where the commercial and industrial riverside area is regularly threatened by floods, holding back business growth and development.  New defences in Leeds would protect 250 businesses employing over 100,000 people and over 3,100 homes. The Environment Agency have worked closely with Leeds City Council and other areas in developing the Leeds Flood Alleviation scheme and, provided the expected contributions can be found, it is expected these schemes will be near the top of the list of those benefiting.
Speaking in Leeds today, Danny Alexander, will say: 
The damage to so many households and businesses this week from the severe flooding seen across the country has been devastating.
This £120 million boost to flood defences will accelerate improved flood protection for up to 60,000 homes and deliver much needed help to flood-threatened businesses across the country.
£60 million of this will be set aside to help areas where the schemes will particularly support growth. The Leeds Flood Alleviation Scheme would protect jobs and encourage investment, and is a great example of such a scheme. I am delighted that Environment Agency officials have been working closely with the development of it and that, provided the expected outside funding can be found, this scheme will be one of the likely contenders to benefit.
Prime Minister David Cameron said:
Flooding can have a devastating effect on communities.
This week I met families and members of the Environment Agency and emergency services who have been incredibly brave and steadfast in testing times.
I have also seen how flood defences can help protect people and property from being ravaged by flood water.
So I am pleased that this additional £120 million will help to fast track defences for up to 60,000 more homes and unlock up to £1 billion of economic benefits.
Secretary of State for Environment, Food and Rural Affairs, Owen Paterson said:
This additional investment in flood defences, combined with the new money brought in through our successful partnership funding scheme, means over the current Spending Review, funding will be higher than ever before on protecting people from flooding while speeding up fifty schemes across the country.
Other potential projects which could benefit from this additional funding include:
Lower Don Valley in Sheffield: this £11 million scheme would help protect 300 businesses, employing 15,000 jobs in the city's industrial heartland which experienced severe flooding in 2007.
Ipswich: this £54 million scheme would help build a tidal barrier to protect 1600 homes and 240 commercial properties in the city centre against significant flood risk, and allowing derelict waterside land to be redeveloped. 
Derby: this £73 million scheme would help regenerate the riverside area of the city and stimulate investment into the Lower Derwent Valley as well as improving flood protection to nearly 1900 properties and the Derwent Valley Mills World Heritage site.
Exeter: this £26 million scheme would improve the protection of 2,850 homes and 1,150 businesses in the city centre.
Notes for editors
The additional funding will be phased over 2013-14 and 2014-15 with a total of £35 million in 2013-14 and £85 million in 2014-15.

Within the total, £60 million over the two years will be reserved for flood defence schemes that meet a set of growth, value for money and delivery criteria.  Sponsors of the five schemes above will be invited to apply.  Funding criteria will be published by Defra shortly.  The confirmed set of schemes will be announced early in the New Year.  All allocations will be dependent on local co-funding arrangements being confirmed. Unused elements will be added to the Partnership Funding allocations.

The Environment Agency will allocate the remaining £60 million through the standard Partnership Funding framework, with allocations confirmed in February 2013.

Partnership Funding is a new system, introduced in 2011, which boosts co-funding from businesses, developers, Local Authorities and other sources. This approach is enabling up to a third more schemes to go ahead and giving communities a greater choice about flood protection levels in their area.

Further details on funding will be set out at Autumn Statement on 05 December 2012.
Published 1 November 2012