Press release
12 months supervision for all prisoners on release
Radical reforms to the way criminals are rehabilitated will mean every offender leaving prison must serve a minimum of 12 months under supervision in the community.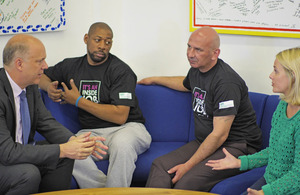 This is the most significant change to short custodial sentences in a decade. Each year around 65,000 of the most prolific offenders serving sentences of up to two years will receive extended, targeted rehabilitation.
All offenders who enter prison, even for just a few days, will be subject to the new supervision and will be given vital support into housing, employment, training and substance abuse programmes. If they misbehave they face being returned to prison.
Although crime is falling, reoffending rates have barely changed in a decade, and more than 58 per cent of prisoners serving less than 12 months go on to commit further crimes within a year of release.
Radical reforms to rehabilitate offenders
Rehabilitating offenders in the community must start behind the prison walls - frontline staff need to lay the groundwork and build a relationship with their offender in prison. With this in mind, we are set to undertake the biggest reorganisation of the prison estate in more than 20 years, creating a nationwide network of around 70 resettlement prisons so nearly all offenders are released into the area in which they will live and be supervised.
We will also make it much harder for offenders to move home while they are under supervision to ensure continuity in the support they receive.
And a new joined-up approach to tackling drug addiction will be tested in a number of prisons, in partnership with the Department of Health, so offenders leaving custody receive vital end to end treatment that follows them out into the community.
Justice Secretary Chris Grayling said:
'Tackling our stubbornly high reoffending rates has dogged successive governments for decades. These reforms represent a golden opportunity to finally turn the tide and put a stopper in the revolving door of the justice system.
'It is simply not good enough that we spend £4bn a year on prisons and probation, and yet make no real dent in the appetite of offenders to commit more crime. It is little wonder, when many of our most prolific criminals leave prison totally unsupervised in the community.
'These reforms are essential and will ensure that offenders are properly punished but also given targeted support to help them turn away from crime for good.'
The new approach will see a far greater role for private and voluntary sector organisations, who will be paid by results to reduce reoffending, driving innovation and efficiency through the criminal justice system.
The plans will see England and Wales divided into 21 areas which align closely with local authorities and Police and Crime Commissioner areas. Private and voluntary sector organisations will then be invited to bid for work in these areas with each awarded contract based on best value and innovation in tackling reoffending.
We expect to see a new focus on life management, with reformed offenders on hand to mentor younger offenders through the difficult days and months following their release from prison.
A new National Probation Service will be created to protect the public from the most dangerous offenders. It will also ensure appropriate action is taken where lower level offenders breach the terms of their licence or community order, including missing appointments, refusing to engage with their rehabilitation or drug taking.
The reforms will be rolled out across England and Wales by 2015.
This work follows reforms to community orders so each one contains an element of punishment, the roll-out of work in prisons and changes to the prison regime making sure only those who actively work towards their rehabilitation benefit from available privileges.
We will also be introducing the most advanced GPS satellite tracking of offenders in the world, allowing us to keep a much closer eye on them in the community.
Notes to editors:
View the consultation and response Transforming Rehabilitation: A Strategy for Reform

View information on the transforming rehabilitation programme.

View the latest proven reoffending figures for adult offenders given custodial sentences of fewer than 12 months, by individual prison.

View the latest proven reoffending figures for adult offenders by custodial sentence length.

Read a copy of the previous consultation document 'Punishment and Reform: Effective Probation services'

See further details on our community order proposals.

Read further details on our work in prisons programme.

For more information contact the Ministry of Justice Press Office on 020 3334 3536.
Published 9 May 2013