Toughening community sentences
Every adult community sentence will include a form of punishment in radical reforms announced today.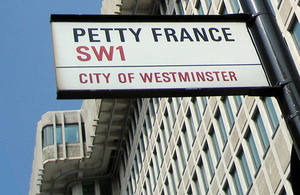 Alongside punishments like strict curfews, fines, and unpaid work, courts will now also be able to:
Make use of new technology to track offenders during their sentence to protect the public and help prevent criminals committing further offences
Access benefit and tax information so that judges can set fines at the right level
Take into account criminals' belongings, as well as their income, when setting financial penalties
Defer sentencing so that restorative justice can take place encouraging criminals to face up to the consequences of their actions.
In addition, the £5,000 cap on compensation orders in the magistrates' courts will be removed meaning that victims can benefit from larger compensation payments.
Justice Secretary Chris Grayling said: "For too long community sentences have been considered the easy option, not any more.
"I am overhauling community sentences so every sentence contains an element of proper punishment."
The proposed changes to the law are being introduced into the Crime and Courts Bill, which is currently in Parliament.
Jeremy Wright, Minister for Prisons and Rehabilitation, discusses community sentences.
Community sentencing explained
Community sentences provide judges with a way of punishing offences that are not serious enough to warrant custody.
A community sentence is made up of a community order, which can be a combination of one or more of the following:
Unpaid work (community payback)
Residence (residing at a place specified by the court)
Mental health treatment
Drug rehabilitation
Alcohol treatment
Supervision (regular contact with a probation officer)
Prohibited activity (not participating in certain activities specified by the court)
Curfew (confining an offender to their home for a specified number of hours per day)
Exclusion (prohibiting the offender from entering a place specified by the court)
Programme (requiring the offender to participate in a programme e.g. anger management)
Activity (requiring the offender to participate in an activity, e.g. a basic skills class)
Attendance centre (for offenders under 25) When the powers in the Legal Aid, Sentencing and Punishment of Offenders Act (LASPO) 2012 come into effect judges and magistrates will also be able to impose foreign travel bans and compulsory sobriety as part of community sentences.
Published 23 October 2012