12 Mechanized Brigade takes command of Task Force Helmand
12 Mechanized Brigade has taken command of Task Force Helmand in Afghanistan, officially marking the start of Operation HERRICK 16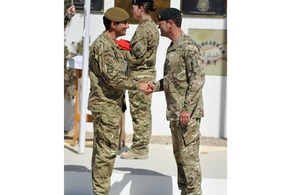 In a short ceremony yesterday, 10 April 2012, at the Headquarters of Task Force Helmand (TFH) in Lashkar Gah, Brigadier Patrick Sanders, Commander of 20th Armoured Brigade, formally handed over to Brigadier Doug Chalmers, Commander of 12 Mechanized Brigade.
Over the next six months, 12 Mechanized Brigade will look to build upon the achievements made by 20th Armoured Brigade since they arrived in Helmand in October 2011.
Brigadier Sanders reflected on the progress made over the past six months:
The progress that has been made in central Helmand in the last six months has exceeded all of my expectations.
This has been made possible because of the remarkable legacy we inherited from 3 Commando Brigade and 16 Air Assault Brigade before them, and because of the courage, dedication, resilience and offensive spirit of the men and women of the Task Force; it has been an extraordinary privilege to have served alongside them.
The most important ingredient for this progress has been the Afghans themselves. Task Force Helmand is now working to an Afghan constructed plan in support of Afghan priorities. It has delivered a high level of operational tempo over the winter - all led by the Afghans. This has resulted in transition to Afghan control in two of the three districts in the Task Force area, increased levels of confidence in the Afghan security forces and a fifty per cent reduction of support for the Taliban.
There will be many challenges ahead as the insurgents try to contest transition and to regain the initiative and their lost momentum, but they will increasingly struggle to gain any traction as Afghan National Security Forces capability has grown to the extent that they are a force to be reckoned with and one increasingly capable of operating independently.
I wish Brigadier Chalmers and the men and women of 12 Mechanized Brigade a safe and successful tour. It is clear that their training has fully prepared them. I know that they will advance the campaign together with our Afghan partners with immense flair, courage and success.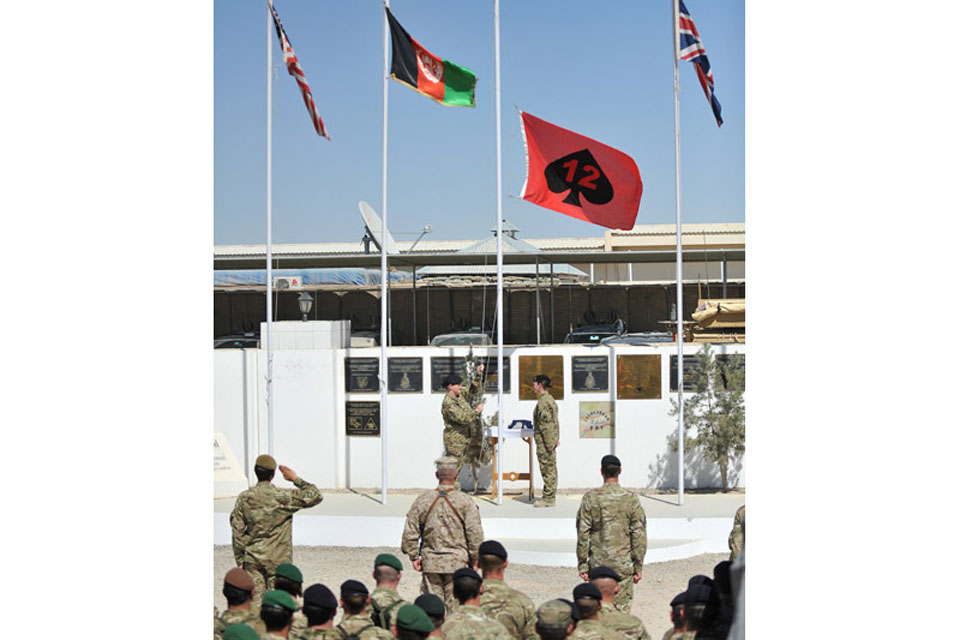 Brigadier Chalmers said:
The progress made by our Afghan partners, supported by Brigadier Patrick Sanders and 20 Brigade, has been highly impressive. We will continue to build upon their successes.
Specifically we will enable our Afghan partners to deepen security in Lashkar Gah and Nad 'Ali and set the conditions for the transfer of security by setting the conditions for the transfer of security authority of Nahr-e Saraj from ISAF to the Afghan National Army and Police.
I have visited districts which, on my previous tours of duty, have been plagued by insurgent activity, they are now flourishing under Afghan security control.
All those serving with me in 12 Brigade understand the mission, are committed to its success and, through excellent training and a superb handover are prepared for the challenges that lie ahead.
The transfer of authority ceremony was also attended by the head of the Helmand Provincial Reconstruction Team, Catriona Laing, and the Commander of Regional Command (South West), Major General Charles M Gurganus.
Six-and-a-half-thousand personnel from the Army, Navy and Royal Air Force make up the Task Force, and 12 Mechanized Brigade will be TFH's lead formation until October 2012.
Published 11 April 2012