World news story
12 Days of GREAT Britain and Northern Ireland in Toronto
A series of events in Canada's biggest city will showcase the best Britain has to offer.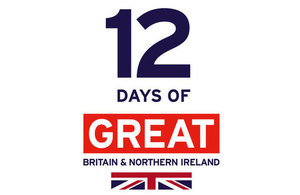 From technology to tourism, the British Consulate-General in Toronto, UK Trade & Investment Canada, Visit Britain, and British Council, are set to celebrate the many strong links between Canada's largest city and the UK.
Over the course of 12 days, from 29 October to 9 November, a broad series of events will shine a light on the historical, innovative and creative partnership between Canada and the UK.
Anchored from a special UK House on Toronto's famed Yonge Street in the heart of downtown, 12 Days of GREAT Britain will be an excellent opportunity for the public to discover why the UK is a perfect place to study, visit and do business.
For fans of British fashion, the GREAT British Shopping Map of Downtown Toronto will let shoppers use augmented reality technology from UK's Blippar for a chance to win flights to the UK from British Airways. Follow #TOshopsUK for information and pick up a map at UK House and select retailers.
Doctor Who fans will want to join the Doctor Who Society of Canada on 9 November for an evening of Doctor Who themed entertainment, activities and surprises in support of The Hospital for Sick Children. Tickets can be purchased online.
The strong business ties between Canada and the UK will also be a focal point over the 12 days. In particular, companies interested in expanding into the UK are invited to a free workshop, The UK As Your Springboard to Global Growth. Experts will offer insight on the benefits of setting up in the UK, legal, tax, and visa matters. Registration is open, but space is limited.
12 Days of GREAT will also showcase how Canada and the UK continue to work together to tackle important global issues in the 21st century. This will be highlighted by Dementia Hack 2015, which will bring together developers, designers, health professionals, marketers, and entrepreneurs to help those affected by dementia. Those interested in attending can register online.
This 12 day celebration also coincides with a special Magna Carta exhibit at Fort York featuring an incredibly rare edition of Magna Carta from 1300. On loan from Durham Cathedral, this historical document serves as the root of democracy and the rule of law in both the UK and Canada. Tickets are available online.
For a complete list of UK events in Toronto over the next couple of weeks download our public events calendar.
GREAT British events in Toronto - Fall 2015 (PDF, 500KB, 2 pages)
For further information
Follow @UKTI_Canada, @UKinCanada, and #12DaysofGREAT on Twitter.
Follow UK in Canada on Facebook
Follow UKinCanada on Instagram
Published 2 October 2015
Last updated 4 November 2015
+ show all updates
Removed Beatles Walking Tour event details and added the Evening of Doctor Who event information.
Add further details on public events and an event calendar
First published.