119/2012 - Prince Harry arrives in Afghanistan to begin tour of duty in Apache Squadron
Prince Harry, known as Captain Wales in the military, arrived today at Camp Bastion, Helmand Province, to start an operational tour as an Apache pilot.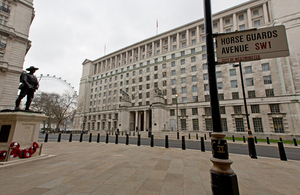 He will be working as part of the Joint Aviation Group (JAG) which provides helicopter support to the International Security and Assistance Force (ISAF) and Afghan forces operating throughout Regional Command South West.
Based out of Bastion, the largest coalition military base in the country, his squadron will provide surveillance, deterrence and, when required, close combat attack capabilities as well as escort duties for other aircraft.
Captain Wales qualified as a Co-Pilot Gunner (CPG) in February this year and was posted to 3 Regiment Army Air Corps, part of 16 Air Assault Brigade, to gain further flying experience and to operate the aircraft on a number of exercises.
He has been trained to fly in the front seat as the mission commander, a role that equips the operative to fly the aircraft from the back seat but the majority of the time involves operating the Apache's sights, sensors and weapons systems.
The Deputy Commander of the JAG and Commanding Officer of 3 Regiment AAC in the UK, Lt Col Tom de la Rue, said:
Captain Wales is a serving soldier and a qualified Apache Pilot having completed the Apache Conversion to Role (CTR) course earlier this year. As such, and after further flying experience, he has deployed along with the rest of the squadron as part of a long-planned and scheduled deployment to provide support to ISAF and Afghan forces operating in Helmand.
It is a demanding job for my soldiers and all of them including Captain Wales are now focussing on the job in hand. I have every confidence that the team will deliver what is asked of them.
Commander of the JAG, Captain 'Jock' Gordon RN, said:
I extend an extremely warm welcome to 662 Squadron including Captain Wales who with his previous experience as a Forward Air Controller on operations will be a useful asset to the Joint Aviation Group. Working alongside his colleagues in the squadron, he will be in a difficult and demanding job and I ask that he be left to get on with his duties and allowed to focus on delivering support to coalition forces on the ground.
As with all operational deployments, Captain Wales's deployment has been long planned and the threat to him and others around him thoroughly assessed. Any risk posed by Captain Wales's deployment, based on capability, opportunity and intent of the insurgency, has been, and will continue to be, assessed and has informed the decision to deploy him.
The Apache AH MK1 fleet consists of 67 aircraft that have seen service in Afghanistan and in Libya. It is designed to hunt and destroy armoured vehicles and can operate in all weathers, day and night. It can detect, classify and prioritise up to 256 targets in seconds through its fire control radar and carries a mix of weapons, including rockets, Hellfire missiles and a 30mm chain gun.
Published 7 September 2012