117/2012 - Chief of Air Staff visits Royal Air Force Venue Security Force at Hainault and Olympic Park
The Chief of the Air Staff, Air Chief Marshal Sir Stephen Dalton, has today visited Hainault Park and the Olympic Park to thank members of the Royal Air Force for their continued support to the London Paralympics Venue Security Force.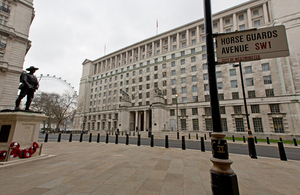 Reflecting on the nature of the work, Sir Stephen said:
The vital task of the airmen and women in the Venue Security Force is vastly different from their primary day-to day duties in the Royal Air Force. Nevertheless, their inherent commitment and agility, key characteristics of the modern Royal Air Force, reflects the strong sense of duty I see consistently in our personnel at home, on operations and have witnessed again today.
Having seen the Park's security procedures at first hand, the Chief of the Air Staff was able to witness the positive reaction of the public to his personnel.
Sir Stephen added:
It is not often that the public have the opportunity to meet military personnel face-to-face while they carry out their duties. To hear first hand the complimentary remarks from the public makes me especially proud of my fellow Servicemen and women".
Published 30 August 2012