111/2012 - David Beckham meets military personnel on Olympic duties
Footballer David Beckham became the latest in a string of high-profile personalities to show his appreciation for the Armed Forces today when he visited a group on venue security duties at the Olympic Park.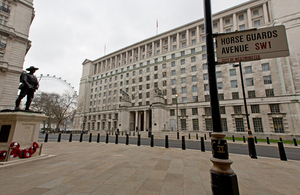 Mr Beckham, who was a major contributor to Britain's winning Olympic bid in 2005, visited servicemen and women from the Royal Navy, Army and RAF at the Stratford venue to see firsthand the work that's being done to keep the Games safe and secure. He took the opportunity to thank everyone involved for their ongoing efforts.
Meeting personnel from the Adjutant General's Corps, the Parachute Regiment, 5 Scots and 3 Royal Anglian Regiment, Mr Beckham was quick to say how much their contribution has meant to everyone involved in the organising of the Games while posing for photos alongside them.
He said:
I'm sure you've all heard it before, but you're doing an amazing job.
The Games have been incredible, especially being held in this special part of London where I grew up, and I feel so honoured to have been part of the team that planned the Olympic Games.
Supporting the police and civilian authorities, the military has at its peak contributed more than 18,000 personnel during the busiest part of the Games. This contribution has included venue security, logistic support and the provision of a number of specialist capabilities across the maritime, land and air environments.
Asked about the security operation, Mr Beckham said:
Everyone's doing an incredible job, they are so amazing. The security forces are keeping everyone safe and calm and helping people enjoy the Games.
ENDS
Notes to editors:
For further information please contact the London 2012 Press Office on +44 (0)203 2012 100 or visit the website at www.london2012.com.
Published 13 August 2012