107/2012 - Army Officer takes Olympic rowing gold
Royal Artillery Captain Heather Stanning secured Team GB's first gold medal of the London 2012 Olympics in the rowing regatta at Eton Dorney today. The win is also the first time an Olympic gold medal has been won in rowing by a female crew.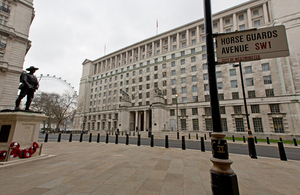 Roared on by huge British support along the 2,000-metre course, Heather and rowing partner Helen Glover beat the Australian team into second place with a time of 7 minutes and 27 seconds in the Women's pair.
After winning gold for Team GB, Heather said she was shattered and ecstatic and had this message for her colleagues in Afghanistan:
Thanks for all the support, I know you have been watching and supporting me all along and I am proud to be associated with you and hope to see you all when you get home.
Heather commissioned into the Royal Artillery at the Royal Military Academy Sandhurst in 2008, and after 18 months as a Troop Commander in 32nd Regiment Royal Artillery her potential as an elite rower became increasingly apparent. She has had to put her Army career on hold for the last couple of years to focus on her 2012 Olympic ambitions but she plans to return to 32nd Regiment Royal Artillery after the Olympics.
The Army has been amazing giving me the time I need to train. I am really proud of being part of the Forces, and the Army has been fantastic in supporting me to get me to where I am," she added.
Heather also doesn't rule out deploying to Afghanistan if she does return to her Regiment. On current plans she may be heading out next autumn to command the soldiers that have given her such strong support over the recent months.
Commander Land Forces, General Sir Nick Parker KCB CBE ADC Gen, said:
It is fantastic that Heather and Helen have won Olympic Gold today. It is a magnificent result and a testament to their hard work over the last few years. The Army has been very proud to support Heather in her preparations to London 2012, and I have no doubt that soldiers across the globe will be sharing in her success today.
Her Commanding Officer, Lieutenant Colonel Craig Palmer Royal Artillery [Lt Col Craig Palmer RA], spoke of his pride when watching Heather and Helen, and hinted towards his plans for Heather's future:
We are delighted with Heather's win today. I wish to congratulate Heather and Helen on their success; it was an excellent achievement. Soldiers from 32nd Regiment Royal Artillery were thrilled to watch the race from their bases in Afghanistan, while their friends and families watched it here in the UK. I am sure that they have been inspired by her performance and we look forward to welcoming her back to the Regiment later this year. I know that she is keen to deploy with her soldiers to Helmand in 2013.
The Regimental Colonel of the Royal Artillery, Colonel Roddy Lee, said:
We are immensely proud of Capt Stanning. She is a credit to the Royal Regiment of Artillery, to the Army and to the nation. The whole regiment has been behind Heather today – including 32 Regt RA here at RA Barracks, Lark hill, and especially 22 (Gibraltar 1779-83) Bty [from 32 Regt RA] who are deployed in Afghanistan, and who cheered Heather onto victory in Camp Bastion this morning. It is an 'oarsome' achievement and we look forward to welcoming her back into 32 Regt RA and the wider regimental family.
Members of the British Army across the globe watched Heather and Helen's amazing success. Members of her unit, from 32nd Regiment Royal Artillery watched from their bases in Afghanistan. Heather and Helen went into the race as firm favourites after smashing the Olympic record time by more than four seconds in their qualifying heat on the first day of the Games on Saturday.
Notes to editors
Photos of Captain Heather Stanning and her Regiment celebrating are available through Defence News Imagery – www.defenceimagery.mod.uk
For further information about Heather Stanning please contact the following:
Craig Mowat, MOD Press Officer – 0207 218 3257 Caroline Searle, Matchtight (GB Rowing PR Agents) – 01225 443998
Published 1 August 2012