104/2012 - HMS Defender enters new home at Portsmouth
The Royal Navy's newest Type 45 destroyer, HMS Defender, has sailed into her new home at Her Majesty's Naval Base Portsmouth for the first time today.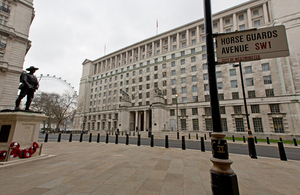 The 7,500 tonne vessel has been formally accepted by the Royal Navy from shipbuilder BAE Systems Maritime and will now undergo sea trials before being declared ready for operations in 2013.
Armed with the world-leading Sea Viper missile defence system, HMS Defender is able to defend against multiple attacks from even the most sophisticated anti-ship missiles, approaching from any direction and at supersonic speeds.
Minister for Defence, Equipment, Support and Technology Peter Luff said:
This latest addition to our fleet of state-of-the-art destroyers marks the remarkable progress being made on the Type 45 programme. HMS Defender, together with her five sister vessels, will form a formidable fleet and ensure that the Royal Navy remains a powerful maritime force on the world stage.
HMS Defender is the fifth out of the six new Type 45 warships being built for the Royal Navy and was launched at the BAE Systems' Govan yard in Glasgow in October 2009.
The Type 45s will provide the backbone of the UK's naval air defences for the next 30 years and beyond. The destroyers will be capable of carrying out a wide range of operations, including anti-piracy and anti-smuggling activities, disaster relief work and surveillance operations as well as high intensity war fighting.
The final vessel in the fleet, HMS Duncan, is due to undertake her first set of sea trials later this year and is due to be accepted into service in 2014.
Head of Ship Support (Alliance), Commodore John Newell, said:
Entry into HMNB Portsmouth of this very powerful and advanced warship is not only a great day for the Royal Navy but also for the Destroyers Project Team and our industry partners who ensured this magnificent vessel was ship shape and ready to be accepted from BAE Systems. Defender is a welcome addition to the fleet and when she enters service she will help ensure that the Royal Navy can react to any defence challenges anywhere in the world.
Notes to editors
HMS Defender left the Clyde for the final time on Saturday 21 July with a combined industry and Royal Navy crew. After completing the journey, she arrived alongside at her new home port of Portsmouth at 10am today, Wednesday 25 July.

Type 45 facts:
Her Sea Viper missiles are the size of a telephone box, weigh two thirds as much as a small car and accelerate from launch to a speed twice that of Concorde in under 10 seconds. Her hull is made of 2,800 tonnes of steel - more than the weight of Blackpool Tower. 40 tonnes of paint covering 100,000 square meters of steel has been applied. At 152m she is longer than 16 double decker buses and she is as high as an electricity pylon. Her onboard power plant can supply enough electricity to light a town of 80,000 people. Her fuel tanks are roughly half as big as an Olympic swimming pool.
Photographs of the ship arriving into HMNB Portsmouth and the handover ceremony will be available at www.dni.mod.uk from 3.30pm.
Username: GuestUser Password: WhiteBoard.
For further information please contact Lex Oliver in the MoD Press Office on 0207 218 3256.
Published 25 July 2012