Announcement
£100m investment in skills to drive growth
This was published under the 2010 to 2015 Conservative and Liberal Democrat coalition government
Secretary of State for Business, Vince Cable, and Minister for Skills, John Hayes, today launched a £50 million a year fund to help businesses…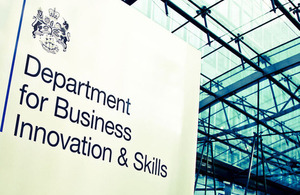 Secretary of State for Business, Vince Cable, and Minister for Skills, John Hayes, today launched a £50 million a year fund to help businesses develop the skills they need to drive growth.
The Growth and Innovation Fund (GIF) will deliver targeted help for employer groups to overcome barriers to growth within their sectors and industries. The funding could deliver new training to boost innovation and productivity, enable industries to set new professional standards, or support new or extended National Skills Academies.
BIS will invest up to £50m per year in partnership with businesses, whose investment alongside Government could deliver a total of up £100m a year.
Secretary of State Vince Cable said:
"This government understands that to rebalance and grow our economy, we need to tackle the skills shortages that hold companies back. Through this fund, we will support employers that take collective action to overcome these blockages to expansion.
"By putting the employer voice at the heart of the process, we will reward inventive approaches to training that deliver real help to get business moving."
Minister for Further Education, Skills and Lifelong Learning, John Hayes said:
"Government investment in skills works best for individuals and communities when it responds directly to employers' needs. By giving business the power to shape the training support we offer, we will ensure that public money directly supports jobs and growth.
"I look forward to working with industries of all kinds to deliver help where it is most needed to boost performance."
The investment fund - which will be delivered in partnership by the UK Commission for Employment and Skills (UKCES) and the Skills Funding Agency (SFA) - invites proposals from employer organisations such as Sector Skills Councils, professional bodies and trade associations. The prospectus - published today - outlines three types of project where GIF funding and employer investment can be brought together:
'Best Market Solutions': which will invest in the best innovative ideas to drive enterprise and remove skills barriers to growth, including through the introduction of new voluntary professional standards and voluntary training levies
National Skills Academies: expanding the successful network of National Skills Academies, which already exist in 16 sectors such as Environmental Technology, Railway Engineering and Retail
Joint Investment Programme: bringing together employer and public investment in specific training projects which improve business productivity and growth, or address skills gaps and shortages.
Charlie Mayfield, Chairman of the UK Commission for Employment and Skills and Chairman of the John Lewis Partnership, said:
"This Fund is about employers taking control of their own destinies. We are looking for ambitious, innovative and sustainable schemes that will tangibly improve the skills base of the sector and make a real and lasting improvement to performance."
Geoff Russell, Chief Executive of the Skills Funding Agency said:
"This is the opportunity for employers to be pioneers, customers and investors of skills and training. Through joint employer and Government investment we can boost the country's skills and promote economic growth."
Notes to Editors
The Growth and Innovation Fund was first proposed in the _Skills for Sustainable Growth _strategy in November 2010. The fund will provide up to £50 million per year in 2011-12 and 2012-13, underpinned by accompanying investment by employers, giving a potential total investment of up to £100 million per year. We are planning a similar level of investment over the subsequent two years of the Spending Review period.

£30m of the Government funding in each year supports the investment fund launched in the GIF prospectus, of which around £5m a year will sustain pilot Joint Investment Programmes agreed in autumn 2010 with five Sector Skills Councils. £25m a year is available for new projects.

The other £20m a year from GIF supports the SME Leadership and Management Grant which provides grants (match-funded by employers) to support Leadership and Management training for SMEs and social enterprises.

The prospectus published today details the criteria for bids in 2011. The scope of future invitations to apply may differ from this prospectus; for example, we are not expecting to seek applications for National Skills Academies in future prospectuses.

Applications are being invited from Sector Skills Councils, Industry Training Boards, formally constituted Sector Bodies, National Skills Academies, Employer Associations, Trade Associations and Professional Bodies. Bids will be assessed by a GIF investment board, chaired by Charlie Mayfield, Chair of the UK Commission for Employment and Skills.

The GIF prospectus can be found on the UKCES website at www.ukces.org.uk/gif

The Growth and Innovation Fund will invest in a range of projects to raise skills levels and support growth. For examples of how this could work in practice go to: http://nds.coi.gov.uk/ImageLibrary/detail.aspx?MediaDetailsID=3288

BIS' online newsroom contains the latest press notices, speeches, as well as video and images for download. It also features an up to date list of BIS press office contacts. See http://www.bis.gov.uk/newsroom for more information.
Notes to Editors
Contact Information
Name BIS Press Office Job Title
Division COI Phone
Fax
Mobile
Email NDS.BIS@coi.gsi.gov.uk