100 years of discovery and diplomacy in Antarctica
Foreign Office Minister Henry Bellingham celebrated Captain Scott's expedition's achievements and legacy of peace and science at the Foreign Office on 20 February.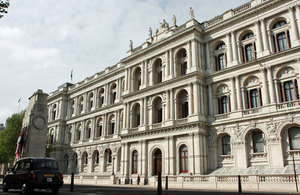 The Foreign Office Minister hosted a reception for the descendents of Captain Scott and the other members of the expedition, modern-day explorers, the international Antarctic community and world-class polar scientists from the UK.
A hundred years ago Captain Scott and his team were on their return journey from the South Pole. A journey that was famously to end in tragedy. Yet in his final message Scott described the expedition as a tale of 'hardihood, endurance and courage'. The story of the bravery and sacrifice on that fateful expedition has taken a central place in our nation's story.
Talking about the expedition's return journey, he said:
'…Captain Scott, Dr Wilson and the team retained their focus on recording their findings, carrying on scientific experiments and collecting samples. Some have called that folly. I call it bravery. And bravery that has had key role in making Antarctica the place of peace, scientific excellence and common endeavour that it is today. That is their legacy. And it is a legacy that deserves great pride.'
He also highlighted the UK's continuing work in Antarctica:
'I am immensely proud of the enormous contribution that the United Kingdom is able to make in the fields of science, monitoring and environmental protection in Antarctica. From the discovery of the hole in the ozone layer in 1985, right up to the Lake Ellsworth drilling programme this year. Working with international colleagues, I know that British scientists are making a huge contribution to increasing our knowledge of the continent, the planet and the future challenges we will face.'
In this important Centenary year, the Minister reiterated the commitment of the United Kingdom to continue to work actively within the Antarctic Treaty and with other Treaty parties to preserve the great white continent as a place of peace, science and discovery.
Published 21 February 2012