£10 million investment to connect Northampton enterprise zone
Today Communities Secretary Eric Pickles and Transport Secretary Justine Greening announced a £10 million boost for transport infrastructure…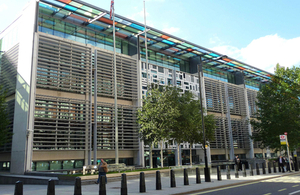 Today Communities Secretary Eric Pickles and Transport Secretary Justine Greening announced a £10 million boost for transport infrastructure in Northampton's Enterprise Zone.
The money is being invested in the development of the Castle Railway Station at the heart of Northampton Enterprise Zone. The new station will provide vital infrastructure capacity to support local plans for sustainable economic growth.
The Northampton Enterprise Zone is building on the areas strengths in advanced technologies, high performance engineering, and low carbon technology. With access to super fast broadband, up to 100 per cent business rates discounts and simplified planning process the Zone is already attracting big business hitters like Carlsberg, providing more jobs and boosting the local economy.
Communities Secretary Eric Pickles said:
Northampton is using its Enterprise Zone to energise the local economy and boost business. As these new opportunities for innovation and enterprise open up it is vital the infrastructure is in place to match Northampton's ambitions.

This £10 million for the Castle Railway station is another step forward in Northampton's resurgence as a place where local communities thrive.
Communities Minster Andrew Stunell added:
Improving the transport links to this ambitious area will help Northampton to unleash its potential as a centre for local growth and innovation.

Turning Castle Station into a key transport hub at the heart of the Enterprise Zone is just one more reason for business to invest in this area and bring new jobs and homes that will benefit the whole community.
Together with funding from Network Rail and Northamptonshire County Council the Government's contribution will go towards phase one of the redevelopment scheme which includes a new station building and access to the platforms, which will be a major improvement for residents and visitors to the area.
The West Northamptonshire Development Corporation, the agency driving regeneration in West Northamptonshire, can now look at how they can take forward subsequent phases of the redevelopment which will include a new larger car park and release of land for commercial opportunities close to the station.
Published 14 May 2012