1 SCOTS soldiers on the IED hunt
One British Army platoon, based in the Sangin valley, has earned itself high praise after finding, and eliminating, numerous improvised explosive devices during a single patrol.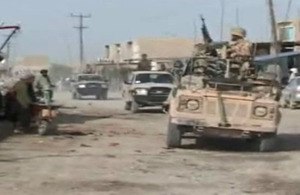 The men of C Company, 1st Battalion The Royal Regiment of Scotland (1 SCOTS), who are working as advisors to the Afghan National Army (ANA) in Sangin for the next six months, have been carrying out frequent patrols in Helmand's notorious Green Zone.
On one recent mission they discovered and avoided IED after IED and all managed to return safely to their base.
Platoon Commander Lieutenant David Dufus said:
The area we were going into … we've had quite a few contacts in that area, and there's always been a bit of dodgy movement in and around the area, so we knew the area we were going into was a bit suspect. So we were even more alert than we usually are.
Lieutenant Dufus put a number of the finds down to the invaluable help of the Afghan National Army soldiers who, he said, often spot the danger signs first when they are conducting joint patrols:
The second one was pointed out by the ANA. They were a bit suspect of it. The ANA went forward with one of my lads and I did the confirmation and it came out positive. But it was the ANA soldiers that first spotted that something was not quite right," he said.
The role of 1 SCOTS in Afghanistan is to pass on all the battlefield and logistical skills they can to the native security forces, while living and working with them day in, day out.
The Commanding Officer of C Company, 1 SCOTS, Major Richard Forsyth, said:
Our main driver is to try to leave an ANSF [Afghan National Security Forces] that is more capable and has more capacity to take responsibility for the security of this population.
Published 17 May 2010