1 SCOTS depart on Afghanistan deployment
Soldiers from 1st Battalion The Royal Regiment of Scotland (1 SCOTS) have departed their base to deploy to Afghanistan.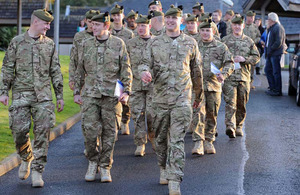 The soldiers have left their permanent base at Dreghorn Barracks in Edinburgh to start a six-month operational tour in Afghanistan as part of Operation HERRICK 17 which will commence in October.
The first tranche of around 80 soldiers from B Company are deploying to Helmand province where they will take on a number of roles as part of 4th Mechanized Brigade which will command Task Force Helmand.
The Commanding Officer of 1 SCOTS, Lieutenant Colonel Ben Wrench, will lead the Brigade Advisory Group (BAG). The aim of the BAG is to advise on operational issues throughout Helmand, and to develop the Afghan National Army and their ability to train, support and sustain themselves after transition.
The battalion traditionally recruits from Edinburgh and the Scottish Borders, and before the 1 SCOTS soldiers departed an emotional farewell parade was held for them.
The soldiers were led through the streets of Edinburgh by a pipe band from Dreghorn Barracks to Colinton Parish Church where a service was held which included a performance by the Military Wives Choir.
Hundreds of well-wishers lined the streets, including children from the local school who waved Union Flags clutching 1 SCOTS teddy bears.
1 SCOTS' last tour in Afghanistan was in 2010.
Published 18 September 2012