1 RTR soldiers return home from Afghanistan
'Welcome Home' banners, applause and celebrations greeted some 100 soldiers from H Squadron of the 1st Royal Tank Regiment (1 RTR) when they returned home from Afghanistan.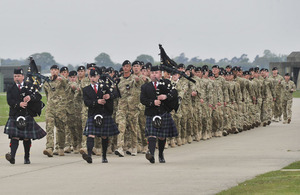 The soldiers returned to RAF Honington on Friday 18 May, where they were met by their families after completing a three-month tour of Helmand province.
The Squadron flag was raised to signify their return home before the soldiers formed up to march to the mess led by the pipes and drums, where they were greeted by their families.
Based in Camp Bastion, the soldiers have been responsible for delivering the reception, staging and onward integration (RSOI) training that is mandatory for all soldiers entering Afghanistan. It is the final stage of a six-month-long training package to ensure that the soldiers have the most up-to-date tactics, techniques, procedures and intelligence at their disposal.
The Squadron Officer Commanding, Major Jonathan Davies, said:
The training we do is vital as it is the final rehearsal before soldiers go out on the ground. We trained 9,000 men and women in a 70-day period and it has been hard work. But the dedication and professionalism of my men meant that the last lesson was as good as the first, and I am very proud of what we have achieved.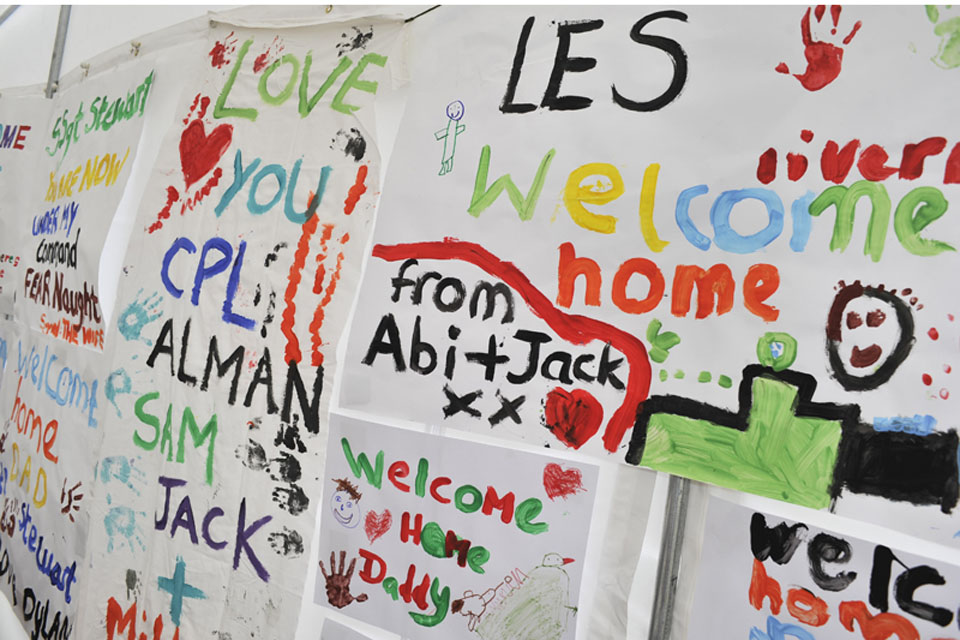 The training also provides a time for initial acclimatisation to allow the body to adapt to the harsh climate of Afghanistan, reducing the impact of heat on the body's performance.
Amongst those returning was Lieutenant Sean Sapsford. This was his first operational tour. He said:
It's fantastic to be back. It was my first operational tour. I was really keen to get out on ops. The role I had was to take the first lesson of the package, so I got soldiers when they were tired and a bit daunted about what they were starting. I spoke to every soldier in theatre and set them on their way which was a very rewarding experience.
His fiancee, Georgina, who was there to meet him, said:
I thought the time would go rather slowly whilst Sean was away. I started by counting the weeks down, then it got to days.
It's great to have Sean back this evening, " she continued. "I live away from Honington but the unit has been really supportive and said I just needed to ask if there was anything they could do for me.
Married father of two Staff Sergeant Lee Simon was also met by his family; wife Charlotte, and sons Shea, aged 5, and Charlie, 3. This was his second operational tour having deployed in 2009.
He said:
I've been to Afghanistan before working out on the ground but this time I was in a training role and it has been just as challenging and rewarding. It's hard to be away from the family but it's great to be back with them.
The soldiers will return to Afghanistan in late summer for a further three months when they will deliver the RSOI training package to soldiers who have deployed on Op HERRICK 17.
Published 23 May 2012