£1 million fund to tackle binge and underage drinking
A new £1 million fund to give local communities the tools they need to tackle binge and underage drinking is now open, Baroness Newlove announced…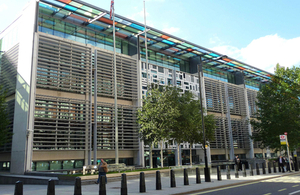 A new £1 million fund to give local communities the tools they need to tackle binge and underage drinking is now open, Baroness Newlove announced today.
In her latest report, Building Safe, Active Communities, published last month, Baroness Newlove announced her intention to give up to ten areas in England the money and extra resources for projects to make their neighbourhoods safer and better places to live.
Her report highlighted the good practice already out there, such as the community based projects based in East Belfast, Derry, Maidstone, and Newquay that are successfully dealing with problem drinking head on, but she is clear that with communities involved from the start there is room for further innovation.
As a minimum, successful applicants will need to set out how community groups, local residents, the police and retailers are integral to the action they propose to take. The strongest bids will also include health and education services and alcohol industry representatives and work with young people to arrive at effective solutions. The expectation is that these projects will lead to a direct reduction in local anti-social behaviour and that their experiences will be shared nationally.
In Maidstone, Kent, a Community Alcohol Partnerships Model has brought together Town Centre Management, the Primary Care Trust, Police, Borough Council and charities such as St John Ambulance service. They meet regularly, selecting, reporting and monitoring the key issues, and sharing information to respond better and faster to local challenges. Local traders have been fully engaged from the start and larger retailers supported the smaller independent stores by providing training and mentoring. The Proxy purchasing of alcohol has also been tackled and through the 'No ID No Sale' programme anyone who appeared to be under 25 is challenged and warning posters put up in pubs, clubs, local shops and off-licences. Police patrols confiscated alcohol from minors, and their details and other information passed on to the Youth Services to follow up.
Baroness Newlove said:
The crime and antisocial behaviour that comes in the wake of underage and binge drinking drags places down, spreading fear and anxiety in communities in place of satisfaction and pride. Everyone should have the right to live in a safe, clean environment for themselves and their children. It is a basic right and one that this fund will help deliver if enough people have the passion and will to make it happen.

The rules are simple. You must prove you have the backing and support of the local authority, police, education and those who sell alcohol to succeed. But most importantly that your bid has been developed around the expressed views of the local community. They need to be part of the solution and must be given a direct say in choosing projects the money supports.

I've seen how successful working together can be when everybody engages and there are some great grassroots projects already getting to grips with problem drinking. But I also I want to see further new ideas and fresh thinking. I want to see real team work that the rest of the country can follow.
The fund will be available to local authorities to spend over a two-year period in approximately ten communities, with each receiving in the region of £45,000 per year. Applicants are also encouraged to indicate within their overall application, any separate community project work which, in the event of an unsuccessful bid, could receive a smaller amount of funding - approximately £10,000.
The launch of the Alcohol Fund Prospectus comes on the day the Government published its Alcohol Strategy which sets out proposals to crackdown on irresponsible drinking and empower communities to reclaim their high streets.
Video
Watch a video of Baroness Newlove discussing the proposals
Notes to editors
1. Crime and anti social behaviour caused by alcohol abuse is a widely recognised problem across England. According to a 2010 Home Office Impact Assessment, alcohol-related crime is estimated to cost £8 billion-£13 billion a year. This estimate takes into account the costs in anticipation of crime, the direct physical and emotional cost to victims, the value of lost output, and the costs to the health service and the Criminal Justice System.
2. The Alcohol Fund Prospectus and bidding form for applicants can be found at: www.communities.gov.uk/publications/communities/alcoholprospectus. The Government is inviting applications, structured around  selection criteria and no more than five pages in total, from anywhere in England (rural or urban, combination of Local Authorities) to be sent to baroness.newlove@communities.gsi.gov.uk.
3. Department for Communities and Local Government has committed £1 million to support this Fund, to be equally split across the 2012-13 and 2013-14 financial years (i.e. £500,000 per financial year). The Fund is applicable to England only.
4. The Fund will expect to award in the region of £90,000 to each of up to 10 communities, subject to the outcome of the bidding process. Winning bids will be notified in May 2012.
5. The Government's Alcohol Strategy can be found at: www.homeoffice.gov.uk/publications/alcohol-drugs/alcohol/alcohol-strategy (external link).
6. Community Alcohol Partnerships aim to tackle public underage drinking through co-operation between alcohol retailers and local stakeholders, such as Trading Standards, police, local authority licensing teams, schools and health networks. Community Alcohol Partnerships address both the demand and supply side of underage drinking through enforcement, education and public perception. There are now over 35 Community Alcohol Partnerships in operation across the UK. Download a toolkit to get started: www.communityalcoholpartnerships.co.uk (external link).
7. For more information on Building Safe, Active Communities: Strong foundations by local people see: www.communities.gov.uk/publications/communities/buildingsafecommunities.
Twitter
Keep up to date with the Department by following us on Twitter (external link).
Media enquiries
Visit our newsroom contacts page for media enquiry contact details.
Published 23 March 2012