1 Medical Regiment receive Afghanistan medals
Combat medics from 1 Medical Regiment have been presented with their Operational Service Medals after returning from a demanding tour in Afghanistan.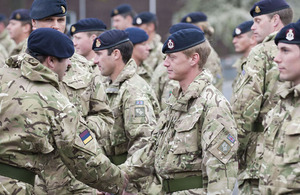 1 Medical Regiment deployed to Afghanistan on Op HERRICK 15 for six months in October 2011 in support of 20th Armoured Brigade. Their focus was ensuring that all military units had sufficient medical cover and providing support to the brigade's main mission - helping to prepare Afghan forces to take over the security of their own country.
The medics were often based at forward operating bases around Helmand province - living and working with fighting units and accompanying them on patrols with members of the Afghan National Army as they took on enemy insurgents, always ready to treat the wounded and organise their safe evacuation to hospital.
Private Robert Derbyshire was attached to A Company, The Princess of Wales's Royal Regiment, in Nad 'Ali in Helmand province, where he provided medical training to soldiers and Afghan Army medics as well as medical care to both military personnel and local Afghans.
He said:
I was based at a checkpoint and would go out on daily patrols. It was important that even infantrymen who were not medics had some basic medical knowledge just in case I or another medic they were with got injured.
The medal parade, which took place at the regiment's camp in Munster in northern Germany on Sunday 15 April, was watched by the families of the soldiers and also included music from the Band of the Prince of Wales's Division.
The Commanding Officer of 1 Medical Regiment, Lieutenant Colonel Antony Peter Finn, said:
This medal parade marks the culmination of nearly eighteen months of hard work preparing for, and deployment on, Operation HERRICK 15. During this time every element of the regiment performed outstandingly and has been widely recognised as having provided the best pre-hospital medical care possible to the British Army in the field.
I would also like to thank the Rear Operations Group who have worked so hard to make today possible and to offer a special vote of thanks to our families, not just those here today, but also those back in the UK and around the world.
Whilst the regiment has been utterly focused on doing its duty they have forever been in our thoughts. We could not do what we do without them and, on behalf of us all, I thank you for your unwavering love and support.
Published 18 April 2012