087/2012 - Military bands to entertain crowds at London 2012 venues
Military musicians from the Royal Marines, Army and Royal Air Force will be providing musical entertainment at London 2012 venues. More than 400 musicians from 16 bands will feature at nine Olympic and five Paralympic venues throughout the Games period, including on The Mall in support of the marathon, and at Eton Dorney for the rowing, adding a quintessentially British flavour to proceedings.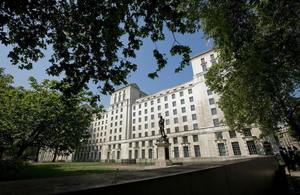 Music performed will include modern and contemporary songs, those associated with the military, classical pieces and well known popular tunes, all aimed at creating a fun and uplifting atmosphere, personalised for each venue.
Warrant Officer 1 Neil Skipper, Band Master for the Grenadier Guards who will be entertaining crowds on The Mall said:
The Olympics will provide the opportunity for the Grenadier Guards Band to perform music on an international scale. Traditional military music is played here in London on an almost daily basis, but for the 2012 Olympics it will add the ceremonial sparkle to this iconic event.
Flight Lieutenant Richard Murray, Director of Music for the Central Band of the Royal Air Force, explains more about how the music has been chosen:
We worked with LOCOG on a number of themes including Best of British, and we are also including a range of songs that will really appeal to the crowds, so songs from the musicals, big chart hits, and those with a lively, jazzy tempo. Representing the Royal Air Force we have, of course, included a few with a flying connection!
Band Corporal Nick West from the Band of HM Royal Marines Collingwood, aged 28 from L'Ancresse, Guernsey, who will be playing the trombone at Eton Dorney said:
2012 is proving to be an unforgettable year. I played at Windsor as part of the Diamond Jubilee celebrations, and I am now playing the trombone at Eton Dorney for the Olympics. I am extremely proud to be representing the Royal Marines and the Royal Navy, and cannot wait for the Games to begin!
These performances continue the proud tradition of military personnel performing at previous Olympic Games hosted by London. In 1908 the Olympic Games were opened by a fanfare by State Trumpeters from the Life Guards, at the 1908 Games the Irish Guards sounded bugle calls to signal the start of various processions of competitors, and at the 1948 Olympics the Massed Bands of the Brigade of Guards performed at the Opening and Closing Ceremonies.
2012 has been a busy year for military musicians who played at numerous events to support the Diamond Jubilee, including the parade and muster at Windsor, the River Pageant, at St Paul's Cathedral, and along the carriage route to Buckingham Palace after the Service of Thanksgiving. They will also be out in force this weekend as part of Armed Forces Day celebrations on Saturday 30 June.
ENDS
Notes to editors
Bands taking part are the Royal Marines Bands (representing the Royal Navy) from Lympstone, Collingwood and Portsmouth; The Band of the Corps of Royal Engineers, The Band of the Prince of Wales's Division, The Royal Artillery Band, The Band of the Mercian Regiment, The Band of the Scots Guards, The Band of the Grenadier Guards, The Band of the Irish Guards, The Band of the Welsh Guards, The Band of the Life Guards, The Band of The Royal Logistic Corps, The Band of the Blues and Royals, The Band of The Royal Yeomanry, The Band of the Light Cavalry, The Band of the Royal Regiment of Scotland, The Central Band of the Royal Air Force.

Military musicians and bandsmen also train alongside their counterparts and are required to support British forces on operations in places such as Afghanistan.

Images of military bands and musicians are available on the Defence News Imagery website, www.dni.mod.uk. Images for use in News reporting can be accessed via a temporary log in. User name: GuestUser Password: WhiteBoard
Published 28 June 2012