083/2012 - Flags raised across the world for the Armed Forces
Armed Forces Day celebrations will begin in style today when thousands of Armed Forces Day flags will be raised across the UK.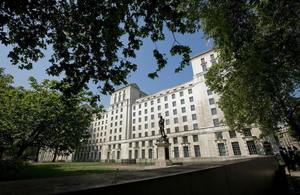 Local Authorities, town and parish councils, and local groups will raise the Armed Forces Day flag, showing their support of our Servicemen and women, and for the wider Armed Forces community of families, veterans and cadets. The raising of the Armed Forces Day flag takes place ahead of the national event, this year held in Plymouth on Saturday 30 June in the presence of HRH The Earl of Wessex.
In London, the flag will be raised on various famous landmarks, including government buildings in Whitehall and 10 Downing Street, the City of London Guildhall and outside the Mayor of London's Office, where Mayor Boris Johnson will also sign the Armed Forces Community Covenant. Around the country, communities large and small will fly the flag to show support, including Glasgow, Cardiff, Belfast, Blackpool and Darlington.
Overseas, the flag will also be raised for the UK Armed Forces. In Afghanistan, the Armed Forces Day flag is to be proudly hung from UK bases. Chief of the Defence Staff Sir David Richards said:
Armed Forces Day is now in its fourth year. It has established itself in the calendar as an opportunity for the nation to show support for the Armed Forces.
'Flying the Flag' is an excellent way to show your support, demonstrating how much we care for our Servicemen and women, past and present, who continue to rise to the very difficult challenge of defending this country and our interests.
Lord Mayor of Plymouth, Councillor Michael Wright, said:
Plymouth is incredibly proud to be hosting the Armed Forces Day National Event, particularly during such a special year for the United Kingdom.
This is a chance to honour our servicemen and women and pay tribute to their courage, their dedication and the enormous sacrifices they make for each and every one of us.>
The raising of the Armed Forces Day flag marks the start of Plymouth's annual Armed Forces Week and the countdown to an exciting day of family entertainment and spectacular land, sea and air displays.
We look forward to welcoming serving personnel, veterans, Reservists, cadets and their families to our historic waterfront on Saturday and staging a national celebration to remember.
After today's flag-raising, a week of celebrations will take place in the run up to Armed Forces Day on 30 June, with more than 200 events large and small planned across the UK. In Plymouth, more than 1,200 Service personnel, veterans and cadets will parade through the city ahead of a Drumhead service on the historic Plymouth Hoe. A steampast and gun salute from HMS Argyll from Plymouth Sound and an air show starring the Red Arrows are also planned. On Wednesday 27 June, some of the 30,000 plus UK Armed Forces Reservists will don their uniform and travel to work for the annual Uniform to Work Day, with veterans being encouraged to wear their Veteran's Badge with pride.
For more information on Armed Forces Day, please visit www.armedforcesday.org.uk
ENDS
Notes to editors
Armed Forces Day is an annual campaign aimed at celebrating the outstanding contribution of our Servicemen and women, past and present, to the life of the country. Plymouth is host for this year's Armed Forces Day national event, attended by HRH The Earl of Wessex. The first Armed Forces Day national event was held at the Historic Dockyard, Chatham in 2009. Subsequent national celebrations were held in Cardiff in 2010 and Edinburgh in 2011.

The raising of the Armed Forces Day flag begins a week-long programme of activity, culminating in the Armed Forces Day celebrations on Saturday 30 June. On Wednesday 27 June, thousands of men and women who make up the Reserve Forces will put on their uniforms to go to work. Uniform to Work Day take place every year and celebrates those people who give up their free time to serve their country.

There are many ways the public are encouraged to show their support on Armed Forces Day. These include holding an event – currently more than 200 have been registered on the Armed Forces Day website – and supporting through our Facebook page and twitter accounts (www.facebook.com/armedforcesday; www.twitter.com/armedforces_day). You can also show support on Facebook and Twitter by adding our Twibbon to your profile picture (www.twibbon.com/armedforcesday). Using a Twibbon is like wearing a badge or sticker on your jacket, adding an overlay to your Facebook or Twitter profile picture displaying your support. People can also tweet messages of support on Armed Forces Day using #armedforcesday.

Armed Forces Day has once again attracted a wide range of celebrity support in 2012, including David Beckham, Lorraine Kelly, Sir David Jason, Lord Coe, Dame Kelly Holmes, Baroness Tanni Grey-Thomson, Gary Lineker and Barbara Windsor. More can be found on the website - http://www.armedforcesday.org.uk/supporters/index.aspx

Images relating to Armed Forces Day, including photos taken by supporters with the Armed Forces Day flag, and images from flag raising around the UK can be access via the Defence News Imagery website, www.dni.mod.uk. Images for use in News reporting can be accessed via a temporary log in. User name: GuestUser Password: WhiteBoard.
For further information please contact the MOD Press Office on 020 7218 7907.
Published 25 June 2012