Operations in Afghanistan
Sergeant Dave Wilkinson from 19 Regiment Royal Artillery killed in Afghanistan
It is with profound sadness that the Ministry of Defence must confirm the death of Sergeant Dave Wilkinson from 19 Regiment Royal Artillery in southern Afghanistan on Sunday 1 July 2007.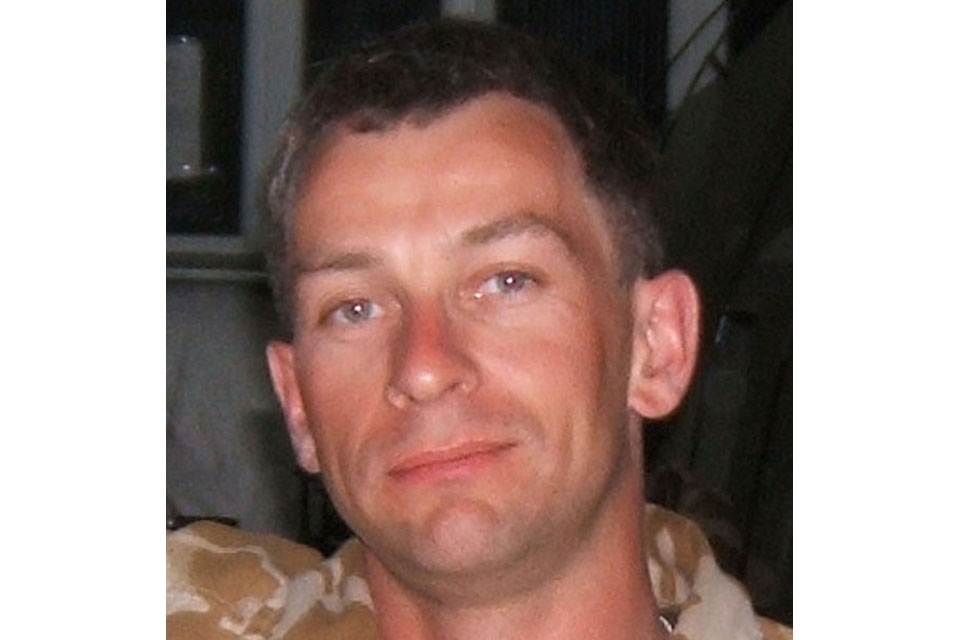 Sergeant Wilkinson, 33, was killed by an explosion during a routine joint patrol with the Afghan National Army in Gereshk, Helmand province. A member of 19 Regiment Royal Artillery, he was serving with 1st Battalion Grenadier Guards at the time of the incident, in which four other members of the patrol were injured.
The patrol was conducting routine operations with the Afghan National Army when it was struck by an improvised explosive device. Although all the injured soldiers were quickly extracted by helicopter to the ISAF medical facility at Camp Bastion, Sergeant Wilkinson was pronounced dead on arrival.
Sergeant Dave Wilkinson
Sergeant Dave Wilkinson, 'Pidge' to his friends, was a fit, courageous and determined soldier, who undoubtedly had a long and successful career ahead of him in the 'Highland Gunners'. It was entirely characteristic of his proactive nature and enthusiasm to help others, and therefore no surprise that he volunteered to undertake a period of patrolling with the Grenadier Guards team, mentoring and partnering the Afghan National Army, to allow them to continue their mission in the Gereshk area of Helmand Province.
Brought up and educated in Ashford, Kent, Sergeant Wilkinson joined the Army in 1993 and, after training, was posted to 19/5 (Gibraltar 1779-83) Battery Royal Artillery, then part of 94 Locating Regiment Royal Artillery, 'the Kent Gunners'. Despite moves to a different Regiment and a change in role, he spent the vast majority of his career serving with the Battery, forging many strong friends over 14 years. His broad experience included service in Turkey and Norway as well as operations in the Balkans and Iraq.
A highly qualified senior non commissioned officer, he specialised in the Motor Transport trade and was able to instruct on almost every vehicle in the Regiment. This passion and skill for driving extended to his spare time when he competed in civilian cross country driving competitions. His diverse interests also included kayaking and aikido and he had recently taken up golf.
Sergeant Wilkinson was a loving husband to Rachel and an exceptional soldier who will be remembered by all who knew him for his infectious, dry sense of humour as well as his professional and committed attitude. Extremely popular, he will be much missed by all who knew him.
His Commanding Officer, Lieutenant Colonel Will Bramble said:
Sergeant Wilkinson excelled as a soldier. Clearly passionate about his trade, he contributed widely to the Regiment and was held in the highest regard by all those who knew him; his selfless nature and wry wit made him extremely popular. His death is a tragic loss that has left a space that is impossible to fill. Our thoughts and prayers are with his wife, Rachel, and family. His courage will continue to be an example to all of us.
Major Tim Law Royal Artillery, his Battery Commander, said:
Sergeant 'Pidge' Wilkinson was a first-rate soldier and loving husband to Rachel who, typically, volunteered to join the Queen's Company at short notice in order to ensure that they could continue to carry out their mission in the Gereshk area of Helmand Province. A highly-qualified senior non-commissioned officer and excellent instructor, he was ideally placed to answer his country's call to mentor the Afghan National Army and, until about three weeks ago, had been responsible for overseeing his colleagues' sustainment while they were on operations.
Wishing to play a more active role in actions against the Taliban, it was characteristic of him to put his name forward to assist the Queen's Company in their task of mentoring the Afghans in the central part of the Province. A professional and committed soldier, with a dry sense of humour and a no-nonsense approach to his work, he was extremely popular and will be very much missed by all who knew him. The British Army, today, has lost a loyal and devoted servant.
Warrant Officer Class 2 Jimmy Martin, Battery Sergeant Major 5 Battery Royal Artillery said:
Dave was not only a natural soldier but also a great friend to 5 Battery and all its members past and present. He was an individual of great intelligence and could master any military motor vehicle with ease. Dave had a great character and an enormous zest for life; these qualities earned respect and admiration from all with whom he served. We will meet again, my friend and fellow soldier.
Warrant Officer Class 2 'Basher' Bate, Grenadier Guards, Company Sergeant Major Combat Support Operational Mentoring and Liaison Team said:
I only knew Dave for a short time, but found him a true professional: diligent, hardworking, loyal and honest. He had a lightning wit and I am a better person for knowing him. He will be missed greatly by both me and the team as a whole.
Staff Sergeant Darren Lincoln, 5 Battery Royal Artillery said:
Having known Dave for many years, he made an impression on everyone he met. With his professionalism and friendly manner, he was liked by everyone he came into contact with. Dave, you were my work colleague but most of all you were my friend. You will be missed.
Sergeant Dave Cooper, Signals Sergeant 5 Battery Royal Artillery said:
I have known Dave for 13 years. What I'll miss is his humour, the way he could turn any situation into something absurd, the way that he would take the mickey and produce sarcastic remarks, always at the right time. I'll also miss his professionalism. He was down the line: he was annoyingly fit, his work was always meticulous and he knew his (and most other peoples') jobs inside out. Even when a task was laborious or seemingly pointless, Dave always gave 100 per cent. Secretly, I was jealous of him (I think we all were).
Sergeant Alex Potter, Battery Commander's Assistant 5 Battery Royal Artillery said:
I have known Dave since joining the Battery 2 years ago. In all this time he hasn't changed at all: always totally professional and always full of humour. A man that cannot be replaced, he will always be missed by those who had the pleasure of meeting and working with him.
Captain Noel Claydon-Swales Light Dragoons, Officer Commanding Recce Operational Mentoring and Liaison Team said:
A kind and generous soul, he was ever happy to help both those he knew well and those not so well. Being one of the latter group, he nevertheless gave great support and energy to help both my men and myself deploy at the start of the tour. A 'fixer', Sergeant Wilkinson worked tirelessly behind the scenes to enable others to deploy on time and in safety. He will be missed.
Captain Chris West Royal Engineers, Officer Commanding Engineer Operational Mentoring and Liaison Team said:
As a Royal Engineers officer, I had never met Dave until I had the honour of working with him in both the lead-up and deployment to Afghanistan. An extremely professional and dedicated individual whose dry sense of humour and quick wit was always at hand to maintain the morale of his comrades. He will be sorely missed.
Lance Bombardier Geordie Holmes, Storeman 5 Battery Royal Artillery said:
I've known Sergeant Wilkinson since I joined the Battery in 2004 but in the last 3 months I've realised from working with him what a top bloke he is. In fact, he's probably one of the most professional Sergeants I've worked with. He was always willing to help and teach the rest of the soldiers and never let me down when I needed help. The Army has lost a good and professional Sergeant. I've lost a very good friend and will sorely miss him.
Lance Bombardier Chris Heath, Observation Post Assistant 5 Battery Royal Artillery said:
It was an honour to work with and know Dave. He was always professional and wanted the best, not only for himself but for all of his lads. He was always thinking of others whilst he was not with them, sending kit out onto the ground to help make their lives that little bit easier, and always there to help with anything on their return. With his impersonations of others, he was always good for morale. The fact that he used to sleep with a blindfold on his face always made us laugh. He has left a gap that can never be filled and he will always be remembered. All our thoughts go to his family on his return home.
Bombardier Chris Payne, 5 Battery Royal Artillery said:
Dave was my mate, I was privileged to know him for 10 years. If times were hard, Dave could always make you smile. He was able to see the funny side of any situation and was by far the most professional man in his field. I looked up to Dave as a good friend and boss. He will be sadly missed. I've lost a good friend and we've all lost a good soldier. My heart and thoughts are with Rachel and Dave's family.
Bombardier Sean Jones, Observation Post Assistant 5 Battery Royal Artillery said:
I have known Dave for almost 10 years; he always made me laugh, being like a good Monty Python show. It was an honour to work with Dave and to regard him as a mate, with him always there to lend a hand and help you in any way that he could. I will sorely miss him and the banter and life that he brought to the Battery. No-one will ever take his place. My thoughts are with all of his family.
Bombardier David Butterworth, Storeman 5 Battery Royal Artillery said:
I have known Dave since 1997, when we were Gunners together at 14 Regiment Royal Artillery, where one of his favourite tricks was to go into other peoples' rooms and move items from one side to another. Such were his practical jokes. From joking to work, he was always conscious of his responsibilities and several young Gunners have benefited from his knowledge in the gunnery and military transport world. One of Sergeant Wilkinson's best points was that he was able to joke whilst still being methodical in his work. He was a soldier who was trustworthy, reliable and honest, and a mate you could rely on.
Captain Nicholas Spratley Royal Engineer, second in command Combat Support Operational Mentoring and Liaison Team said:
Sergeant Wilkinson was everything that a British soldier should aspire to be, a true professional that made the ultimate sacrifice for his colleagues in support of the ISAF mission in Afghanistan. It was a privilege and an honour to have worked alongside him and he will not be forgotten
Lance Bombardier Sarah MacDonald, 5 Battery Royal Artillery said:
I have known Sergeant Wilkinson for a few years. I will remember him by the way he made a joke out of any situation. It is a great loss to the Battery, he was a good Sergeant and took pride in his work.
Lance Bombardier Ryan Chasteauneuf, 5 Battery Royal Artillery said:
I will miss him. He always gave me a run for my money in physical training and would take the mickey out of me for weeks when he beat me. I will miss him always.
Bombadier Paul West, 5 Battery Royal Artillery said:
I have known Sergeant Wilkinson since I became a member of 5 Battery and will always remember him for his commitment to get things done. He was known for his sarcastic comments and he loved to have a joke. He took great pride in his job and would go out of his way to help others.
Defence Secretary Des Browne said:
Sergeant Wilkinson was a particularly experienced and professional soldier and his loss has touched all who knew him. My heartfelt condolences go out to his family, friends and comrades at what must be the most difficult of times.
Published 1 July 2007