Private Robert McLaren killed in Afghanistan
It is with great sadness that the Ministry of Defence must confirm that Private Robert McLaren from The Black Watch, 3rd Battalion The Royal Regiment of Scotland (3 SCOTS), was killed in Afghanistan on the morning of 11 June 2009.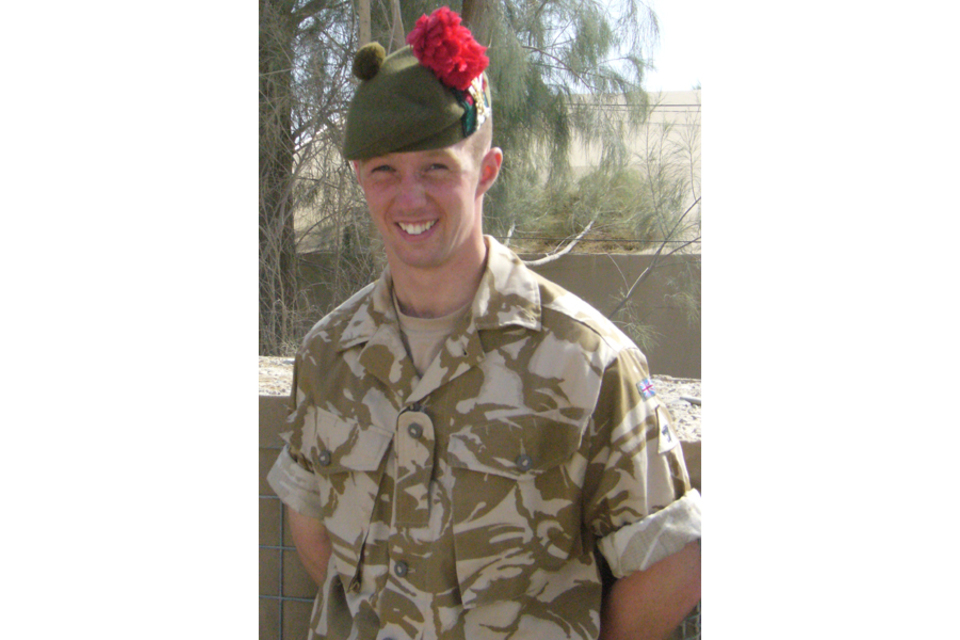 Pte McLaren, aged 20 from Kintra, by Fionnphort on the Isle of Mull, was fresh out of infantry recruit training. He was schooled at Bunnessan Primary and then Oban High School. Pte McLaren joined the Army in November 2007 and trained first at the Army Training Regiment in Winchester and then as a Royal Engineer in Surrey.
Pte McLaren ultimately decided to pursue a career as a Scottish infantryman and attended and comfortably passed the Combat Infantryman's Course at the Infantry Training Centre, Catterick. He passed out of 7 Platoon on 3 April 2009 and was posted to The Black Watch, 3rd Battalion The Royal Regiment of Scotland, on operations in southern Afghanistan.
Pte McLaren's family said:
We are very proud of Robert; he died doing a job he loved and we will cherish fond memories of Robert for ever.
Commanding Officer 3 SCOTS, Lieutenant Colonel Stephen Cartwright, said:
Private Robert McLaren has been cruelly taken from us after only four weeks of active service in The Black Watch, 3rd Battalion The Royal Regiment of Scotland.
The battalion was conducting an offensive operation against the insurgents in one of the most dangerous parts of southern Afghanistan. His company had been engaged in close combat with the insurgents for several hours and Robert had displayed enormous physical courage during this battle for one so young.
He gave his life for his friends with his selfless commitment, moving forward in the face of a determined and ruthless enemy.
From the moment he arrived he threw his heart and body into everything he was asked to do. He completed three large operations with his company and he made an immediate positive impression with his JNCOs [Junior Non-Commissioned Officers].
Fit, keen to learn and easy company, Robert had so much going for him and was so proud to be on operations so soon in his career.
Any death in this close-knit battalion delivers an emotional body blow, but the loss of this young man so soon after joining us has hit us particularly hard.
Lt Col Cartwright continued:
He has died in the service of his country, his regiment and for his friends in his platoon. On behalf of everyone in The Black Watch Battalion, I send my deepest condolences to his parents and wider family for their most tragic loss.
He will be sorely missed by his many friends in the battalion and we will never forget him. We march forward on this most difficult task knowing that Robert would be urging us to do just that. Nemo me impune lacessit.
Officer Commanding Alpha (Grenadier) Company, Major Matt Munro, said:
Robert McLaren will be remembered as a trusted friend, a brave highland Jock and an enormously talented and decent man. His sudden death is a huge blow to all of us who were privileged and fortunate enough to soldier with him.
Quietly confident, steady and assured he was an old head on young shoulders. Thoughtful and reflective, he had a ready smile, a wicked, dry sense of humour and an easy manner.
Though he soldiered with us for barely a month he immediately won the respect and admiration of all of his brother Jocks; he made a tremendous impact in the short time that he served with us in Alpha (Grenadier) Company.
Robert was a clever man who well understood the big picture; he was a 'canny' Jock who was as comfortable when robustly defeating the insurgents as he was compassionate when interacting with Afghan civilians.
He was in his element here in Afghanistan. On his first operation, just a month out of recruit training, he left an indelible impression on his brother Jocks when in his first contact he fearlessly and decisively engaged insurgents at close range.
He was killed two weeks later by an improvised explosive device as, once again, under accurate and sustained fire he pushed himself forward to support his imperilled colleagues.
This was typical of the man who without hesitation, question or thought for his personal safety, repeatedly pushed himself to the fore.
Our grief is seemingly overwhelming but nothing compared to that which his family must be suffering. They are in our thoughts and prayers.
If Robert were still with us I am clear that as a proud and determined Grenadier he would be urging us forward. Robert will be sorely missed but never forgotten. Nemo me impune lacessit.
Officer Commanding 2 Platoon, Lieutenant Robert Colquhoun, said:
Quiet and mild mannered, with a ready smile, Robert made friends quickly and had gained the respect of his peers within days of his arrival.
This calm and pleasant manner belied a determined and mature young man who was committed to his friends and the task in hand. No soldier has impressed me so much in such a short amount of time.
Always pushing himself forward to get a new angle to defeat the enemy and support his friends, he acquitted himself throughout his short time with 2 Platoon with bravery and skill.
His final action exemplified this: with his section pinned down by accurate rifle fire from two sides and the target of indirect rocket attacks his instinct was to thrust forward once again to improve his position and relieve pressure on his comrades.
His selfless commitment is consistent with the highest qualities of a soldier and testimony to his fine upbringing and excellent training.
Killed taking the fight to the enemy, he will ever be remembered with a smile on his face, ready and willing to do what was necessary to get the job done. Committed, fearless and courageous, his measured steadfastness set him apart from his peers.
Had his life not been cruelly cut short Robert was destined for great things and all who knew him will miss him greatly. We are the richer for having known him and our thoughts and prayers are with his family as they come to terms with their loss.
It was an honour to have led such a fierce, brave, loyal and proud highland soldier. Robert McLaren, I salute you.
Section Commander Samison Boila said:
Rab was up for anything. He was keen and enthusiastic doing the job he loved and it was a pleasure to work with him. I am filled with respect for his bravery. He will be greatly missed by the boys who knew him.
Pte Mark Methven said:
Robert was quite a man: he made friends quickly, he was a great soldier to work with, and always knew what he was doing and did it to the best of his ability. He will be missed but always remembered. Rest in Peace.
Pte Sireli Uluilakeba said:
Rab was a quiet but hard-working guy. He joined The Royal Regiment of Scotland because he wanted to do this job, and I think he deserves respect for all he has done since he got out here. A good friend and a willing ear, he is in my thoughts and prayers.
Pte Amphon Supharee said:
Rab was a quiet boy when he arrived, but got on well with the guys and he was a switched-on soldier.
Even though he was new, he was welcomed and everyone had respect for him. He was not just a good guy, but a great soldier.
He did his job with pride and he was always up there whatever was asked of him. I am honoured to call him my friend and will always remember him as part of our team.
Pte John Easson said:
Robert pushed himself to the limit always giving his best. Committed and reliable, I couldn't have asked for anyone better to watch my back.
A good friend and a brave soldier, he'll be sorely missed.
Defence Secretary Bob Ainsworth said:
His colleagues' moving tributes leave no doubt that Private McLaren was a courageous and determined young soldier whose maturity and dedication will be sorely missed.
He clearly made a significant contribution on his tour of duty in Afghanistan. My thoughts and sympathies are with his family, friends and comrades at this difficult time.