Operations in Afghanistan
Private Gregg Thomas Stone killed in Afghanistan
It is with sadness that the Ministry of Defence must confirm that Private Gregg Thomas Stone, from 3rd Battalion The Yorkshire Regiment, was killed in Afghanistan on Sunday 3 June 2012.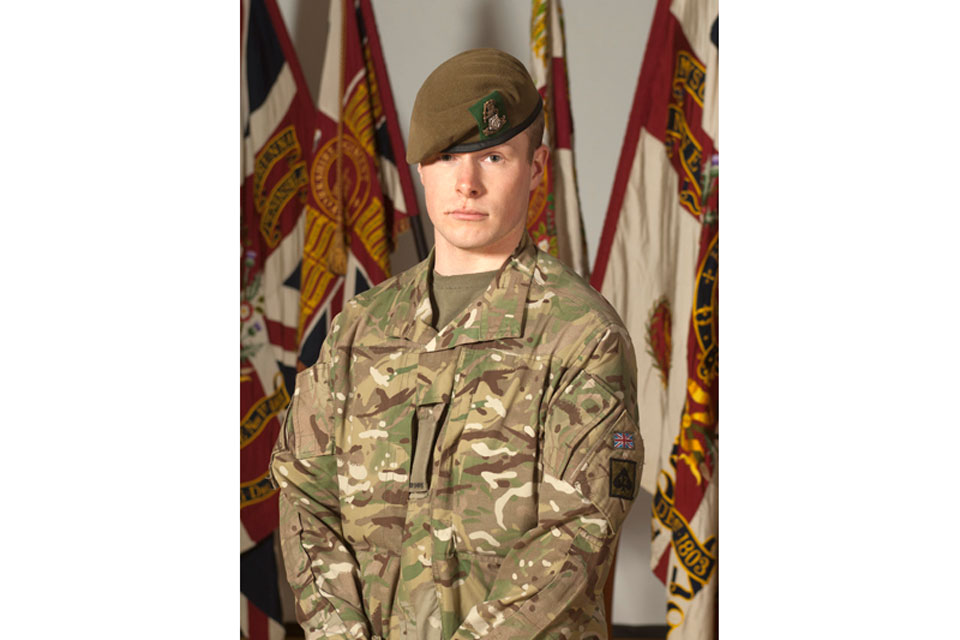 Private Stone deployed to Nahr-e Saraj district in Helmand province on 13 May 2012 as part of 6 Platoon, Burma Company. In the early evening of 3 June 2012 he was part of an operation to apprehend a group of insurgents who had abducted a member of the Afghan Police. It was during this operation that his unit came under fire and Private Stone was fatally wounded.
Private Gregg Thomas Stone
Private Stone was born on 9 October 1991 in Hull, Yorkshire, where he attended Hornsea Secondary School and joined the Army on 31 October 2009. He joined 3rd Battalion The Yorkshire Regiment in April 2010 after completing training at the Infantry Training Centre in Catterick.
After training as a light machine gunner and sharpshooter he deployed with the regiment to train in Canada before starting training for Op HERRICK. He was looking forward to attending the Junior Non-Commissioned Officers' course upon return from Afghanistan, which he was sure to pass.
He leaves behind his wife Samantha, mother Angela, father Robert, brothers Kallum, Jamie and Graeme, and sisters Rosie and Jennie.
Private Stone's wife Samantha, supported by her family - dad Paul, mum Anita, sisters Claire and Emily and brother Steven - paid the following tribute to him:
Gregg and I were childhood sweethearts and we met at school - he was my soul-mate. He was a brilliant husband and a family man who loved his family. He was always the one to want to make us laugh - he always cheered everyone up.
He was proud to be a soldier and for what he had achieved in his work. He would also want me to mention his dog Benji who he loved to bits.
Paying tribute to their son and brother, Private Stone's parents and siblings said:
He will always be a true hero in all our hearts! Anyone who was blessed enough to have known him will know how much of a credit to his friends and family he was.
Words cannot begin to describe this great loss, and we are exceptionally proud of Gregg for everything he was, has, and still is.
Gregg was the kindest, funniest, friendliest, most popular lad that you could wish to meet. This is the saddest loss of our laughing boy.
Lieutenant Colonel Zac Stenning, Commanding Officer, 3rd Battalion The Yorkshire Regiment, said:
Today we have lost Private Gregg Stone; a committed professional soldier and our brother in arms, who died protecting the lives of others. Fit and determined, Gregg was a happy outgoing soldier who enthused those around him. He was respected and admired by his fellows, as someone who was totally selfless and cared deeply for others.
He was not only notable for his military skills but also for his singing prowess and his motocross achievements. His colleagues and friends describe him simply and unequivocally as a 'legend', such was his outgoing and upbeat nature. His hard working attitude and eagerness to soldier, coupled with his friendliness and compassion, made him the perfect Yorkshire Infantry soldier and we are proud and honoured to have served with him.
But our loss today is as nothing to that felt by his wife Samantha, his five brothers and sisters and his parents whom he loved so much. Our thoughts and prayers are firmly with them on this sad day.
Major Rob Singleton, Officer Commanding Burma Company, 3rd Battalion The Yorkshire Regiment, said:
Private Gregg Stone was an exceptional young soldier. He was a loving family man and always cheerful with a smile on his face. He was utterly professional to his core and an example to other soldiers in the Company. I have no doubt he would have passed a JNCO Cadre course after this tour; becoming a very strong junior commander he would have flown up the ranks.
He stood out as a real team player who always made the time to help others. He was an outstanding soldier and a loving husband, son and brother. Only a few days ago he told me how excited he was at the prospect of becoming a father for the first time. He will be sorely missed by everyone in Burma Company and he will never be forgotten. The thoughts and prayers of every member of Burma Company are with Gregg's wife and his loving family.
Lieutenant Luke Mason, 6 Platoon Commander, Burma Company, 3rd Battalion The Yorkshire Regiment, said:
Private Stone was not only a fine soldier but a man who worked tirelessly for his friends and colleagues. His ability as an Infantryman was unequalled within the Platoon and his drive, determination and courage ensured that he was the perfect role model for those who looked up to him.
He was personable and good humoured, always making others laugh but at the same time maintaining utter professionalism whilst keenly focused on his job. He leaves behind a loving wife, of whom he was so proud that he talked about her constantly.
It was an honour and a privilege to have commanded Private Stone, but it was also my honour to have called him a friend. He will be missed terribly and our thoughts and prayers go to his family and wife Samantha at this difficult time.
Warrant Officer Class 2 Liam Seviour, Company Sergeant Major, Burma Company, 3rd Battalion The Yorkshire Regiment, said:
Private Stone was an inspiration to us all. Whenever anyone was down he would raise their spirits. He was selfless to the core and a great team player, who will be dearly missed. A good friend and was excited about becoming a father.
Colour Sergeant Graeme Anderson, Company Quartermaster Sergeant, Burma Company, 3rd Battalion The Yorkshire Regiment, said:
Having known Private Stone since I joined the Company in September 2011, I can say that he was always a pleasure to work with. Though not a member of my immediate team, he always stood out as a man that would get every task done that was given to him.
He was popular with everyone and took great pride in being the soldier nominated to attend and pass the very difficult Sharpshooter course. He played his part to the maximum in what is already a well drilled Platoon, ensuring that he never lowered his standards and strived to be the very best.
He looked forward to deploying on operations with 6 Platoon and settled well into the Checkpoint that was to become home. A conversation that will stay with me for years to come was when he told me of his pride in hearing that he was to become a father.
His loss to Burma Company will leave unfillable void and our thoughts and prayers go out to his wife Samantha and his family.
Sergeant Geoffrey Marshall, 6 Platoon Sergeant, Burma Company, 3rd Battalion The Yorkshire Regiment, said:
Private Gregg Stone had a very infectious personality and a good sense of humour. He was a keen family man and devoted to his wife. He was a keen, enthusiastic, and professional young soldier with a bright, promising career ahead of him; definitely a star of the future. He had the respect of his friends, his peers and the Platoon. He will be sorely missed.
The poem above his bed space and above his door at the Checkpoint where he lived was titled 'Invictus'; part of which he always read before going on patrol. 'I am the master of my fate; I am the Captain of my soul.' Rest in peace Gregg.
Corporal Philip Shaw, Section Commander, 6 Platoon, Burma Company, 3rd Battalion The Yorkshire Regiment, said:
I knew Private Gregg Stone was an intelligent soldier, who got on with the job without complaint. He was always lively around his mates and always singing. I have a picture of him sitting around the table in the Checkpoint laughing and joking.
He would always help with the maintenance of the quad bike as he has his own quad bike in the UK. He spoke very proudly of his wife and I remember him showing me the picture above his bed space of him and his wife when they were at school.
Corporal Michael Watson, Section Commander, 6 Platoon, Burma Company, 3rd Battalion The Yorkshire Regiment, said:
Private Stone was an amazing bloke to work with and I felt privileged to have him on my team. This is why he was my 'cover man', as I knew he would be able to handle the situation. He was the first person every day to say "Good Morning" to me, which always cheered me up for the day. I regularly spoke to him about having children and being in the Army.
We found comfort in each other through this and after being in a similar situation myself during Op HERRICK 10, I knew where he was coming from. He was always the first to volunteer for the next day's patrol; the bravest of the brave. Private Stone was more a friend to me than a colleague. He will be missed dearly as we have lost a real character. Our thoughts are with his wife and family
Lance Corporal Richard Kelly, 6 Platoon, Burma Company, 3rd Battalion The Yorkshire Regiment, said:
I joined the Army in 2009 and met Gregg on my first day of basic training. We both joined 6 Platoon, Burma Company, together. I was ecstatic to be in the same Platoon as Gregg as he was a good guy to get on with and a top class soldier. He talked highly of his family, wife, and was excited about becoming a father. He was an exceptionally hard worker and someone who always got the job done.
He was working hard towards promotion and had a bright career ahead. There will always be a hole in the spot that Gregg filled, as no one can ever fill or replace him.
Private Devon James, 6 Platoon, Burma Company, 3rd Battalion The Yorkshire Regiment, said:
I haven't known Private Stone for long, but he was like a brother to me. We became close during the build-up to the tour and throughout training he would always be there for me when I needed someone to talk to. He was someone I could always rely on; a really funny lad, always cracking jokes and raising the morale when the lads were a bit down. Overall, a really good mate and one of a kind.
Private Josh Knapton, 4 Platoon, Burma Company, 3rd Battalion The Yorkshire Regiment, said:
Gregg and I were good mates and he was Best Man at my wedding. I would describe him as a person who was always laughing and joking. He would have great banter with the lads and was always a great source of morale in the Company. He could never speak enough about his wife, Samantha, and his wider family who he was very close to. I will miss a true friend.
Private Nico Wootton, 4 Platoon, Burma Company, 3rd Battalion The Yorkshire Regiment, said:
Gregg was a great man with a heart of gold and was a true gent. He never moaned when things got tough and always kept the lads morale high. He and his wife would bounce off one another and keep each other strong and loved walking their dog. When I first arrived in the Company, Gregg was one of those lads who taught me the ways of the Battalion. I have a lot of time for Gregg now and always. You will never be forgotten my friend - never!
Defence Secretary Philip Hammond said:
I was sorry to hear of the death of Private Stone who was clearly a committed, courageous and professional soldier who had made a big impression since joining the Army just two years ago.
His death will be a great loss to his fellow soldiers and my sympathies are with them and Private Stone's wife and family, who should be extremely proud of what he achieved.
Published 5 June 2012