Lance Corporal Paul "Sandy" Sandford killed in Afghanistan
It is with deep sadness that the Ministry of Defence must confirm the death of Lance Corporal Paul "Sandy" Sandford from 1st Battalion The Worcestershire and Sherwood Foresters in Helmand Province, southern Afghanistan, Wednesday 6 June 2007.
LCpl Sandford was killed at around 0645 (local time) while taking part in an offensive patrol with his company aimed at disrupting Taliban forces in the Upper Gereshk Valley area of Helmand Province, eight kilometres north east of the town of Gereshk.
The company was moving forward to clear a Taliban compound when they came under fire and LCpl Sandford was shot. He was taken to an International Security Assistance Force (ISAF) patrol base. From there he was flown by helicopter to Camp Bastion for medical treatment where, sadly, he was pronounced dead on arrival.
Lance Corporal Paul "Sandy" Sandford
Lance Corporal Paul Sandford, aged 23, was born in Nottingham and joined 1WFR as a junior soldier in Chester in 2002 serving continuously with B Company. He saw overseas service with the Battalion in Northern Ireland, Afghanistan on Op Herrick 1 in 2004, Kenya, Belize and Canada. His intelligence, courage and confident leadership were apparent to all who met him. Already selected for promotion, LCpl Sandford was in the top of his peer group and had a bright future.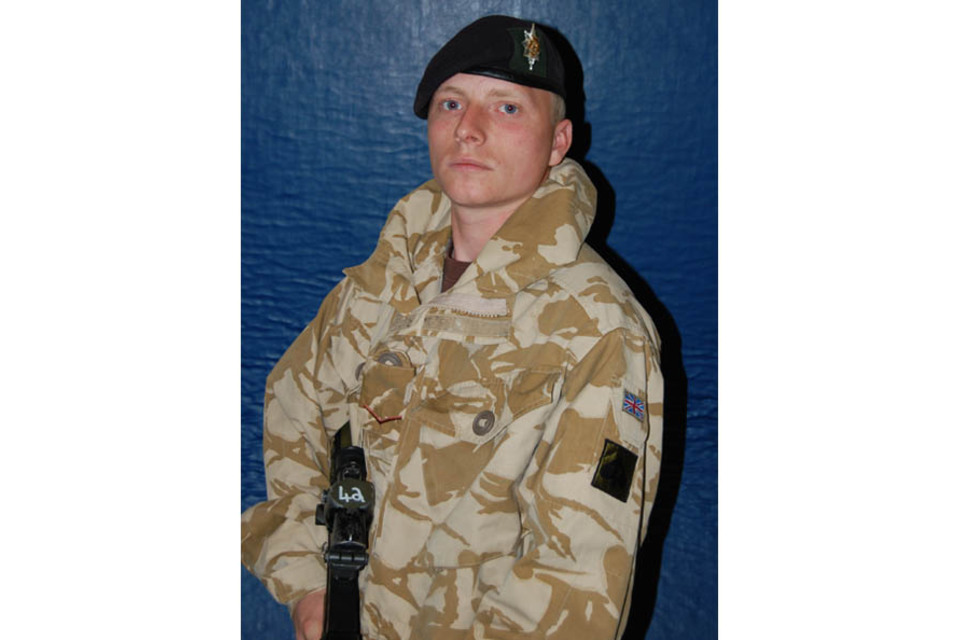 LCpl Sandford volunteered to take part in the Regimental Inter-Company Boxing Competition in November 2006. He was instrumental in the team's strong performance, consistently punching above his weight and training and fighting hard. This was characteristic of the man, always leading from the front.
He had been married a year and had recently celebrated his first wedding anniversary. He spoke to his friends of starting a family and was counting down the days when he would be home again with his wife.
Lieutenant Colonel Richard Westley MC, his Commanding Officer, said of LCpl Sandford:
LCpl Paul 'Sandy' Sandford was killed in action whilst fighting enemy forces in the Upper Gereshk Valley in Helmand Province. He has died as he had lived, fearlessly leading his men from the front. We have lost a good friend and an exceptional fighting man and we send our thoughts to his wife, Gaynor, and his family. Whilst the loss of LCpl Sandford weighs heavy on our hearts it strengthens our resolve to pursue our goals here and we strive to uphold the standards that he set and maintained.
Major Simon Butt, Officer Commanding B Company said:
LCpl Paul Sandford's death is a tragedy to his family and to B Coy. LCpl 'Sandy' Sandford was enormously popular amongst the Coy and our loss will be keenest felt amongst his Section and Platoon where he stood tall and was full of life. Our thoughts and condolences are with his wife Gaynor and his family at this difficult hour.
All who met him knew him to be a brave and highly professional soldier who had earned the respect of those who fought alongside him. Nothing can replace this loss, Sandy has made his mark on our lives and will never be forgotten.
Captain Jeff Lee, Boxing Officer said:
LCpl Sandford showed his professionalism, grit and determination not just on the battlefield but also whilst boxing for B Coy, memorably in the Inter Unit Finals. He became a focal point for the Company training programme and helped in numerous ways to bring others on.
He was a robust and enthusiastic figure, who befittingly used his JNCO qualities to assist his team in their fitness and technical preparation. He demonstrated his resolve when he made the Bantamweight finals, he was an example to all, exuding confidence, courage and determination.
Fellow soldier and friend, Private Kieron Braggington, 6 Platoon, B Company said:
Sandy was an excellent NCO and a good lad, always up for a laugh, if there was a joke to be played he was in on it. He could be trusted, always somebody you could talk to in confidence. It never mattered how upset he was, he always had a smile. He was morale for all of the blokes. He is irreplaceable and will be sorely missed.
Defence Secretary, Des Browne said:
My heart goes out to the family of Lance Corporal Sandford as they struggle to come to terms with their loss. By all accounts, he was an exceptional soldier and a man you would want by your side when faced with the enemy. He died trying to improve the lives of the people of Afghanistan and his sacrifice will not be forgotten.
The family of Lance Corporal Sandford have requested that the media allow them to grieve in private.