Operations in Afghanistan
Corporal Jack Leslie Stanley dies of wounds sustained in Afghanistan
It is with sadness that the Ministry of Defence announces that Corporal Jack Leslie Stanley from the Queen's Royal Hussars died in hospital in Birmingham on 8 April 2012 from wounds sustained in Afghanistan.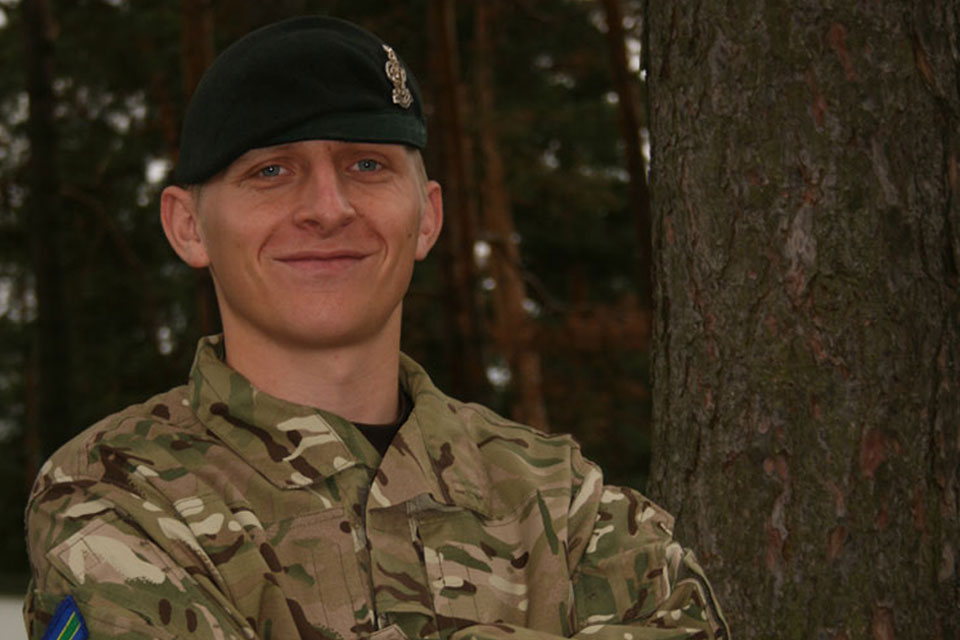 Corporal Jack Leslie Stanley was a Section Commander who deployed to Afghanistan with C (Coriano) Company, Combined Force Lashkar Gah (The Queen's Royal Hussars Battle Group) in October 2011. He operated out of Patrol Base Attal situated on Route 601, the main transit route between Lashkar Gah and Gereshk, east of Lashkar Gah city.
On 3 February 2012, his multiple was in the area of Pupalzay Kalay, east of Lashkar Gah city on a patrol tasked to improve the understanding of the area and the local population. Whilst moving from a compound and crossing into a field Corporal Stanley was caught in the blast from an improvised explosive device and was seriously injured.
He was immediately evacuated by helicopter to the Camp Bastion Role 3 Medical Facility where he received further treatment before being transferred to the Queen Elizabeth Hospital in Birmingham. Tragically, on 8 April 2012, after bravely battling his injuries for two months, Corporal Stanley succumbed to his wounds.
Corporal Jack Leslie Stanley
Corporal Stanley was born on 25 February 1986. He joined the Army in January 2003 and on completion of basic training joined The Queen's Royal Hussars in December 2003. He deployed to Iraq on Operation TELIC 8 in 2006; even then he was already making a name for himself as a gifted young soldier. On his return from Iraq he was put into Reconnaissance Troop, where he excelled. Such was his talent for soldiering, he remained in Reconnaissance Troop, including a return to Iraq on Operation TELIC 13 as a member of the Brigade Reconnaissance Force.
Corporal Stanley's talents were not confined to soldiering. He was also an outstanding footballer and a key member of the Regimental team which won the British Army (Germany) Cup in 2010 and the Cavalry Cup in 2011.
Corporal Stanley was an enormously popular soldier and a lynchpin of his Company's tight-knit community with his ready laugh and positive attitude. To those he worked for he was a steadfast and talented commander; to his peers a stalwart comrade in arms; to his subordinates a trusted leader and role model and to his many friends a joy to be around. He was, in short, an exemplary soldier and by those who had the honour to call him a friend and serve with him, he shall be sorely missed and never forgotten.
He leaves behind his mother, Brenda, his father, Tom, his sister, Rachel, and his girlfriend, Sarah. The thoughts and prayers of all those in The Queen's Royal Hussars and Combined Force Lashkar Gah are very much with them at this most difficult time.
Corporal Stanley's mother, Brenda, paid the following tribute:
Jack was a kind, generous lad with a ready smile. His dedication to his regiment was equalled only by his passion for Bolton Wanderers Football Club. He fought so hard to stay with us and the devastation we feel cannot be described. The world is duller without him and heaven brighter.
The Secretary of State for Defence, Philip Hammond, said:
My heartfelt condolences go out to Corporal Stanley's family, comrades and friends during this particularly difficult time. It is clear from the tributes paid to him that Corporal Stanley was an extremely brave individual who exemplified all the virtues of the British soldier. Personable and professional to the end, Corporal Stanley showed himself to be a trusted leader and by every account given by those who knew him, he was a credit to his parents and his regiment. I express my sincere sympathies to loved ones left behind. Lieutenant Colonel Ian Mortimer, Commanding Officer, Combined Force Lashkar Gah (The Queen's Royal Hussars Battle Group) said:
Corporal Jack 'Stan' Stanley joined The Queen's Royal Hussars in December 2003. Right from the beginning he made a huge impression. Such was his ability and flair for soldiering he was quickly singled out to join the Regiment's Reconnaissance Troop where he excelled.
He was utterly dedicated to his friends and the Regiment, and this just shone through in everything he did. Hugely popular with all ranks he was known for his quick wit and ready smile, even in the darker moments. Professional, fit, robust and utterly determined, he thrived on the challenges of Army life, whether it was on operations in Iraq, or here in Afghanistan.
He was fantastic at his job and also a renowned footballer. Both on and off the sports-field he excelled. He epitomised the very best of his generation. We have lost a most outstanding soldier who was an inspiration to all. Junior soldiers aspired to be like Stan.
He was gravely injured on operations here in Afghanistan and has tragically succumbed to his wounds. Our thoughts and prayers are with his family at this most difficult and tragic time. We will remember him.
Major Alexander Porter, Officer Commanding C (Coriano) Company, Combined Force Lashkar Gah (The Queen's Royal Hussars Battle Group), said:
It has been an honour and a privilege to command Corporal Jack Stanley for the last thirteen months. He joined C (Coriano) Company from the Regimental Reconnaissance Troop in January 2011 preceded by an exemplary reputation which he upheld throughout pre-deployment training exercises and onto the deployment to Afghanistan in October 2011.
His enthusiasm, sense of humour and professionalism were infectious and his subordinates had a clear sense of loyalty to him.
Corporal Stanley's performance in Afghanistan was outstanding. As an indication of his dedication to the job in hand, only weeks before the incident I had appraised the Brigade Commander of his actions when treating an Afghan Uniformed Policeman who had been severely injured whilst out on patrol.
As a friend and sportsman, his competitive streak was tireless; on numerous occasions I would be certain of victory in our regular cross country running competitions, only to see Corporal Stanley effortlessly breeze past me in the final few hundred metres. The whole Company are shocked and saddened by this devastating loss of a life in its prime. We have all been deprived of one of the Army's finest soldiers and he will be dearly missed. Our thoughts and prayers are firmly with his parents and sister at this difficult time.
Lieutenant Fergus Macdiarmid, 1 Platoon Commander, C (Coriano) Company, Combined Force Lashkar Gah (The Queen's Royal Hussars Battle Group) said:
Cpl Jack Stanley was a true character within the platoon and a pleasure both to serve with and command. Cpl Stanley set the bar high and was an example to all, idolised by younger members of the platoon and respected by those he served alongside. He was passionate about his job and loved those he lived and worked with.
The shock of his death after such a courageous fight in Queen Elizabeth Hospital has deeply affected us. My thoughts and prayers and those of my platoon go out to his family and friends.
Warrant Officer Class 1 Colin Davidson, Regimental Sergeant Major, Combined Force Lashkar Gah (The Queen's Royal Hussars Battle Group) said:
Cpl Jack Stanley joined D Squadron of The Queen's Royal Hussars in 2003 and very quickly established himself as one to watch. He had a quick wit, an engaging smile and huge talent both as a soldier and member of the Regimental football team. I have been humbled by his impact as a junior commander on Operation Herrick 15.
Jack Stanley lived the unofficial regimental motto and truly was "Better by Far" in everything he did. Supremely fit, and destined for the top, he was the finest of his generation. His loss is felt deeply by all members of the Regiment both past and present. We shall be the poorer for his passing. My prayers are for his family, girlfriend and friends at this most difficult time. Mente et Manu.
Warrant Officer Class 2 Graeme Davidson, Company Sergeant Major, C (Coriano) Company, Combined Force Lashkar Gah (The Queen's Royal Hussars Battle Group) said:
I have had the honour and privilege of knowing Corporal Jack Stanley since he arrived at the Armour Centre, Bovington for his special-to-arm training. From the moment I met him I knew he was going to be a character and I wasn't wrong.
Corporal Stanley had the ability to lighten up any situation and with one swift comment he could have the whole Company in fits of laughter. He inspired his men and lead by example on the battlefield showing courage and determination when it was needed most. He was an excellent soldier and was chosen to be part of the Regimental Reconnaissance Troop, where I served alongside him, and I really got to know him.
I trusted him with the most critical of tasks and he never let me down, ever. My thoughts and prayers are with his family at this time, and I know his sacrifice will never be forgotten by his fellow Hussars. Sleep well Jack. Mente et Manu.
Warrant Officer Class 2 Neil Rudd, Squadron Sergeant Major, Headquarter Squadron, Combined Force Lashkar Gah (The Queen's Royal Hussars Battle Group) said:
Cpl Jack Stanley will be sorely missed by all that knew him. You could not have asked for a more professional soldier; a bright and intelligent young man, he had such a promising career ahead of him. He led from the front in everything he did, a fine example to the soldiers below him, admired by his peers and well respected by his superiors. It was an absolute pleasure to have served with him and I am proud to have had him as a friend.
A talented footballer he helped the Regiment to Army and Cavalry Cup success in recent years. He was loved by all that knew him, an infectious character who could lighten any mood. One of life's true heroes and we shall all certainly miss that cheeky smile. God Bless Stan. Mente et Manu.
Sergeant Jonathan David Hillary, 1 Platoon Sergeant, C (Coriano) Company, Combined Force Lashkar Gah (The Queen's Royal Hussars Battle Group) said:
Jack was a blonde, cheeky chap from Bolton who would do anything to preserve as much of his hair as possible without getting caught! More importantly though he was a soldier to respect and follow. He was, and will be remembered as, a great leader to his young soldiers and respected by his commanders.
I have had the privilege of commanding Jack for the past 18 months and it has been the best time in my 13 years of service. Jack will be missed by the whole Platoon and there is now a hole in the hearts of all of the men who knew him. Our thoughts and prayers are now with his family and loved ones at this time. We will never forget.
Corporal Craig Davis, Company Signals Representative, C (Coriano) Company, Combined Force Lashkar Gah (The Queen's Royal Hussars Battle Group) said:
Jack was the kind of person who would enter a room and put a smile on the face of everyone in it. I had the privilege of meeting him several years ago when he joined the Regimental Football Team and our friendship began there. Although I haven't worked as closely to him as some during HERRICK 15 we still found time to chat and he would boost my morale as we shared our moans and gripes.
He was a proud Bolton Wanderers fan and we would always give him some banter when they lost but he would still hold his head up high in much the same way as he would when times got bad out here. Jack wore a thin red elastic band around his left wrist which he said was a good luck charm which he has worn for many years without breaking. I recently found a bag full of them in his bed space! With his dodgy fashion sense, red elastic band and the morale he brought with him wherever he went, Jack was the person to be around.
He has many friends spread to the four winds and will be deeply missed. Words can't explain what his friends and family must be going through but my thoughts are with them. Jack you are one of a kind and will be missed.
Corporal Ashanti Daniel, Section Commander, 1 Platoon, C (Coriano) Company, Combined Force Lashkar Gah (The Queen's Royal Hussars Battle Group) said:
When speaking of 'Our Jack' it is difficult to decide where to start. I remember when Jack first got to D Squadron some eight years ago. He was a small, blonde, cheeky, northern lad who loved football and Bolton Wanderers. Being a fellow regimental football player and keen football fan I took to Jack straight away.
Jack was the sort of lad who was always full of energy and morale whether it was on the football pitch during a game or in the cold and wet of the Brecon Beacons. Jack Stanley was an extremely fit and professional soldier who loved soldiering.
I was lucky enough to have had the privilege of working with Jack in D Squadron, the Regimental Reconnaissance Troop and in 1 Platoon, C Company where he was my second in command during pre-deployment training. I didn't just see Jack as a fellow soldier, I saw him as a true friend who I will miss having a drink, playing football and soldiering with.
My fellow soldiers of C Company and the Regimental Football Team will never forget you Jack. You will always be in our hearts. My thoughts go out to his family and friends. Sleep well Jack, my brother in arms.
Lance Corporal Nathan Richards, Section Second in Command, 1 Platoon, C (Coriano) Company, Combined Force Lashkar Gah (The Queen's Royal Hussars Battle Group) said:
Jack Stanley was a true 'Jack the Lad'. No matter how tough things got you could guarantee that Jack could change the atmosphere and raise morale. His sense of humour and outspoken personality made Jack a great asset to have wherever he worked. I remember when we were on exercise in Canada whilst part of the Regimental Reconnaissance Troop. We were all cold, wet and tired in our night time location and Stan's vehicle would arrive and instantly just with his presence people would be laughing and joking and our whole day would be brightened. Jack had the ability to do that.
Jack was a legend and his outstanding contribution to the Regimental Football Team, D Squadron, Reconnaissance Troop, A Squadron and C Company will never be forgotten. Jack was a top soldier, fit and always active, with a happy-go-lucky character always ready to give and receive banter. Jack was an all-round good lad, always happy to help and losing him will be a great sadness not just to his family and friends back home but to all the people he served with during his career. We all loved this funny, outspoken and genuine guy and he had a big place in our hearts.
Despite being a Bolton Wanderers fan he was always a player to watch on the pitch and was a key member of our team. My thoughts are with his family at this hard time. I never got the chance to say goodbye to Jack personally but at least his family and those closest to him had a chance to say goodbye in person. As a Company we will never forget the many laughs, tears and tough times we shared. I'm happy and proud to have served alongside Jack and I'll remember him forever. Rest in peace Jack Stanley; gone but never forgotten.
Trooper Luke Pinnock, HQ Rear Ops Group, Queen's Royal Hussars, said:
I first met Jack on TELIC 13 [Iraq] back in 2008; although I was the new lad he was very welcoming and made an effort to get to know me. Very quickly it was apparent that we had a different fashion sense and a different taste in music but we both shared a passion for football. His love for Bolton Wanderers was matched by his love for playing the sport. His positive outlook on life and ability to raise morale amongst everyone is what made him so easy to get on with.
Most of our time together was spent watching or playing football. We'd meet at Anfield when Liverpool played Bolton and travelled to Amsterdam's fan park for the 2010 World Cup Final. We'd spend evenings watching a game on TV whilst he burnt a pizza in his microwave oven. He was very quick-witted and was always making people laugh. Although he was full of banter he also had a warmer side which made it easy to confide in him and share daily moans with.
Not only was he a brilliant soldier but he was a best friend. Even in my final weeks with Jack he remained positive and did his best to put a brave face on things; I'm proud of him for that. The hole he leaves in my life will never be filled. Heaven needed a hero. Rest in peace Stan, always in our hearts.
Published 9 April 2012