Corporal Dean Thomas John and Corporal Graeme Stiff killed in Afghanistan
It is with great sadness that the Ministry of Defence must confirm the deaths of Corporal Graeme Stiff and Corporal Dean John of the Royal Electrical and Mechanical Engineers in Helmand province on Sunday 15 March 2009.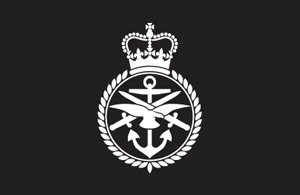 Both soldiers were members of the Light Aid Detachment of 1st The Queen's Dragoon Guards (QDG).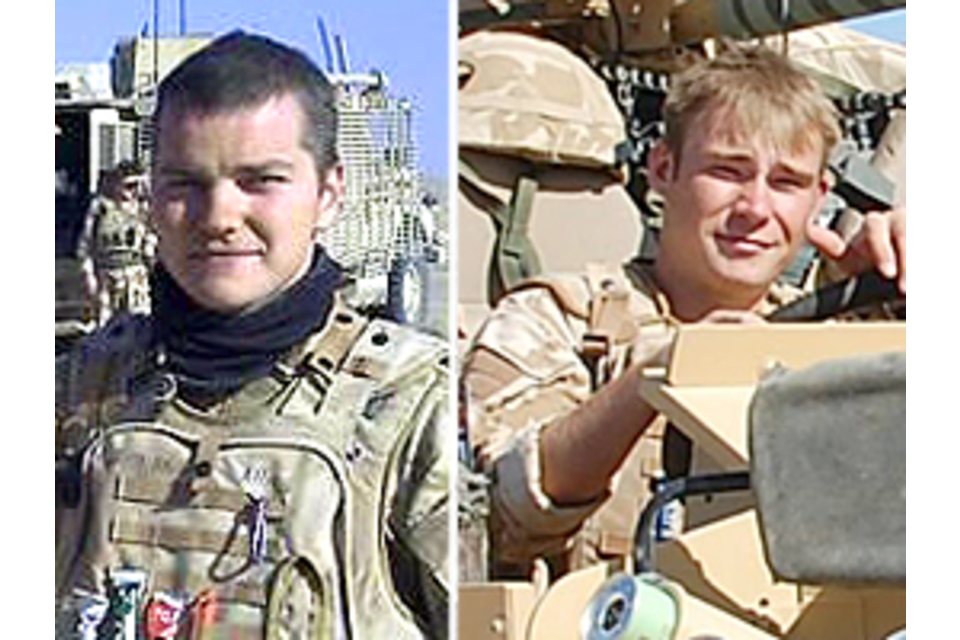 The men had been conducting a vehicle move to the west of Garmsir in Helmand province, southern Afghanistan. Corporals John and Stiff had been travelling in a Jackal patrol vehicle when, at about 1630 hours local time, it was struck by an explosive device and they were both killed.
Corporal Dean Thomas John
Corporal Dean John, aged 25, was born and bred in Neath, South Wales. His hometown is Port Talbot in Wales. He joined the Royal Electrical and Mechanical Engineers (REME) in August 2000 and after passing out of basic training was posted to 12th Regiment Royal Artillery in Germany. His subsequent postings were also to Germany based units: 1st Battalion Royal Electrical and Mechanical Engineers and 1st The Queen's Dragoon Guards.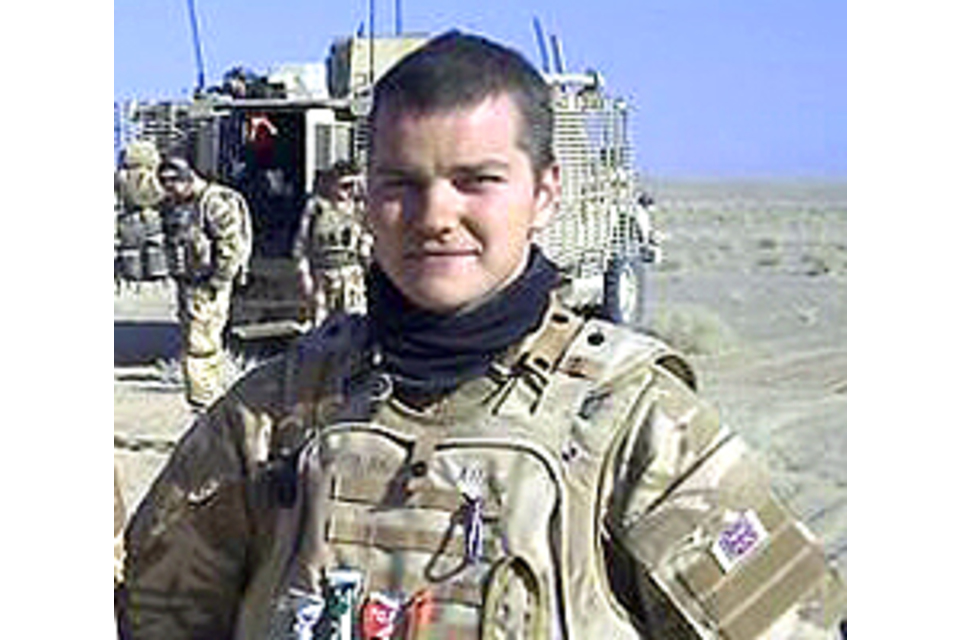 He had served in Northern Ireland, Iraq and was on his second tour of Afghanistan as a Vehicle Mechanic in the Fitter Section of A Squadron, QDG. He was married to Wendy and father to three sons - Ethan, Harvey, and Dylan.
Corporal John was the epitome of a REME soldier: enthusiastic, determined, selfless, hardworking and loyal. He was a happy and loveable rogue who could always be found up to his elbows in the engine compartment of any vehicle that even looked like it needed some work.
He had an enormous appetite for hard work and a tenacity that drove him to extraordinary lengths to fix problems. His inquisitive and active mind would analyse why some component had failed and seek a solution to avoid a reoccurrence. His consummate professionalism and wonderfully fun character made him a universally popular and respected member of the Fitter Section, Squadron and Regiment. He had a very bright future, having won an award for being the joint best Non-Commissioned Officer in the Light Aid Detachment of the Queen's Dragoon Guards and receiving a recommendation for Artificer training.
He was an avid motocross fan and had an addiction to anything mechanical. He loved his job and his mates and was never one to miss a party, but he was also a devoted husband and father. In the quieter moments of the tour he would speak lovingly of Wendy and with immense pride of his three boys. He leaves behind a gap in the Regiment, Squadron and Fitter Section that is irreplaceable and an even greater hole in a young family.
Dean's wife, Wendy, paid the following tribute:
Dean was a much loved husband and father and treasured by all his family. He will be fondly remembered. Dean died doing the job he loved, fighting for his queen and country. He was our hero and will live on in our hearts. Dean lived life to the full and was always happy and smiling. He will be greatly missed.
Lieutenant Colonel Alan Richmond, Commanding Officer QDG, said:
The loss of Dean John has cast a dark shadow over the Regiment. He had been part of our Regimental family for almost three years. He was a huge character who had a reputation for hard work and professionalism, capped with a wonderful sense of humour and love of practical jokes. He was a proud Welshman who loved his job, his friends and his family. He was one of the most incredible mechanics with whom I have had the privilege of serving alongside; so utterly dependable that people fought to secure his services.
He was universally popular and so widely respected because of his incredible capacity for hard work and tenacious determination to fix everything mechanical. He was also so clearly happy in his work and had such a bright future ahead of him. Dean's death is a great loss to all of us in the Queen's Dragoon Guards. We will remember him and our thoughts are with Wendy and his family at this most painful times.
Major Charlie Waggett, Squadron Leader, A Sqn, QDG, said:
At a time like this it is hard to put into words the sense of the loss felt by so many people for such a lovely bloke, for such a top man. Cpl Dean John was the best of so many things - always so bright and cheery, I cannot remember a moment when he did not seem to be at the top of his game.
He was incredibly dedicated to his role, and he was immensely good at it. The amount of hours that he dug out to ensure that the Squadron's vehicles were task-worthy cannot even be fathomed. In recently writing a proposal for a commendation for his efforts on this tour, I commented on his 'unwavering professionalism', his 'determination to succeed', and his 'remarkable trade ability'.
But Corporal John was so much more than just an excellent soldier. We, his friends, in the Fitter Section, in the Squadron, in the Regiment and in the REME, have lost someone who truly was a little bit special: someone who would always smile even when the chips were down. Someone who had a mischievous glint in his eye and an enormous sense of fun in his character; and someone who was there for other people.
But our sense of loss is nothing compared to that of his wife and three young sons that he leaves behind, and to whom our thoughts and support must now turn, and to whom we can only offer our deepest and most sincere condolences at this tragic time.
Captain David Toland, Officer Commanding QDG Light Aid Detachment, said:
Corporal Dean John could not have been a funnier, more hard-working soldier and engineer who would do anything for anyone. He was a hugely knowledgeable REME mechanic that demanded the best of his soldiers and accepted nothing less from himself. He was often found at his happiest when deprived of sleep, cursing away and completely covered in oil having fixed a vehicle; I don't think there was anything he could not fix.
Throughout his time in the Light Aid Detachment it has always been obvious he was one of the best of his generation with the world at his feet. This is a complete blow for all of his friends and colleagues who could not fail to love this larger than life personality; he was at the heart of his Fitter Section and the Detachment. Our thoughts are with his wife and young family for whom words cannot describe how sorry we are that they have lost such a great man from their lives. He was an inspiration to us all and will never be forgotten.
Staff Sergeant Marcus Waugh, Troop Leader of Fitter Section, A Sqn, QDG, said:
One of the remarkable things apparent by the contribution Dean made, both personally and professionally; was the amount of praise he received from the chain of command. Dean was never happier than when he was 'balls deep', his words; and by that he meant contributing at the top of his game. This was the environment where Dean performed to the highest of his abilities and showed all too clearly his true potential.
Under pressure, and in the face of adverse conditions, he was a man who could be relied upon. On those occasions when a job absolutely must be done, he was always the first choice.
When trouble struck his tenacious efforts, enthusiasm and clinical detail were a driving force, revitalizing initiative on the ground and regaining the momentum in favour of his commander's intent, which he understood impeccably. His resolve was tireless and he worked endlessly to ensure that the Squadron had the level of support it required to sustain operations.
The Troop Leaders of the Squadron were particular fans of Dean's attributes, and would competitively lace their bids for his support of their patrols, requesting whether 'Corporal John available for this one?' He was a man of selfless commitment who took it upon himself to ensure that all the junior and more senior members of the Squadron received the guidance and mentoring they needed to improve their abilities.
In his private life, Dean was a devoted family man. He treasured his wife and was fiercely proud of his three boys. He would regularly recite the accomplishments and escapades of his sons, often openly displaying his unwavering love for his family. Our thoughts and support go to Dean's family and loved ones throughout this unimaginably difficult time.
Sergeant Jamie Scott, Troop Sergeant of Fitter Section, A Sqn, QDG, said:
Dean had a love of life and for his job that was unmatched by anyone else in the Squadron. He was always ready to volunteer for any task, and would carry it out in an utterly professional manner. His moods were easy to read. If happy, he would bounce around using the word 'mint' a lot; and if a bit hacked off he would make it clear, yet still with that cheeky smile on his face.
All knew that he was never happier than when covered head to toe in oil, no matter what the weather conditions, or how long he had been on the go. His love of the job earned him the respect of all the members of the Squadron and the Regiment. He would offer advice and guidance whenever a problem was encountered, which combined with his personal bearing and uncanny ability to be correct in his thoughts, made him a special role model to those around him.
Out of work Dean was a very friendly and sociable person, always the first to help others to relax. A main character in the 'Salisbury Shapes' club where he would take younger members of the Fitter Section on cultural visits to the 'Cathedral' of the city, which as it turns out was the name of the main nightclub!
Dean would often talk of his wife, Wendy, and it was clear to all that he loved her and his children dearly. Wherever he is now, he will be missing them as much as they will be missing him. As he would say, 'at the end of the day', Deano was a central figure in the Fitter Section and the Squadron, both in and out of work. The knowledge and experiences he passed onto all of us, and the memories we have of him will stay with us forever.
Defence Secretary John Hutton, said:
Corporal Dean John was clearly larger than life in all respects. He was a committed husband and father; a selfless, dedicated and professional NCO; and an energetic and loyal friend. He will be greatly missed; and I offer my sincere condolences to his family at this sad time.
Corporal Graeme Stiff
Corporal Graeme Stiff, aged 24, was born in Munster, Germany and came from a military background. Having accompanied his father across the world on various military postings, he enlisted into the Royal Electrical and Mechanical Engineers in 2004. After passing out of training, he was posted to 1st The Queen's Dragoon Guards, where he served as an Electronics Technician in A Squadron's Fitter Section. He was on his first operational tour when his life was so tragically cut short.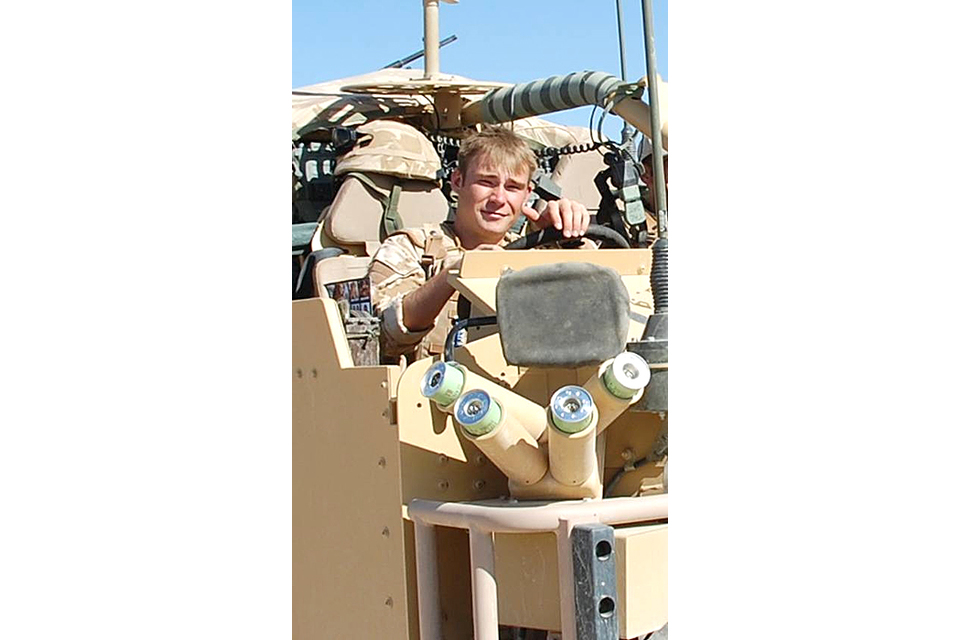 Graeme 'Stiffy' Stiff excelled in his field. He greatly looked forward to deploying to Afghanistan and quickly proved to be a most reliable driver and craftsman in the demanding environment of southern Helmand. He was a hardworking and happy individual who loved his job and the friendships and camaraderie of his team. He revelled in his Corps' motto of 'Arte et Marte' ('By Skill and by Fighting') and was always found tinkering with his Jackal and ensuring that it was ready for action.
He was a shining example of a REME craftsman, working hard and playing hard, and adding every minute to the morale and happiness of the Squadron. He was exceptionally adaptable and in great demand for his expertise, often volunteering to go out on patrol even when exhausted; yet he was still able to improve the morale of those around him.
'Stiffy' was a keen sportsman and a particularly skilful footballer who represented both the REME and QDG at Football. He also enjoyed his time in the gym - either training by himself or 'spotting' for his friends.
He leaves behind his girlfriend Lauren, with whom he was looking forward to spending more time, a loving family, and a host of friends.
Graeme's family paid the following tribute:
Graeme was a loving and loved brother, son and grandson whose life was cruelly brought to an end. Like so may on operations he gave his life so that others may live better ones. His mother and father and brother will always remember him for the joy that he brought to everyone's life.
We miss you so much already and you will live in our hearts and minds forever. Love Mum, Dad, mike and Bailey………galaxeee.
Lieutenant Colonel Alan Richmond, Commanding Officer QDG, said:
The loss of 'Stiffy' is a great burden for the Regiment and will impact significantly upon the close-knit Fitter Section within which he was such a pivotal character. He was an incredibly genuine individual; mild, quiet, caring and selfless with a sharp sense of humour and lust for life. He enjoyed his job and loved the challenges that it brought, but above all loved the people with whom he lived and worked.
He was a mainstay of morale and a hugely professional craftsman. He had a confidence and assuredness that belied his young age and lack of experience. Always cheerful and positive he was always able to raise the spirits of those around him. He will be sorely missed by us all and we all send our heartfelt condolences to his girlfriend, Lauren, and to his family.
Major Charlie Waggett, Squadron Leader, A Sqn, QDG, said:
I was lucky enough to spend some time with Corporal Graeme Stiff and to get to know him well when he acted as my driver during parts of the current operational tour. 'Stiffy' was a lovely character; a mild man at heart, with a fun and caring manner. As a soldier, he was the consummate professional; incredibly capable in his specialised role in the Squadron's Fitter Section and bright - quickly able to assimilate new skills. He also fitted the adage 'soldier first, specialist thereafter', as he could turn his hand and his talent to any number of areas.
'Stiffy' was a great member of the Squadron and he fitted in so well with all the blokes, always being ready to raise morale with a cheeky gag. However, it will be his enduringly happy nature, his ever-present smile, and his compassion for others that will be his abiding memory. His love for his girlfriend was so very evident, and he would always place a picture of her on his driver's dashboard, so she would never be too far from his thoughts.
We will miss 'Stiffy' so much. He was a friend to so many, and our loss must now be tempered, as our thoughts and support turn to his family and his girlfriend Lauren, to whom we offer our deepest sympathies and condolences at this tragic time.
Captain David Toland, Officer Commanding, QDG Light Aid Detachment, said:
Ask anyone in the unit who Corporal Graeme Stiff was and the reply would always be about how great and fun a man he was. On tour he has proven that when it counted he was steadfast, reliable and flexible enough to soldier on throughout the day and keep equipment fit at any time.
Every spare moment he would spend keeping himself very fit and he obviously loved sports. We had often spoken about his desire to return back to the UK so he could settle down for a period of stability. This was due to happen shortly after we returned and he was really looking forward to buying property and spending as much time as possible with his girlfriend after a couple of hectic years with a front line regiment. This makes it all the harder to bear that such a young man with so much to offer was taken, but we will always remember him as one of the pivotal figures within our unit. We send our deepest condolences to his family and girlfriend at this time.
Staff Sergeant Marcus Waugh, Troop Leader of Fitter Section, A Sqn QDG, said:
Throughout Op HERRICK 9 Graeme fulfilled his role, both as a soldier and a tradesman to an outstanding standard. The challenges that he faced were beyond that of the conventionally employed REME soldier; however, far from being out of his comfort zone it was a position in which Graeme excelled. This highlighted the depth and experience he had gained within his role, and meant that he became a sought after asset within the Squadron, applying his knowledge and trade, while deployed at the forefront of many operations.
Graeme had a potential that is rarely seen amongst others. Although new in rank he displayed a confidence and enthusiasm that saw him compete amongst the best of his peer group. Intelligent and articulate, Graeme had only just embarked upon what undoubtedly would have been a long and rewarding career in the Armed Forces.
Keen to exploit opportunities and his own potential, Graeme had developed an ambition to attend Army helicopter pilot training; and clearly possessing the attributes of intelligence, diligence and enthusiasm, he would have undoubtedly excelled.
In his trade, Graeme was always keen to extend himself outside of his career scope. This saw him contributing on a regular basis for the greater good of the Squadron. Even when there was no requirement for his particular skill set, he would often stay with colleagues, working late into the night to ensure that tasks were completed, and that a hot beverage or food could be sourced if the guys needed it. It was through such fine displays of teamwork and camaraderie that Graeme was able to demonstrate his true sense of selflessness.
An excellent sportsman, Graeme represented both the REME and QDG at Football. Whilst deployed on Op Herrick 9, Graeme used much of his spare time conducting his own busy schedule of operations, which he referred to as 'Op Massive' (going to the gym) and 'Op Bronze' (sun bathing). Such was his own development and notable motivation in both these fields that he had soon recruited an influx of others from within the Fitter Section, all eager to emulate his impressive results! It is in this difficult time that our thoughts and feelings of support go to Graeme's Family and loved ones.
Sergeant Jamie Scott, Troop Sergeant of Fitter Section, A Sqn, QDG, said:
When Graeme first came to the Fitter Section he was a typical REME technician, very intelligent but at times a bit clumsy! Thankfully it did not take him long to overcome this and develop into an excellent tradesman, which was a mark of his character.
He was willing to attempt every new challenge presented to him and was quick to adapt to new situations. So much so, that his vehicle commanders were extremely unwilling to release him due to his excellent driving skills and all round contribution within a crew.
Graeme may have had a quiet nature about him, but he was the friendliest of people and quick with funny remarks and comments. If during the tour you wanted to find Graeme, then the first port of call would be the gym. He was always dragging his colleagues along so that he could 'beast' them and try to get that ultimate 'beach body'. Principally, this was because he wanted to look good for his girlfriend, Lauren.
Those that knew him understood that she was central to his life, and he would always have a photo of her near him. They may not have been married, but it was clear to all that he wanted her to remain a part of his life forever. Graeme will be sorely missed by the Fitter Section and Squadron members alike.
Craftsman John McAvoy, Fitter Section, A Sqn, QDG, recalled the following anonymous poem:
The soldier stood and faced his God
Which must always come to pass
He hoped his shoes were shining
Just as brightly as his brass:
'Step forward now you soldier
'How shall I deal with you?
'Have you always turned the other cheek?
'To my church have you been true?'
The soldier squared his shoulders and said:
'No, Lord, I guess I ain't
'But those of us who carry guns
'Cannot be a saint.
'I've had to work most Sundays,
'And at times my talk is tough
'And sometimes I've been violent
'Because the world is awfully rough
'But I never took a penny
'That wasn't mine to keep
'Though I worked a lot of overtime
'When bills got just too steep.
'And I never passed a cry for help
'Though at times I shook with fear
'And sometimes God forgive me
'I've wept unmanly tears.
'I know I don't deserve a place
'Among these people here
'They never wanted me around
'Except to calm their fears.
'If you've a place here, Lord
'It needn't be so grand
'I never expected or had too much
'But if you don't I'll understand.'
There was a silence all around the throne
Where saints had often trod
As the soldier waited quietly
For the judgement of his God:
'Step forward now you soldier
'You've borne your burdens well
'Walk peacefully in heaven's streets
'You've done your time in Hell.'
Cfn McAvoy added:
This reminds me of him. It says it better than I can.
Craftsman Lee 'Smudger' Smith, Fitter Section, A Sqn, QDG, said:
'Stiffy' was loved by us all and was my best mate. He had a cracking personality and the crafty bugger always got the good jobs. That is what I loved about him.
He was always there when I needed him and his solution for everything was going out for a few beers. Considering he was a tech, he was a good drinker. He was always up for a laugh and was heading for great things in life.
Graeme was liked by everyone. Not just by those in the LAD (Light Aid Detachment) but the whole Regiment in which he proudly served. I don't have a bad word to say about him.
Graeme loved to wind me up but I could always count on him. I'm proud to have known him and to be able to call him my friend. He will be dearly missed not only by me but by many more I'm sure.
Defence Secretary John Hutton, said:
Corporal Graeme Stiff has left a lasting impression on his Regiment as a highly-skilled soldier, and a thoughtful and fun-loving human being. His will be a tremendous loss, felt by many, and my thoughts are with his girlfriend, family and friends.
Published 16 March 2009