Corporal Barry Dempsey killed in Afghanistan
It is with great sadness that the Ministry of Defence must confirm the death of Corporal Barry Dempsey from The Royal Highland Fusiliers, 2nd Battalion Royal Regiment of Scotland, who was killed in Afghanistan on Monday 18 August 2008.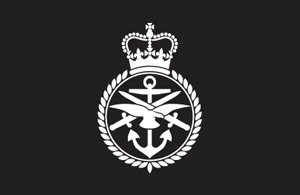 At 0825 hrs local time, a joint Afghan National Army and UK Operational Mentoring Liaison Team were patrolling, when they dismounted in the region of Forward Operating Base Attal, in the Gereshk area of Helmand Province. An improvised explosive device was detonated which resulted in the death of Cpl Dempsey and shrapnel and blast injuries to one other ISAF soldier, an Afghan National Army soldier and the patrol interpreter.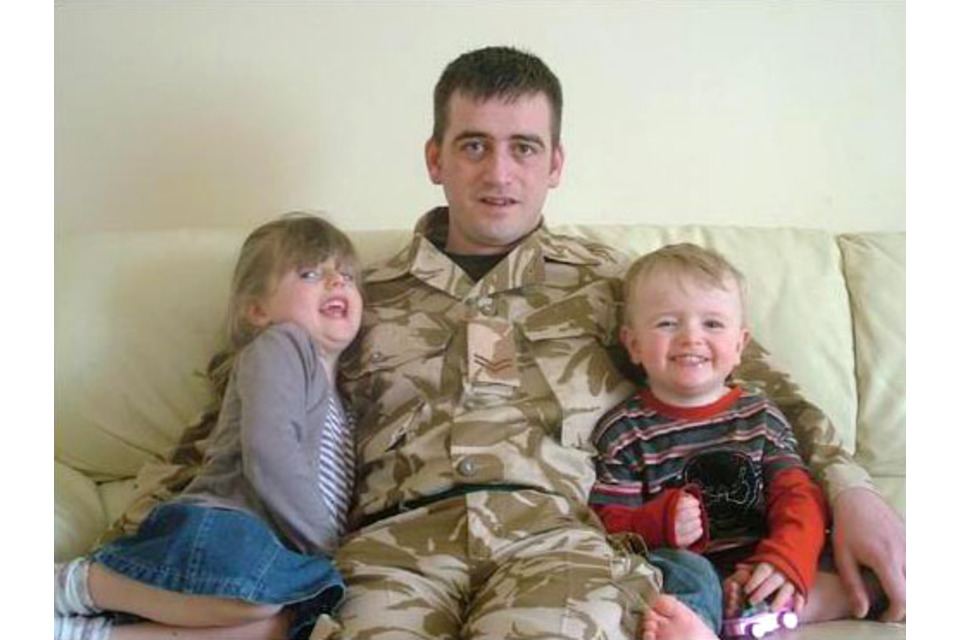 Cpl Dempsey and the three casualties were airlifted to the Joint Force Medical Group Facility at Camp Bastion.
Corporal Barry Dempsey
Corporal Barry Dempsey was 29 and from Ayrshire. He lived with his wife Shelly, a son, Charlie, aged two, and daughter Andie, aged four, at the battalion's base in Penicuick near Edinburgh.
His wife made the following tribute to her husband:
Barry was a devoted husband and father. He has died doing a job he loved. His family and the Army was his life. He will be forever missed by his wife, children and family. He will never be forgotten. He died a hero.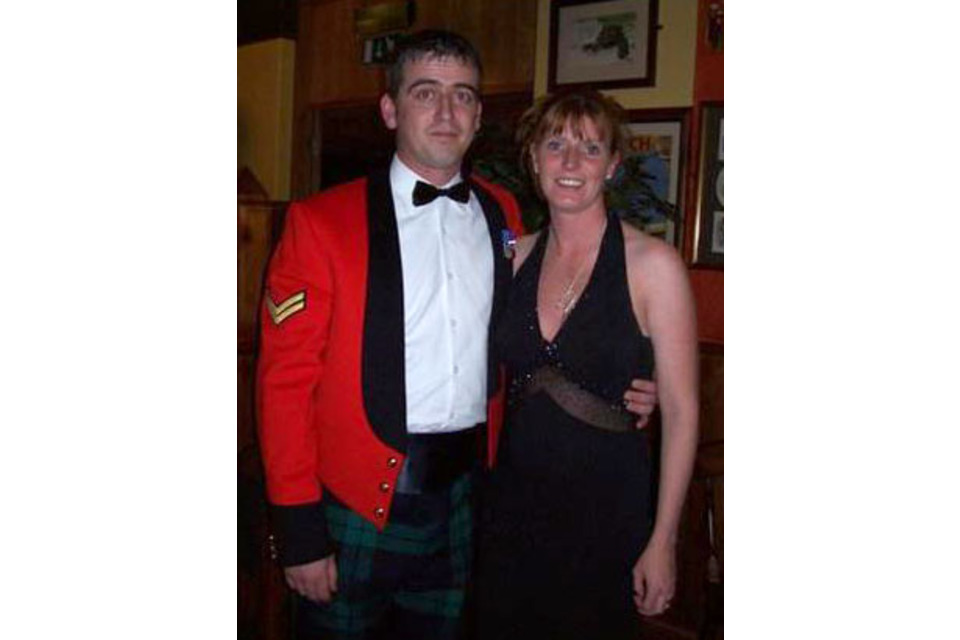 The Royal Highland Fusiliers, 2nd Battalion The Royal Regiment of Scotland Commanding Officer, Lieutenant Colonel Nick Borton, paid this tribute:
Cpl Barry Dempsey joined The Royal Highland Fusiliers in 1998, and spent the majority of his career as a medic in the Regimental Aid Post (RAP). Barry was a dedicated medic, who had found his real vocation in life. He successfully worked his way up through the RAP and was promoted to Corporal in 2007. Recently he successfully completed the Regimental Combat Medical Technician 1 course, and was a highly respected and competent medic.
"Always calm and professional, he was naturally suited to a medical career, and planned to continue progressing in this area. Barry was a stalwart of the Medical Centre; a hard worker, he always volunteered for any task, and was always at the centre of the team, motivating and encouraging the younger medics.
Barry Dempsey loved his Regiment, but he was above all a dedicated family man, who devoted most of his spare time to Shelly and the children, Andie and Charlie. He was a private man, who enjoyed spending time with his young children. He had a wry sense of humour, didn't take life too seriously, and always had a ready smile for everybody. He will leave a tremendous gap in the 2 SCOTS medical team.
Barry was tragically killed while on patrol attached to 1 R IRISH, part of 16 Air Assault Brigade, in the Gereshk Valley on 18 August 2008. He was in Afghanistan to provide aid to his comrades, and served with bravery and dedication, doing what he was best at.
"A thorough professional and a loving family man, we have lost a great friend and fellow soldier. While we mourn the loss of a regimental comrade, all our hearts go out to Shelly and the rest of Barry's family, for it is they who have borne the real burden of his absence, and they who have now sustained the real loss. They are ever in our thoughts and prayers."
The 1st Battalion The Royal Irish Regiment Commanding Officer in Afghanistan, Lieutenant Colonel Ed Freely, paid the following tribute to Cpl Dempsey:
It is with great sadness that we mourn the passing of an outstanding man, and an excellent medic. Cpl Barry Dempsey died supporting his own men. He has helped to save the lives of many Afghan soldiers and civilians alike. Barry understood the dangers - standing up to a ruthless and determined enemy, one who is set on bringing disruption and brutality to Afghanistan. He also understood that his work was part of the lasting solution to the ongoing insurgency.
Having volunteered to accompany his team to one of the most remote patrol bases in all of Helmand, Cpl Dempsey bonded closely with those he worked with, caring deeply for them and working diligently to ensure all their needs were met. He achieved this all with great humility and character.
On learning the news of his passing, the Battle Group paused to remember this fine man and brave colleague. We gathered around our simple stone memorial, prayed for him, his wife, son and daughter back in Edinburgh. When we all return home, we will mourn him properly. Until then, we will continue to pursue our task of helping the Afghans create the conditions for security - a task which Barry Dempsey believed in, and worked so tirelessly to achieve.
Cpl Stephen Quinn, The Royal Highland Fusiliers, 2nd Battalion the Royal Regiment of Scotland, said:
I first met Barry when my wife and I moved next door to him and Shelly in Cyprus. Even though he was a diehard Rangers fan and I was a Celtic fan we became good friends and Shelly was a great support to my wife during her pregnancy.
Barry loved his job in the medical centre and talked of becoming a paramedic when he left the Army.
He loved to socialise with his friends and had built a makeshift bar in his garage where we would watch the football and have a few beers. Even though our football loyalties were different, we used to watch Old Firm games together and no matter what the outcome, we remained friends - although he was first to rub it in when Celtic were beaten!
Everyone who knew Barry will miss him and his sense of humour. My thoughts and prayers are with Shelly, Andie and Charlie.
Major Kryssy Lithgow Smith and Sergeant John Taylor, of the 2 SCOTS Regimental Aid Post said:
Cpl Barry Dempsey spent most of his Army career with the Regimental Aid Post. During this time it was obvious he had found his niche, proving himself to be not only an excellent medic, but a trustworthy and reliable colleague. He had a very professional attitude towards his work, and he would, without fail, go on to complete any task to a high standard.
He would be the first to volunteer to pick up the medical Bergen to cover sporting events for the Battalion, but in addition to these fun taskings, he would also voluntarily stay late to ensure work was completed. He was instrumental in motivating those around him to get the job in hand done, and had repeatedly proven himself to be thoroughly professional. His absence from the MRS, when he was away successfully completing his Class One training, was noticeable.
On a personal level, Barry was always a pleasure to have around. Although a fairly private person, he had a cheery nature and was always up for a bit of banter. He was one of the characters in the MRS in Redford Barracks, well-liked by staff and patients, military and civilian alike. He was also well-liked throughout the Battalion and the married quarters, being a dedicated family man. Indeed, his face lit up whenever he talked about his family, and his world revolved around his two children. Monday mornings were not complete without a story from Barry as to what he'd been up to that weekend, usually taking his kids to the zoo!
Barry was keen to undertake further medical training to improve his skills, and had seriously considered pursuing a career within the medical field, specifically assisting anaesthetists in operating theatres. His skills and professionalism here would have been greatly appreciated. Indeed, whatever he had decided to turn his hand to and wherever he had ended up, he would have been a valued member of the team.
Overall, Barry Dempsey was a true character, and one who will be greatly missed by all in the RAP and all who knew him. Our deepest sympathies go to Shelly, Andie, Charlie and his parents.
Des Browne, Secretary of State for Defence, said:
I was extremely saddened to hear of the death of Cpl Dempsey yesterday morning. He was a selfless and brave professional, putting himself in harm's way to provide the very best of medical care to his colleagues and Afghans alike. My thoughts are with his family, friends and members of his regiment at this very difficult time.
Published 19 August 2008