Case study
WW1 United States of America VC recipient The Unknown Soldier
The story of the United States of America First World War Victoria Cross recipient the Unknown Soldier.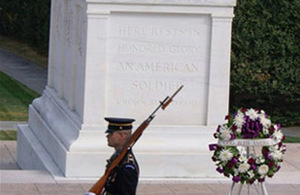 5 men from the United States of America received the Victoria Cross, Britain's highest award for gallantry, during the First World War. As part of the Centenary Commemorations the people of the United Kingdom marked their gratitude to those courageous men by presenting a bronze memorial plaque to their home country engraved with their names. The plaque is now displayed at the Arlington National Cemetery. This archive tells their stories.
Name: Unknown
DOB: Unknown
Place of Birth: United States of America
Date of Action: Unknown
Place of Action: Unknown
Rank: Unknown
Regiment: Unknown
On 4 March 1921, the United States Congress approved the burial of an unknown soldier from the First World War. President Warren Harding officiated at the internment ceremony which took place on 11 November 1921, at the memorial amphitheatre, Arlington National Cemetery. The United States Congress had earlier in March 1921, approved the award of the United States Medal of Honour, to the British Unknown Warrior. During the ceremony this was reciprocated when the Unknown Soldier was presented with the Victoria Cross by Admiral of the Fleet Lord Beatty, on behalf of King George V. To mark the occasion the King sent the following telegram to the United States of America:
I wish to express to you and to the Congress and people of the United States the warm appreciation felt throughout this country of the tribute which you are paying today to our Unknown Warrior. The gift of your Medal of Honour to a British Comrade in arms, whose tomb in Westminster Abbey stands for all our best endeavour and hardest sacrifice in the war, is a gesture of friendly sympathy and good will which we will not forget.

On Armistice Day the representatives of the British Empire in Washington will join with you in a ceremony held to honour the splendid record of your own troops. I greatly wish on that occasion to confer on your Unknown Warrior our highest decoration of valour, the Victoria Cross. It has never yet been bestowed on a subject of another state, but I trust that you and the American people will accept the gift in order that the British Empire may thus most fitly pay its tribute to a tomb with symbolises every deed of conspicuous valour performed by men of your great fighting forces, whether by sea or land, upon the Western Front.

I also send you my heartfelt good wishes to the great International Conference which opens on your wise initiative upon that day. My Ministers will, I know, strive as whole-kindheartedly as yours to make that Conference a sterling success. May they, in common with yours, do all that practical statesmanship can achieve to perpetuate the comradeship of war in the maintenance of peace.
George R.I.
Published 20 June 2016