Case study
WW1 Pakistani VC recipient Mir Dast
The story of Pakistani First World War Victoria Cross recipient Mir Dast.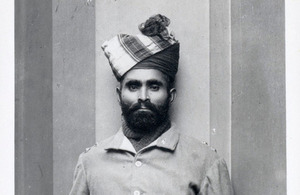 3 men from Pakistan received the Victoria Cross, Britain's highest award for gallantry, during the First World War. As part of the Centenary Commemorations the people of the United Kingdom marked their gratitude to those courageous men by presenting a bronze memorial plaque to their home country engraved with their names. This archive tells their stories.
Name: Mir Dast
DOB: 3 December 1874
Place of Birth: Tirah, in today's Pakistan
Date of Action: 26 April 1915
Place of Action: Ypres, Belgium
Rank: Jemadar
Regiment: Coke's Rifles, Frontier Force attached to 57th Wildes's Rifles
Mir Dast was born on 3 December 1874 in Maidan Valley, Tirah, in the North West Frontier, (now Pakistan). He joined the British Indian Army in 1894 and served in the North-West Frontier and Waziristan before the First World War. He arrived in France in March 1915 as part of a large contingent of Indian soldiers to fill the gaps left by the many soldiers who had already been injured or killed. He was a Jemadar (equivalent to a lieutenant) attached to the 57th Wilde's Rifles, 7th Brigade of the Lahore Division, when he was awarded the Victoria Cross for his bravery on 26 April, in the Second Battle of Ypres.
His Lahore Division were ordered to launch a counter-attack with the French against the Germans on 26 April, and despite severe Allied losses, Mir Dast and some others managed to get close to the German trenches. The Germans then released chlorine gas, and many soldiers retreated in confusion. Mir Dast was among a small number of British and Indian troops who stayed and held their position until nightfall when they were ordered to withdraw. His citation explains further:
For most conspicuous bravery and great ability at Ypres on 26th April 1915, when he led his platoon with great gallantry during, the attack, and afterwards collected various parties of the regiment (when no British Officers were left) and kept them under his command until the retirement was ordered. Jemadar Mir Dast subsequently on this day displayed remarkable courage in helping to carry eight British and Indian Officers into safety, whilst exposed to very heavy fire.
Mir Dast himself was wounded and sent for treatment to the Brighton Pavilion, which had become a hospital. George V presented him with his Victoria Cross in the grounds of the pavilion. He died in 1945 in Peshawar.
Published 20 June 2016