Case study
WW1 New Zealand VC recipient Henry (Harry) John Laurent
The story of New Zealand First World War recipient Henry (Harry) John Laurent.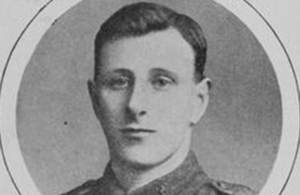 16 men from New Zealand received the Victoria Cross, Britain's highest award for gallantry, during the First World War. As part of the Centenary Commemorations the people of the United Kingdom marked their gratitude to those courageous men by presenting a bronze memorial plaque to their home country engraved with their names. The plaque is now displayed in the grounds of the New Zealand Parliament, Wellington. This archive tells their stories.
Name: Henry (Harry) John Laurent
DOB: 15 April 1895
Place of Birth: Tarata, New Zealand
Date of Action: 12 September 1918
Place of Action: Gouzeaucourt Wood, France
Rank: Sergeant
Regiment: 2nd Battalion, New Zealand Rifle Brigade, New Zealand Expeditionary Force
Henry John Laurent, known as Harry, was born in 1895 in Tarata, New Zealand. He worked in a cheese factory before enlisting in the New Zealand Expeditionary Force in May 1915. Serving with the 2nd Battalion, New Zealand Rifle Brigade, he was wounded during the Somme offensive.
Sergeant Laurent was awarded the Victoria Cross for his actions on 12 September 1918 at Gouzeaucourt Wood, France, during the Hundred Days Offensive, a series of Allied attacks during the final weeks of the war. Sergeant Laurent was commanding a patrol sent out to regain contact with the German frontline. His citation explains further:
For most conspicuous bravery, skill, and enterprise when during an attack he was detailed to exploit an initial success and keep in touch with the enemy. With a party of twelve he located the enemy support line very strongly held, at once charged the position, followed by his men, and completely disorganised the enemy by his sudden onslaught. In the subsequent hand-to-hand fighting which ensued he showed great resourcefulness in controlling and encouraging his men, and thirty of the enemy having been killed, the remainder surrendered, a total of one officer and 111 other ranks in all. The success of this daring venture, which caused his party four casualties only, was due to his gallantry and enterprise.
Laurent returned to New Zealand where worked for an engineering company and served in the Home Guard during the Second World War. He died in 1987, aged 92.
Published 20 June 2016