Case study
WW1 New Zealand VC recipient Cyril Royston Bassett
The story of New Zealand First World War Victoria Cross recipient Cyril Royston Bassett.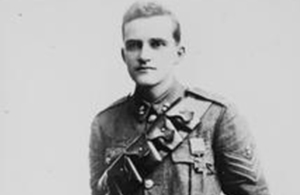 16 men from New Zealand received the Victoria Cross, Britain's highest award for gallantry, during the First World War. As part of the Centenary Commemorations the people of the United Kingdom marked their gratitude to those courageous men by presenting a bronze memorial plaque to their home country engraved with their names. The plaque is now displayed in the grounds of the New Zealand Parliament, Wellington. This archive tells their stories.
Name: Cyril Royston Guyton Bassett
DOB: 3 January 1892
Place of Birth: Auckland, New Zealand
Date of Action: 7 August 1915
Place of Action: Chunuk Bair, Gallipoli
Rank: Corporal
Regiment: New Zealand Divisional Signal Company, NEF
Cyril Royston Guyton Bassett was born in 1892 in Auckland, and worked as a clerk for the National Bank of New Zealand. When war broke out, he joined the New Zealand Expeditionary Force as a sapper in the New Zealand Divisional Signal Company. He took part in the Gallipoli landing on 25 April 1915, and was later promoted to corporal.
Bassett was the first New Zealander to be awarded the Victoria Cross in the First World War in recognition of his most conspicuous bravery and devotion to duty on the Chunuk Bair ridge, in the Gallipoli Peninsular, on 7 August 1915. As his citation explains:
After the New Zealand Infantry Brigade had attacked and established itself on the ridge, Corporal Bassett, in full daylight and under a continuous and heavy fire, succeeded in laying a telephone line from the old position to the new one on Chunuk Bair. He has subsequently been brought to notice for further excellent and most gallant work connected with the repair of telephone lines by day and night under heavy fire.
Bassett was subsequently evacuated due to poor health and spent several months recovering in England from dysentery. He later rejoined his unit on the Western Front where he took part in the Battle of the Somme, and in 1917 he was commissioned. He was wounded twice during his time in France.
After the war he returned to New Zealand where he married, and had two daughters. He resumed his previous profession in banking until his retirement. Bassett also served in the Second World War, reaching the rank of Lieutenant Colonel. He died in Auckland in 1983, aged 91.
Published 20 June 2016