Case study
WW1 Nepalese VC recipient Kulbir Thapa
The story of Nepalese First World War Victoria Cross recipient Kulbir Thapa.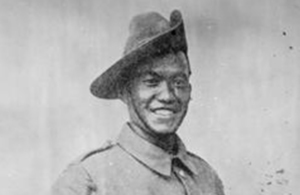 2 men from Nepal received the Victoria Cross, Britain's highest award for gallantry, during the First World War. As part of the Centenary Commemorations the people of the United Kingdom marked their gratitude to those courageous men by presenting a bronze memorial plaque to their home country engraved with their names. The plaque is now displayed at the Gurkha Memorial Museum, Nepal. This archive tells their stories.
Name: Kulbir Thapa
DOB: 15 December 1889
Place of Birth: Palpa, Nepal
Date of Action: 25 to 26 September 1915
Place of Action: Fauquissart, France
Rank: Lance Naik
Regiment: 2nd Battalion, 3rd Ghurka Rifles
Kulbir Thapa was born on 15 December 1889 in Palpa, Nepal. He was a 26 year old Rifleman in the 2nd Battalion, 3rd Gurkha Rifles of the Indian Army when he became the first Nepalese recipient of the Victoria Cross.
Kulbir Thapa was at Fauquissart, France on 25 April 1915 in a diversionary attack at the start of the Battle of Loos. He was in one of the leading companies attacking the German positions, and it was the first time he had been under fire. He found himself alone and wounded over the German lines when he carried out the heroic deeds which led to his award. His citation reads:
For most conspicuous bravery during operations against the German trenches south of Fauquissart: When himself wounded on September 25, 1915, he found a badly wounded soldier of the 2nd Battalion, the Leicestershire Regiment behind the first-line German trench and although urged by the British soldier to save himself he remained with him all day and night. In the early morning of September 26, in misty weather, he brought him out through the German wire and, leaving him in a place of comparative safety, returned and brought in two wounded Gurkhas one after the other. He then went back in broad daylight for the British soldier and brought him in also, carrying him most of the way, and being at most points under the enemy's fire.
He was personally awarded his Victoria Cross by King George V at Buckingham Palace, and is still remembered by the Royal Leicestershire Regiment at their regimental museum. Kulbir Thapa survived the war and retired achieving the rank of Halivdar, (equivalent of a sergeant). He died in Nepal in 1956.
Published 20 June 2016