Case study
WW1 Nepalese VC recipient Karanbahadur Rana
The story of Nepalese First World War Victoria Cross recipient Karanbahadur Rana.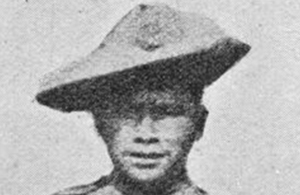 2 men from Nepal received the Victoria Cross, Britain's highest award for gallantry, during the First World War. As part of the Centenary Commemorations the people of the United Kingdom marked their gratitude to those courageous men by presenting a bronze memorial plaque to their home country engraved with their names. The plaque is now displayed at the Gurkha Memorial Museum, Nepal. This archive tells their stories.
Name: Karanbahadur Rana
DOB: 21 December 1898
Place of Birth: Mangalthan Gulmi, Nepal
Date of Action: 10 April 1918
Place of Action: El Kelfr, Egypt
Rank: Rifleman
Regiment: 2nd Battalion Queen Alexandra's 3rd Gurkha Rifles
Karanbahadur Rana was born on 21 December 1898 in Mangalthan Gulmi, Nepal. He was a Rifleman in the 3rd Gurkha Rifles. He was just 19 years old when he was awarded the Victoria Cross for his actions in El Kelfr, Egypt on 10 April 1918. His citation explains further:
For most conspicuous bravery, resource in action under adverse conditions, and utter contempt for danger. During an attack he, with a few other men, succeeded under intense fire in creeping forward with a Lewis gun in order to engage an enemy machine gun which had caused severe casualties to officers and other ranks who had attempted to put it out of action. No 1 of the Lewis gun opened fire, and was shot immediately. Without a moment's hesitation Rifleman Karanbahadur Rana pushed the dead man off the gun, and in spite of bombs thrown at him and heavy fire from both flanks, he opened fire and knocked out the machine-gun crew; then, switching his fire on to the enemy bombers and riflemen in front of him, he silenced their fire. He kept his gun in action and showed the greatest coolness in removing defects which on two occasions prevented the gun from firing. During the remainder of the day he did magnificent work, and when a withdrawal was ordered he assisted with covering fire until the enemy were close on him. He displayed throughout a very high standard of valour and devotion to duty.
Rana survived the war. He died in Litung, Nepal in 1973 at the age of 74.
Published 20 June 2016