Case study
WW1 Indian VC recipient Gobind Singh
The story of Indian First World War Victoria Cross recipient Gobind Singh.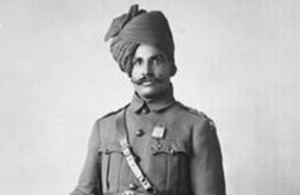 6 men from India received the Victoria Cross, Britain's highest award for gallantry, during the First World War. As part of the Centenary Commemorations the people of the United Kingdom marked their gratitude to those courageous men by presenting a bronze memorial plaque to their home country engraved with their names. This archive tells their stories.
Name: Gobind Singh
DOB: 7 December 1887
Place of Birth: Damoi Village, Rajasthan
Date of Action: 1 December 1917
Place of Action: Piezieres, France
Rank: Lance-Daffadar
Regiment: Light Cavalry, Indian Army
Gobind Singh was born in Damoi Village, Rajasthan, India on 7 December 1887. He was a Lance-Daffadar (the equivalent of a corporal) in the 28th Light Calvalry attached to the 2nd Lancers (Gardner's Horse) during the First World War.
Lance-Daffadar Gobind Singh was awarded the VIctoria Cross for his actions at the Battle of Cambrai on 1 December 1917. It was in the midst of this battle that his regiment was surrounded by the enemy. It was imperative that a message be sent to the brigade headquarters to give their position. Despite the risks of carrying a message over open ground under constant fire he volunteered three times. His citation explains further:
For most conspicuous bravery and devotion to duty in thrice volunteering to carry messages between the regiment and Brigade Headquarters, a distance of 1½ miles over open ground which was under the observation and heavy fire of the enemy. He succeeded each time in delivering his message, although on each occasion his horse was shot and he was compelled to finish his journey on foot.
Gobind Singh survived the war. He died in 1942.
Published 20 June 2016