Case study
WW1 Canadian VC recipient William Merrifield
The story of Canadian First World War Victoria Cross recipient William Merrifield.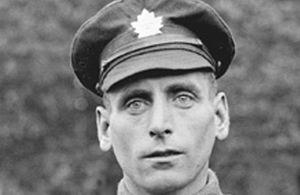 70 men from Canada received the Victoria Cross, Britain's highest award for gallantry, during the First World War. As part of the Centenary Commemorations the people of the United Kingdom marked their gratitude to those courageous men by presenting a bronze memorial plaque to their home country engraved with their names. The plaque is now displayed at the British High Commission Ottawa. This archive tells their stories.
Name: William Merrifield
DOB: 9 October 1890
Place of Birth: Brentwood, Essex, England
Date of Action: 1 October 1918
Place of Action: Abancourt, France
Rank: Sergeant
Regiment: 4th Infantry Battalion, Canadian Expeditionary Force
William Merrifield was born 9 October 1890 in Brentwood, Essex, and emigrated to Canada for work. Upon the outbreak of the First World War, he enlisted in the Canadian Expeditionary Force, winning the Military Medal at Passchendaele in November 1917.
Sergeant Merrifield was awarded the Victoria Cross for his leadership at Abancourt in France on 1 October 1918, whilst serving with the 4th Infantry Battalion. His citation states:
For most conspicuous bravery and devotion to duty during the attack near Abancourt on the 1st October, 1918. When his men were held up by an intense fire from two machine-gun emplacements, he attacked them both single-handed. Dashing from shell-hole to shell-hole he killed the occupants of the first post, and, although wounded, continued to attack the second post, and with a bomb killed the occupants. He refused to be evacuated, and led his platoon until again severely wounded. Sjt. Merrifield has served with exceptional distinction on many former occasions, and throughout the action of the 1st October showed the highest qualities of valour and leadership.
Merrifield died in Toronto in 1943. A school is named after him in the province of Ontario.
Published 20 June 2016