Case study
WW1 Canadian VC recipient William George (Billy) Barker
The story of Canadian First World War Victoria Cross recipient William George (Billy) Barker.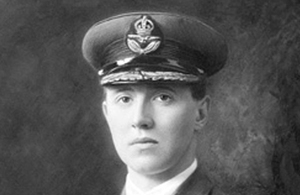 70 men from Canada received the Victoria Cross, Britain's highest award for gallantry, during the First World War. As part of the Centenary Commemorations the people of the United Kingdom marked their gratitude to those courageous men by presenting a bronze memorial plaque to their home country engraved with their names. The plaque is now displayed at the British High Commission Ottawa. This archive tells their stories.
Name: William George Barker
DOB: 3 November 1894
Place of Birth: Dauphin, Manitoba, Canada
Date of Action: 27 October 1918
Place of Action: Foret de Mormal, France
Rank: Major
Regiment: Royal Air Force
William George (Billy) Barker was born on 3 November 1894 in Dauphin, Manitoba, Canada. He enlisted in December 1914 into the infantry, but in 1916 he transferred to what was then the Royal Flying Corps and which then became the Royal Air Force in 1918. Barker was an accomplished fighter pilot, shooting down 50 enemy planes. He was also a highly decorated officer, winning the Distinguished Service Order with one bar and the Military Cross with two bars.
Major Barker was awarded the Victoria Cross for his bravery on 27 October 1918 over the Foret de Mormal in France where he attacked successive waves of German aircraft, despite being severely wounded in both legs, the left arm, and fainting twice. HIs citation explains further:
On the morning of the 27th October, 1918, this officer observed an enemy two-seater over the Fôret de Mormal. He attacked this machine, and after a short burst it broke up in the air. At the same time a Fokker biplane attacked him, and he was wounded in the right thigh, but managed, despite this, to shoot down the enemy aeroplane in flames. He then found himself in the middle of a large formation of Fokkers, who attacked him from all directions; and was again severely wounded in the left thigh; but succeeded in driving down two of the enemy in a spin. He lost consciousness after this, and his machine fell out of control. On recovery he found himself being again attacked heavily by a large formation, and singling out one machine, he deliberately charged and drove it down in flames. During this fight his left elbow was shattered, and he again fainted, and on regaining consciousness he found himself still being attacked, but, notwithstanding that he was now severely wounded in both legs and his left arm shattered, he dived on the nearest machine and shot it down in flames. Being greatly exhausted, he dived out of the fight to regain our lines, but was met by another formation, which attacked and endeavoured to cut him off, but after a hard fight he succeeded in breaking up this formation and reached our lines, where he crashed on landing. This combat, in which Major Barker destroyed four enemy machines (three of them in flames), brought his total successes up to fifty enemy machines destroyed, and is a notable example of the exceptional bravery and disregard of danger which this very gallant officer has always displayed throughout his distinguished career.
Barker returned to Canada after the war. He was killed in a flying accident near Ottawa in 1930.
Published 20 June 2016