Case study
WW1 Canadian VC recipient Thomas Orde Lawder Wilkinson
The story of Canadian First World War Victoria Cross recipient Thomas Orde Lawder Wilkinson.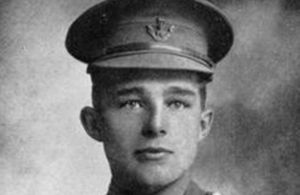 70 men from Canada received the Victoria Cross, Britain's highest award for gallantry, during the First World War. As part of the Centenary Commemorations the people of the United Kingdom marked their gratitude to those courageous men by presenting a bronze memorial plaque to their home country engraved with their names. The plaque is now displayed at the British High Commission Ottawa. This archive tells their stories
Name: Thomas Orde Lawder Wilkinson
DOB: 9 June 1894
Place of Birth: Bridgnorth, Shropshire, England
Date of Action: 5 July 1916
Place of Action: La Boiselle, France
Rank: Lieutenant
Regiment: 7th Infantry Battalion, Loyal North Lancashire Regiment
Thomas Orde Lawder Wilkinson was born in 1884 on 9 June Bridgnorth, England, but emigrated in 1912 with his family to Canada where he worked as a surveyor on Vancouver Island, British Columbia. When the First World War broke out, he joined the 16th Battalion of the Canadian Scottish, but he later transferred to the 7th Battalion of the Loyal North Lancashire Regiment as a Gunnery Officer.
Lieutenant Wilkinson was posthumously awarded the Victoria Cross for most conspicuous bravery on 5 July 1916. It was during the early part of the Battle of the Somme that he was involved in an attack on the German trenches in front of the village of La Boisselle, France. His citation explains further:
During an attack, when a party of another unit was retiring without their machine gun, Lieutenant Wilkinson rushed forward, and with two of his men, got the gun into action, and held up the enemy until they were relieved. Later, when the advance was checked during a bombing attack, he forced his way forward and found four or five men of different units stopped by a solid block of earth, over which the enemy was throwing bombs. With great pluck and promptness he mounted a machine-gun on the top of the parapet and dispersed the enemy bombers. Subsequently he made two most gallant attempts to bring in a wounded man, but at the second attempt he was shot through the heart just before reaching the man. Throughout the day he set a magnificent example of courage and self-sacrifice.
Lieutenant Wilkinson's body was never found. He is commemorated on the Thiepval Memorial which records the names of over 72,000 men killed on the Somme and who have no known grave.
Published 20 June 2016