Case study
WW1 Canadian VC recipient Thain Wendell MacDowell
The story of Canadian First World War Victoria Cross recipient Thain Wendell MacDowell.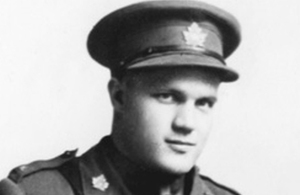 70 men from Canada received the Victoria Cross, Britain's highest award for gallantry, during the First World War. As part of the Centenary Commemorations the people of the United Kingdom marked their gratitude to those courageous men by presenting a bronze memorial plaque to their home country engraved with their names. The plaque is now displayed at the British High Commission Ottawa. This archive tells their stories.
Name: Thain Wendell MacDowell
DOB: 16 September 1890
Place of Birth: Lachute, Quebec, Canada
Date of Action: 9 April 1917
Place of Action: Vimy Ridge, France
Rank: Captain
Regiment: 38th Infantry Regiment, Canadian Expeditionary Force
Thain Wendell MacDowell was born on 16 September 1890 in Quebec, Canada. After graduating from university, he enlisted and served with the 38th Infantry Battalion of the Canadian Expeditionary Force. In 1916, he was awarded the Distinguished Service Order for his actions during the Battle of the Somme.
Captain MacDowell was awarded the Victoria Cross on the day that the Canadian Corps attacked and captured Vimy Ridge in France, 9 April 1917. His citation reads:
For most conspicuous bravery and indomitable resolution in face of heavy machine gun and shell fire. By his initiative and courage this officer, with the assistance of two runners, was enabled in the face of great difficulties, to capture two machine guns, besides two officers and seventy-five men. Although wounded in the hand, he continued for five days to hold the position gained, in spite of heavy shell fire, until eventually relieved by his battalion. By his bravery and prompt action he undoubtedly succeeded in rounding up a very strong enemy machine post.
After the war MacDowell returned to Canada, and later achieved the rank of Lieutenant colonel. He worked in several roles, including mining companies and between 1923 to 1929 served as private secretary to the Minister of Defence. He died in the Bahamas in 1960, and is buried at Oakland Cemetery, Brockville. There is a memorial plaque in his honour at Maitland, Ontario.
Published 20 June 2016