Case study
WW1 Canadian VC recipient Robert Shankland
The story of Canadian First World War Victoria Cross recipient Robert Shankland.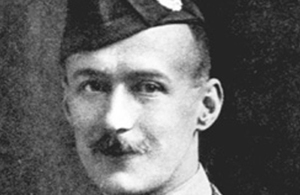 70 men from Canada received the Victoria Cross, Britain's highest award for gallantry, during the First World War. As part of the Centenary Commemorations the people of the United Kingdom marked their gratitude to those courageous men by presenting a bronze memorial plaque to their home country engraved with their names. The plaque is now displayed at the British High Commission Ottawa. This archive tells their stories.
Name: Robert Shankland
DOB: 10 October 1887
Place of Birth: Ayr, Scotland
Date of Action: 26 October 1917
Place of Action: Bellevue Spur, Passchendaele, Belgium
Rank: Lieutenant
Regiment: 43rd Battalion, Canadian Expeditionary Force
Robert Shankland was born in Ayr, Scotland on 10 October 1887. He emigrated to Canada in 1911 where he settled in Winnipeg. He was working as an assistant cashier, and when war broke out he enlisted in the Canadian Expeditionary Force 43rd Battalion as a private. Rising to Sergeant-Major, he was awarded the Distinguished Conduct Medal at Sanctuary Wood in 1916, and later was commissioned.
On 26 October 1917, Lieutenant Shankland was awarded the Victoria Cross for his actions with the 43rd Battalion during the fighting for Belle Vue Spur, Passschendale. His citation reads:
For most conspicuous bravery and resource in action under critical and adverse conditions. Having gained a position he rallied the remnant of his own platoon and men of other companies, disposed them to command the ground in front, and inflicted heavy casualties upon the retreating enemy. Later, he dispersed a counter-attack, thus enabling supporting troops to come up unmolested. He then personally communicated to Battalion Headquarters an accurate and valuable report as to the position on the Brigade frontage, and after doing so rejoined his command and carried on until relieved. His courage and splendid example inspired all ranks and coupled with his great gallantry and skill undoubtedly saved a very critical situation.
After the war Lieutenant Shankland returned to Canada. He served in the Second World War, and became secretary of a securities firm. He died in Vancouver in 1968.
Published 20 June 2016