Case study
WW1 Canadian VC recipient Robert Hill Hanna
The story of Canadian First World War Victoria Cross recipient Robert Hill Hanna.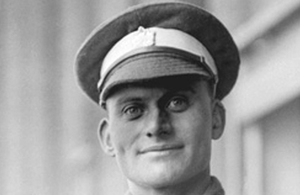 70 men from Canada received the Victoria Cross, Britain's highest award for gallantry, during the First World War. As part of the Centenary Commemorations the people of the United Kingdom marked their gratitude to those courageous men by presenting a bronze memorial plaque to their home country engraved with their names. The plaque is now displayed at the British High Commission Ottawa. This archive tells their stories.
Name: Robert Hill Hanna
DOB: 6 August 1886
Place of Birth: Kilkeel, Ireland
Date of Action: 21 August 1917
Place of Action: Hill 70, Lens, France
Rank: Company Sergeant Major
Regiment: 29th Infantry Battalion, Canadian Expeditionary Force
Robert Hanna was born in Kilkeel, Ireland, in 1886, but he emigrated to Canada in 1905. He enlisted in the Canadian Expeditionary Force in November 1917.
Company Sergeant Major Hanna was serving with the 29th Infantry Battalion when he was awarded the Victoria Cross for his bravery and leadership on 21 August 1917 at Hill 70, Lens, France. His citation states:
For most conspicuous bravery in attack, when his company met with most severe enemy resistance and all the company officers became casualties. A strong point, heavily protected by wire and held by a machine gun, had beaten off three assaults of the company with heavy casualties. This Warrant Officer under heavy machine gun and rifle fire, coolly collected a party of men, and leading them against this strong point, rushed through the wire and personally bayonetted three of the enemy and brained the fourth, capturing the position and silencing the machine gun. This most courageous action, displayed courage and personal bravery of the highest order at this most critical moment of the attack, was responsible for the capture of a most important tactical point, and but for his daring action and determined handling of a desperate situation the attack would not have succeeded. C.S./M. Hanna's outstanding gallantry, personal courage and determined leading of his company is deserving of the highest possible reward.
Hanna received his Victoria Cross from King George V at Buckingham Palace. He returned to Canada and worked in logging, and later as a farmer. He died in 1967 in British Columbia, Canada.
Published 20 June 2016