Case study
WW1 Canadian VC recipient Robert Grierson Combe
The story of Canadian First World War Victoria Cross recipient Robert Grierson Combe.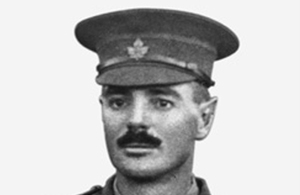 70 men from Canada received the Victoria Cross, Britain's highest award for gallantry, during the First World War. As part of the Centenary Commemorations the people of the United Kingdom marked their gratitude to those courageous men by presenting a bronze memorial plaque to their home country engraved with their names. The plaque is now displayed at the British High Commission Ottawa. This archive tells their stories.
Name: Robert Grierson Combe
DOB: 5 August 1880
Date of Action: 3 August 1917
Place of Action: Acheville, France
Rank: Lieutenant
Regiment: 27th Infantry Battalion, Canadian Expeditionary Force
Robert Grierson Combe was born in Aberdeen, Scotland, on 5 August 1880 but left for Canada in 1906, where he eventually opened his own pharmacy in Saskatchewan. In April 1915, he enlisted in the Canadian Expeditionary Force. He qualified as a Major but asked to revert to the rank of Lieutenant so he could transfer to a combat role.
Lieutenant Combe was posthumously awarded the Victoria Cross for his bravery on 3 August 1917 in Acheville, France. There he led his company through heavy fire, finally securing his objective, and capturing 80 prisoners. His citation reads:
For most conspicuous bravery and example.He steadied his Company under intense fire, and led them through the enemy barrage, reaching the objective with only five men. With great coolness and courage Lt. Combe proceeded to bomb the enemy, and inflicted heavy casualties. He collected small groups of men and succeeded in capturing the Company objective, together with eighty prisoners. He repeatedly charged the enemy, driving them before him, and, whilst personally leading his bombers, was killed by an enemy sniper. His conduct inspired all ranks, and it was entirely due to his magnificent courage that the position was carried, secured and held.
Lieutenant Combe's grave was lost when the cemetery he was buried in was overrun during subsequent fighting, but his name is inscribed on the Canadian National Vimy Memorial. A lake in Northern Saskatchewan was named in his honour.
Published 20 June 2016